7 Vet-Recommended Kitten Foods For Growing Cats
Start him off on the right paw 🐾
You just adopted a kitten (yay!), and you're looking to feed him the best kitten food you can find (or at least something healthy and affordable).
With literally hundreds of options to choose from, it's not exactly easy to settle on just one.
That's why we reached out to three veterinarians to discover the best vet-recommended kitten food, so you can find an option that both you and your kitten will love.
How to choose a kitten food
"Choosing the formula is largely up to your and your kitty's preference," Dr. Laci Schaible, a veterinarian and advisor for the veterinary software company IVEE, told The Dodo. "Any formula (wet, dry, canned, semi-moist, pate) is appropriate as long as the label states it is 'complete and balanced' and labeled for 'kittens' or 'growth.'"
You should avoid foods labeled for "all life stages" because growing kittens have different nutritional requirements than adult cats. "Mainly, the calcium and phosphorus ratios are different in kitten food to support a growing skeleton," Dr. Sarah Wooten, a small animal veterinarian in Colorado, told The Dodo.
"In the United States, I recommend only buying food that has undergone independent certification by the AAFCO (Association of American Feed Control Officials); in Canada, look for foods certified by the CVMA (Canadian Veterinary Medical Association)," Dr. Schaible said.
To figure out the quality of a kitten food, check the label. "The first three or four ingredients in the ingredient list are the bulk of the food, so you should be able to recognize what those ingredients are!" Dr. Wooten said. "Meat should be in the first three to four ingredients (especially in canned food, second only to water)."
Your own veterinarian is your best resource for understanding your kitten's health needs, so you should always speak to your vet before introducing a new food to your kitten if you have any questions.
Wet vs. dry kitten food
"Some very young kittens will prefer wet food simply because it is easier to chew," Dr. Schaible said. "Other kittens prefer dry because the friction on the gums alleviates some teething irritation and pressure."
Both Dr. Schaible and Dr. Wooten recommend feeding your kitten both wet and dry kitten food if you're able to.
Kittens have tiny stomachs, so they need to eat every few hours. "For this reason, it is recommended to leave some dry out at all times, even if you decide to offer a wet formula during the daytime."
Serving both wet and dry food also reduces the chances of your kitten becoming a picky eater as an adult.
"Cats that are fed one type of food their whole [lives] are more likely to develop strong food preferences, making it difficult to switch foods in the future if ever needed," Dr. Wooten said. "By feeding a combination of canned and dry, and rotating a couple flavors on the canned food, you lower this likelihood."
Best vet-recommended kitten food
These are some of the best kitten food options you can buy.
"Purina Pro Plan kitten food (canned or dry) is a safe, cost-effective kitten food for budget-conscious consumers," Dr. Wooten said.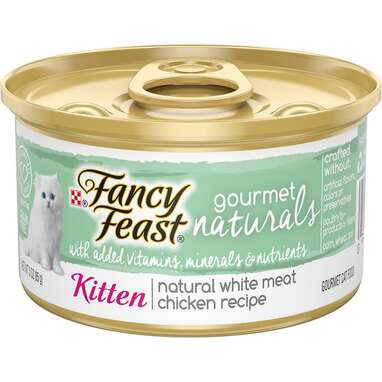 Chewy
This is another affordable option, and it's made without by-products, fillers or artificial flavors, colors or preservatives. And chicken is the first ingredient!
This formula is made without artificial flavors, colors or preservatives, and the first two ingredients are turkey and chicken liver, so you know it's good quality.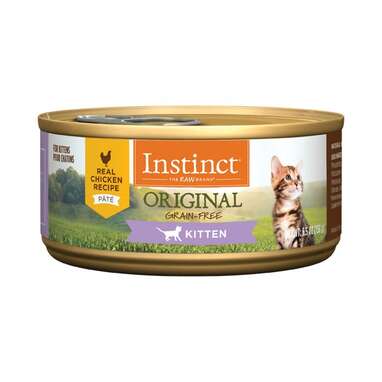 Chewy
This kitten food is high in protein, which is perfect for growing, active kittens, and uses real, cage-free and responsibly sourced chicken as the first ingredient.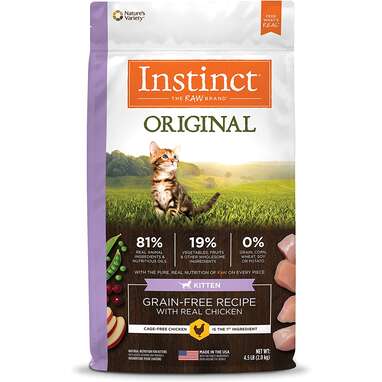 This kitten food has a layer of freeze-dried raw whole food ingredients on each piece of kibble for an extra boost in nutritional value.
Chewy
This high-protein formula is perfect for helping your kitten grow big and strong. It also includes calcium, phosphorus and other minerals to encourage strong bones and teeth and omega-3 fatty acids for brain development and a healthy skin and coat.
"Royal Canin has done a lot of research on how to feed cats," Dr. Wooten said. "Babycat is nice because you already know it is good nutrition, and the kibbles are smaller so that kittens can easily chew their food," Dr. Wooten said. Dr. Liz Bales, a veterinarian and founder of Doc & Phoebe's Cat Co., is also a fan of Royal Canin, since, she says, they've done a ton of testing and lifetime studies that other pet food companies can't afford to do. "I like my science," Dr. Bales told The Dodo.
How much to feed a kitten
Be wary of how much you're feeding your kitten; you don't want to feed him more than the recommended caloric intake based on his weight.
"Because some foods are more calorically and nutritionally dense than others, it is best to follow the guidelines listed on the food product you purchase," Dr. Schaible said. "Make sure to use an actual measuring cup to adhere to guidelines, a commonly missed step by well-intentioned cat owners."
How often to feed a kitten
"Very young kittens (less than 6 weeks of age) have a harder time regulating their blood sugar and are at risk of hypoglycemia, which means low blood sugar, if they don't eat often enough," Dr. Wooten said. "Offer a small meal every three to four hours — alternatively, leave kibble out for the kitten to free-feed for the first 6 months of age."
According to Dr. Bales, cats eat up to 12 meals a day in nature, mostly at dawn and dusk (which explains your kitten alarm clock).
To keep your kitten from waking you in the morning for food, load up a cat food puzzle with dry kitten food before going to bed. Not only will this feed your kitten, it will keep her occupied and content. "The more frequently you're able to feed your cat small meals that they hunt for at every age, the happier and healthier that they are," Dr. Bales said.
Try this cat food puzzle from Amazon for $17
We independently pick all the products we recommend because we love them and think you will too. If you buy a product from a link on our site, we may earn a commission.