Vegan Dog Food Brands A Vet Recommends
Dogs *can* eat a plant-based diet.
With vegan and vegetarian diets becoming more and more popular, some pet parents who've made the leap are wondering if their dogs can also switch over to a vegan diet. And some studies suggest that dogs who eat vegan may even be healthier overall than those who eat meat-based diets.
We spoke to a vet about making the switch to vegan dog food, and she also shared some brand recommendations for pet parents who are considering changing their dogs' diet to one that's meat-free.
The best vegan dog food should be one that's commercially made (rather than a vegan blend you make at home); contains a healthy balance of protein, vitamins and minerals derived from sources other than meat; and meets the standards of the Association of American Feed Control Officials (AAFCO).
What is a vegan diet for dogs?
A vegan diet, for humans and dogs, doesn't contain any animal products or byproducts. This means no meats, no eggs, no fish, and, for some vegans, foods like honey are even off the table.
"Vegan or vegetarian dog food diets contain a variety of fruits, vegetables, cereals, legumes including soy, nuts, vegetable oils, and any other non-animal-based ingredients to make this diet complete," Dr. Lindsay Butzer, a veterinarian partnered with PetMeds, told The Dodo.
And though their ancestors were carnivores, meaning they were animals who solely consumed meat, domesticated dogs have evolved to eat a more varied diet. "Naturally, the dog is an omnivore, [an animal who eats plants and meats], and has evolved to metabolize carbohydrates and thrive on a diet that is lower in protein," Dr. Butzer said.
Is vegan dog food healthy?
According to Dr. Butzer, a vegan diet can be healthy for dogs, as long as it's balanced and contains the right amounts of protein, vitamins and minerals derived from sources other than meat.
Good-quality vegan dog food should also meet the standards of the AAFCO.
In fact, vegan diets may even be beneficial for some dogs with certain health conditions.
"Meat-free diets that are high in protein are often frequently used in dogs with certain health conditions, such as kidney failure, liver disease, pancreatitis flare-ups and obesity, where a lower meat protein diet is beneficial for dogs," Dr. Butzer said.
And vegan dog food may also be recommended by vets for dogs who have food allergies, as many allergy-afflicted pets are often allergic to the meat in their foods.
"With a complete and balanced vegetarian [or vegan] diet, pet owners can truly rule out that the meat was the cause for their itchy, uncomfortable skin," Dr. Butzer added.
Can puppies eat vegan dog food?
Despite the fact that adult dogs are often able to eat vegan dog food, Dr. Butzer does not recommend feeding puppies a vegan or vegetarian diet.
"Right now, there is not enough research to say a vegetarian or vegan diet is safe for puppies," she said. "As a veterinarian, I do not recommend feeding them a vegetarian or vegan diet until they are fully developed at 12 months old. It is important for growing puppies to have a normal puppy diet with the right nutrients for them to grow properly, or else they can develop skeletal abnormalities and even other organ-related health issues."
What to look for in a vegan dog food
When searching for the best vegan dog food for your pup, there are a few things you should keep in mind alongside the nutrition facts.
Price per pound
The only downside to vegan dog food is that it's usually a lot more expensive than standard dog food made with meat, so it's really important to pay attention to how much food you're getting for that higher sticker price and choose one that fits within your budget.
Sustainability
Vegan dog food is inherently more sustainable than standard dog food because it isn't reliant on factory farming (which produces massive amounts of CO2 emissions). But some vegan brands are taking extra steps to lower their carbon footprint. If sustainability is important to you, then look for brands that can break down just how sustainable they are.
It's approved by your vet
Your vet should definitely be involved in your search for the best vegan dog food because they know your dog's health situation best. Ask your vet which brand is their favorite, and allow them to help you and your pup make the switch to a vegan dog food diet.
Best vegan dog food brands
Dr. Butzer recommends purchasing a vegan dog food rather than cooking your dog vegan meals at home, and this is because commercially formulated vegan dog foods are complete and balanced, meaning they have all the necessary vitamins, minerals and nutrients your dog needs in his diet.
"[Cooking vegan food for your pet] can be dangerous as many vital nutrients and minerals get left out," she said. "Dogs need a very specific calcium-to-phosphorus ratio in their diets to prevent bone diseases."
This plant-based dry food, recommended by Dr. Butzer, is rich in omega oils for healthy skin and coat and contains a high amount of plant protein, which aids digestion. It's 100 percent balanced and complete, and all ingredients are sustainably sourced. You can pick up a 21-pound bag for $85, which is a better value than some of the other brands listed below.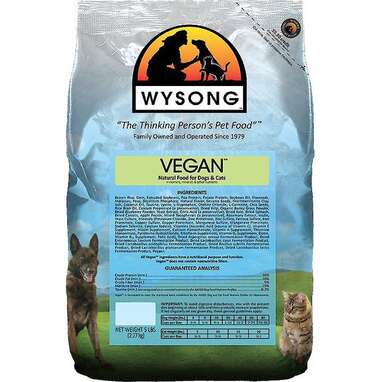 This vegan food from Wysong is great for both dogs and cats. The entire list of vegan ingredients is labeled on the front of the bag, and the formula contains a comprehensive spectrum of prebiotics, probiotics, enzymes, omega-3s, antioxidants and more.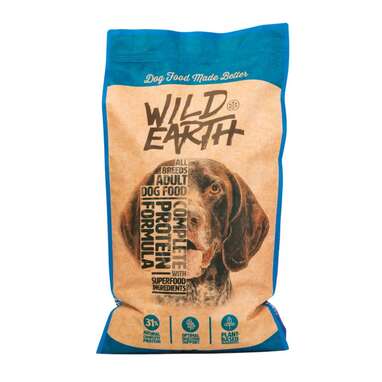 Over 1,900 pet parents love Wild Earth's Complete Protein Dog Food, with many saying the formula has made a huge difference for dogs with food and skin allergies. "My boxer/lab had horrible allergies. He was itching/scratching, all the time," one pet parent wrote in their review. "About a month ago we started using Wild Earth and within a week's time I noticed a 75-percent difference and now he totally cleared up. No itching. He's a very happy boy." An 18-pound bag will set you back $90. But you can sign up for subscribe-and-save and only spend $45 on your first bag and then save 10 percent on each bag after that.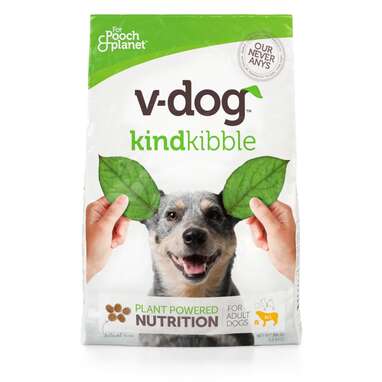 For just under $72, you can pick up a 30-pound bag of V-dog Kind Kibble. It's nutritionally complete, packed with green superfoods, and is 100 percent meat-free. Kind Kibble comes in a larger size kibble as well as "mini bites," so dogs of all sizes can get in on the vegan goodness. V-dog also has a subscribe-and-save option that will save you 5 percent on each bag you buy.
For the pet parents most concerned about making the most sustainable choice, Petaluma has a full breakdown of why it's the greenest vegan dog food brand. Petaluma food is baked in solar-powered facilities, is sourced from biodiverse organic farms, is packaged in compostable packaging, and, of course, is completely plant-based and doesn't support factory farming. You can grab an 18-pound bag for $95, or subscribe and save 30 percent on your first bag and 10 percent on all future bags of dog food.
Of course, as mentioned earlier, always get your vet's advice before changing your dog's diet, as they know your dog on a personal level and can give you recommendations based on your dog's health status.
With vegan dog foods becoming more popular in the mainstream, it's easier than ever to find a brand that hits all the nutritional marks, tastes great to your dog, and keeps him healthy and happy.
We independently pick all the products we recommend because we love them and think you will too. If you buy a product from a link on our site, we may earn a commission.
The Best Foods For Pups With Sensitive Stomachs