12 Cat Trees That Aren't Totally Boring
They're a little bit extra — just like your cat 💅
We independently pick all the products we recommend because we love them and think you will too. If you buy a product from a link on our site, we may earn a commission.
Are you searching for a cat tree, but are less than impressed with what you've seen so far? Pages after pages of cat trees, and they all look the same!
There are actually a ton of super unique cat trees that'll compliment your (and your cat's) personal style. You just need to know where to look.
The Dodo did some digging and came up with a list of cat trees that are far from the ordinary, so you don't have to waste your money on something totally boring — and you can keep your cat happy without sacrificing your aesthetic!
This cat tree looks more like a decorative shelf than something for your cat. But don't let its amazing ability to blend in with your decor fool you! This is 100 percent a tree for your cat. At around 60 inches tall, this tree can hold multiple cats at once (up to five!), and it's the perfect unique cat tree for large cats, too. Each step is lined with carpeting so your cat can curl up or sink her claws into it for a big stretch. If your cat loves climbing all over your stuff, this cat tree is the one for her.
The little house at the top of the structure makes this cat tree more like a home than a piece of furniture. The house is fully carpeted and has two large openings so your cat can watch her surroundings while snuggling up comfortably in her new space. And when your cat wakes up from her nap, she can take the ladder down to the bottom floor, where she can stretch on one of three scratching posts that the house sits on. Luxury living at its finest!
Who doesn't love a good wicker piece to add some texture to their home decor? This cat tree is actually the perfect accent to complete the look of the room — not to mention the fact that it's going to be your cat's new favorite hang-out spot. The wicker orb that sits at the top is the perfect size for your cat to lounge in, and she'll love that there's a hole at the top and side for her to climb in and out of, and keep an eye on her surroundings. The bottom level is carpeted and even has a toy dangling from above for some impromptu playtime. And of course, what kind of cat tree would it be if there wasn't a scratching post? One of the legs sports a woven post for all your cat's stretching and scratching needs.
If you want to add a fun splash of color to your room (and love tulips), you might like this super unique cat tree from Tucker Murphy Pet. It's essentially two cat trees in one that are connected at the base, so it's perfect if you have a few cats. There are three scratching posts in total (and one of them is really tall for big cats), and two dangling toys for your cats to swat around, plus two elevated ledges and an enclosed space for the times she feels like getting away from it all. It's truly a high-quality cat tree, but with a fun floral twist.
This one is literally a cat tree, since it actually looks like a tree. It honestly makes a ton of sense since cats love to be hidden, and the leaves covering this "tree" will definitely keep her hidden the way she likes. It has three upper levels, plus a bottom level that's covered in artificial grass (perfect for sinking her claws into!). It's pretty tall, at about 60 inches, and will make a great conversation piece in your home. Your cat will love to play jungle cat as she climbs up her tall tree and watches over her room. She's the queen of the jungle, so treat her like one with this special "jungle gym" just for her.
This cat tree is so much more stylish than the standard cat trees you see at the store. It has a quintessential mid-century modern look, and is constructed with a light natural wood that's long been associated with the Scandinavian and minimalist aesthetic. It comes with three super poofy cat beds, with two sitting on top of elevated ledges and the third sitting inside of an enclosed space. There are two scratching posts and two dangly toys for playtime. You'll love the look of this tree, and your cat will love lounging around on it.
This isn't your normal cat tree. This piece of cat furniture looks like a cat wheel, but it doesn't spin, and your cat's supposed to climb in and on top of it. If you think about it, it's actually a genius idea, since it gives your cat a ton of options for stretching. The whole thing, inside and out, is covered in carpet, so your cat can dig her claws around the sides, at the top or anywhere inside the wheel. She can also rest comfortably in (or on) it since it's a nice rounded platform that she'll definitely find cozy.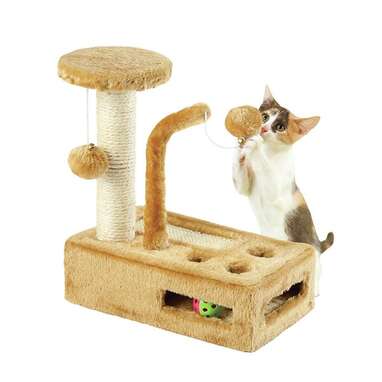 This cat tree is more like a gym for your cat than anything else. There's a scratching post and another short, fuzzy pole (both with dangly toys and bells!) that sit on top of a furry box, which has all sorts of holes and slots in it. While your cat can't fit into the box herself, her toys surely can, which means she'll have a blast batting at her toys trying to get them out through the small holes. A ledge sits on top of the scratching post, so when your cat has totally tired herself out playing with her toys, she can relax on the furry platform and watch what's going on around her.
This cat tree comes with a ledge and an enclosed space that's made out of wicker, but it's not your standard wicker. It has a fun dark blue and white pattern that definitely stands out compared to your standard cat tree. And don't worry, your cat won't be resting straight on the wicker: There's fabric padding so your cat can snuggle up comfortably during her nap. This cat tree also comes with three scratching posts and a dangly toy so your cat can express her natural behaviors.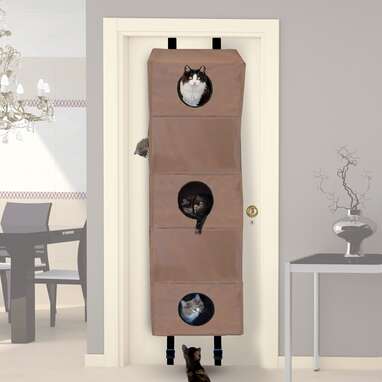 This cat tree is super unique, since it hangs on the back of your door instead of standing on its own. This is actually super convenient because it won't take up as much space as your standard cat tree, and is a great option for small apartments or anywhere that doesn't have much floor space. Cats also love it since there are a ton of dark hiding places to rest in. And despite the fact that it's made of fabric, it's actually super durable, so you shouldn't have a problem if your cats start roughhousing in it.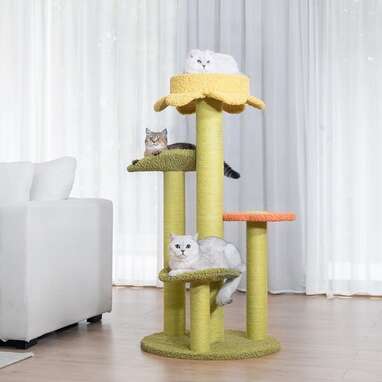 You'll love how adorable this cat tree is. It's floral, but it's pretty subtle about it, and has a really nice pastel color palette going on. There are a total of four scratching posts that come in several different sizes, so it's perfect for multiple cats in different life stages. There are also four ledges of varying heights, and your cat will love climbing each of the steps to make her way to the top, which is about 47 inches high. If you want a cat tree that's unique and still very cute, this one's for you.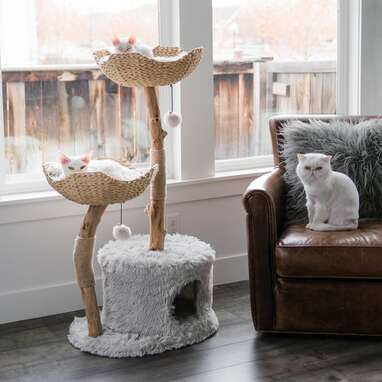 This cat tree comes in a few different textures, making it a totally unique choice for your cat's furniture collection. Two wicker baskets sit on top of real tree branches that have rope wrapped around them so they can function as scratching posts. The branches sit on the bottom floor and an enclosed space for your cat that's made of probably the fluffiest faux fur you've ever seen. There are little beds in the two woven baskets when it's time to snuggle up. Plus, two dangly toys hang from the baskets for some after-nap playtime. It's a super stylish option that'll definitely make for conversation the next time you have guests over.