How To Choose A ThunderShirt For Dogs To Help Ease Anxiety
Snuggle that anxiety right out of her 🤗
If you have a dog who suffers from any kind of anxiety, you may be on the lookout for ways to help ease her worries.
ThunderShirt is one of the most popular brands of dog anxiety vests. According to the brand's site, their vests help keep your pup calm in over 80 percent of stressful situations.
Benefits of a ThunderShirt
Whether your dog has separation anxiety or she's scared of fireworks, a ThunderShirt can help keep her composed by wrapping her in constant, even pressure — sort of like swaddling an infant.
Other situations a ThunderShirt can be helpful for include:
How do you put a ThunderShirt on?
When using a ThunderShirt, you'll first lay the jacket flat on your pup and wrap the flaps gently around her neck. When doing this step, make sure you can fit two fingers between the flaps and your pup's neck (you don't want her to choke, after all!).
After that, you'll wrap the flaps snug around her stomach (just make sure it's not so tight that she can't breath or walk around).
Once your pup is all strapped in, you're good to go!
Best ThunderShirts for dogs
There are only a few different kinds of ThunderShirts, and they actually all work exactly the same. The only difference between them is how they look.
Each style is lightweight, machine washable and made to wrap your dog in constant comfort.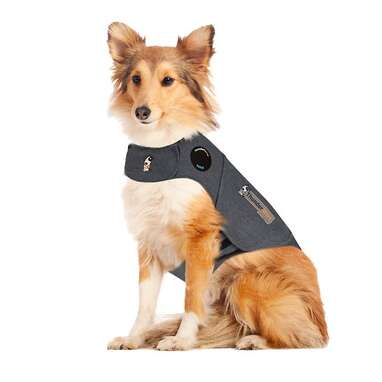 Chewy
Sizes: XXS–XXL
Colors: Heather Grey
Materials: Polyester, spandex and rayon

The first ThunderShirt to hit the market, this classic style comes in one color — perfect if your pup doesn't like to be too flashy. (It's also the most affordable option.)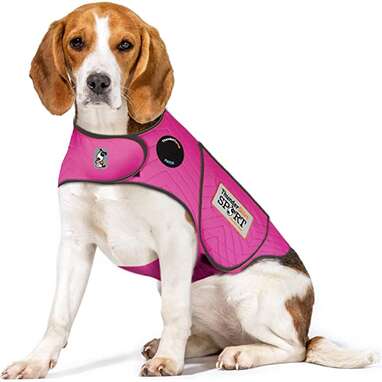 Amazon
Sizes: XXS–XXL
Colors: Fuchsia, Platinum
Materials: Polyester

For a little more money, you'll get a ThunderShirt that comes in two different colors and has a design with a cool zigzag pattern, so the company sometimes refers to it as their "premium" look.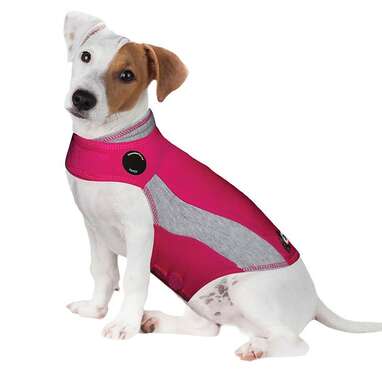 Chewy
Sizes: XXS–XXL
Colors: Pink, Blue, Camo
Materials: Polyester, spandex and rayon

This sleek ThunderShirt comes in three different colors and is the most expensive style due to the combination of the blend of fabrics and color palette, but if this is the look you're going for, it's definitely worth it.
If you have a dog who has anxiety, trying out a ThunderShirt is a good idea to help keep her cool, calm and collected.
We independently pick all the products we recommend because we love them and think you will too. If you buy a product from a link on our site, we may earn a commission.