The Feather Toys Your Cat Will Actually Play With
At least until they knock it under the couch 😻
We independently pick all the products we recommend because we love them and think you will too. If you buy a product from a link on our site, we may earn a commission.
There's nothing that gets cats excited like a feather toy. (Well, maybe running around the house and knocking things over at 3 a.m. — but that's a different story.)
But with so many to choose from, it's hard to tell which will hold up to hours of biting, smacking and chasing all over the place. So we rounded up some of the best options on Amazon, all with hundreds of happy reviews to back them up.
Amazon
This 11-piece set of pure cat entertainment comes with two poles and nine attachments — in other words, your cat is never going to get tired of all the fun that comes with this set. It's also super affordable — so you might as well get a second one to share it with your cat's BFF (or to keep as backup for when they inevitably knock one of the pieces under the couch).
Amazon
This hands-off option is great if you want to keep your cat occupied while you cook dinner or work from home. The automated feather toy randomly pops out of one of six holes, so there's no telling where this adventure might lead. There's also an LED option to take it up a notch.
Amazon
You're not only getting all the fun of feather toys with this set — you're also getting a cat tunnel. If that's not going to give you hours of fun, we don't know what is.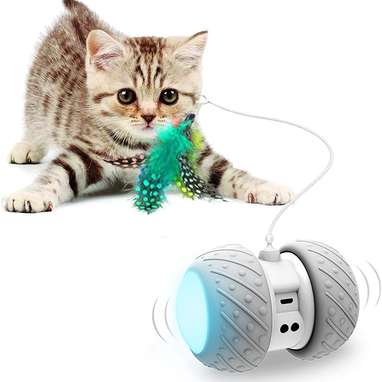 Amazon
This robotic cat toy is going to fulfill your cat's hunting instincts like no other. With randomized floor rolling and LED lights, this fully-mobile toy — with a reportedly long-lasting battery life — will keep your cat entertained for hours and hours.