7 Thanksgiving Cat Outfits For Cats Who Don't Mind Dressing Up
Plaids, flannels and more!
If your cat enjoys dressing up for special occasions, then Thanksgiving is definitely a time to let her passion for fashion shine. There are a bunch of cute cat Thanksgiving outfits your BFF can shake her tail feather in this holiday — so after you're done choosing the perfect plaid to wear to dinner, you can dress your cat in something cute to match.
From simple bandanas to full-on dresses, we found a handful of fun Thanksgiving cat outfit choices for every personality. Even if your cat won't tolerate a full outfit, there's something on here that she may be more likely to put up with for a picture. But keep in mind that you should never force your cat into wearing something she's clearly not comfortable in.
But if your cat has a history of loving the limelight in a costume, then these cute outfits will definitely make her the star of the show at your Thanksgiving gathering this year.
The cutest Thanksgiving cat outfit options for your pet
This adorable knit hat from Legendog comes in two different colors and is the perfect accessory for your cat to wear to Thanksgiving dinner. There are cutouts for her ears, and the long ties make this hat adjustable and comfortable for cats of all sizes to wear.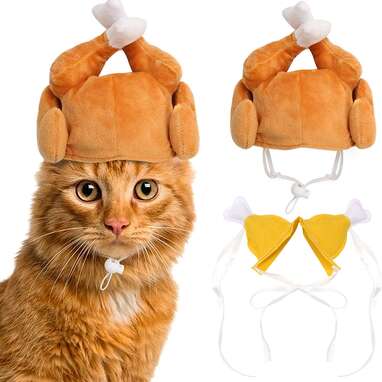 This set of two turkey hats from Rypet comes with one plush hat for your cat and another for your dog! The hilarious turkey legs stick out from your cat's head, and the hat stays on thanks to an adjustable toggle under your cat's chin. It's giving "Friends" vibes, isn't it?
If you're not into Thanksgiving prints and plaids, then this pet hoodie from Frisco may be the perfect accessory for your cat to wear to dinner. Available in a fall-ish forest green color, this hoodie is casual, cozy and perfect to wear for that Thanksgiving family photo.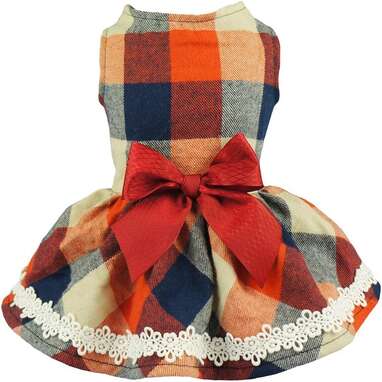 Fitwarm's fall-themed plaid dress comes with a bow at the waist and lace at the hem, which will make your cat look like a little princess. The bodice features elastic at the waist, so it'll fit comfortably no matter how much turkey your cat eats! And it comes in five sizes, so you can choose the best one based on your cat's back length and chest circumference.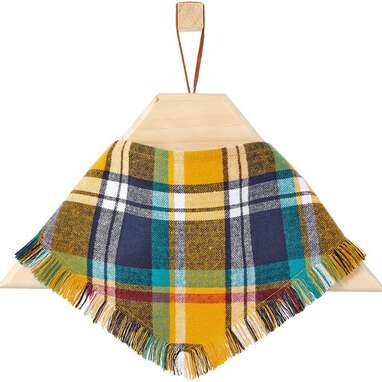 Available in an extra-small/small size for cats, this fall-themed flannel bandana from Frisco looks more like a toasty fringed scarf than it does a bandana. Simply tie this bandana loosely around your cat's neck to dress her up for Thanksgiving without her having to commit to a full outfit.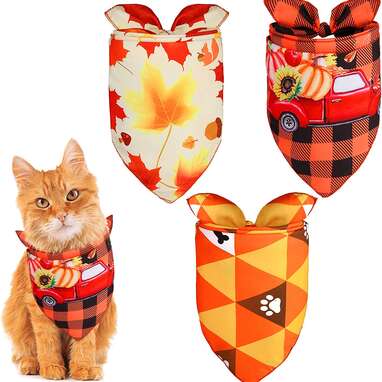 If dressing in costumes and clothing isn't your cat's thing, then she may prefer a bandana instead! This pack of three bandanas from URATOT on Amazon feature fun fall motifs, including plaids, falling leaves, acorns and warm fall colors. They're perfectly sized for both dogs and cats and great for pictures.
Available in four sizes, the Hotumn Thanksgiving sweater is such a cute accessory for your cat to wear on Thanksgiving day. It's a brown turtleneck with an embroidered turkey on the back, and thanks to the elasticity of the ribbing, it's super easy to slip on and off over your cat's head.
Sorry in advance to the turkey, and move over, mashed potatoes — your cat will definitely be the star of the show in one of these Thanksgiving outfits.
We independently pick all the products we recommend because we love them and think you will too. If you buy a product from a link on our site, we may earn a commission.
11 Sweaters Your Cat Can Wear Throughout The Holiday Season