Give Your Pup The Best Summer Ever With These Cool Treats And Toys
These goodies will help him beat the heat! ⛱
Looking to help your pup beat the summer heat in a fun way?
The best summer dog toys and treats will keep your pup cool, entertained and engaged, so now's the perfect time to switch up your game and get creative about how you're spoiling him.
Keeping your dog cool and out of extreme heat when possible is good for his health, too. In general, being outside for a long time in high temperatures can be risky for your dog. Severe health issues can include heat exhaustion and heat stroke, so walks may need to be shortened (or switched to early morning or evening when it's cooler).
Cool summer dog treats just got a whole lot cooler when it means they can keep your pet healthy!
We've rounded up a variety of the best summer dog treats and toys — some to keep your dog cool and others that are just summer-themed and adorable — that will make your dog give you that "one more taste?" or "five more minutes?" look.
And we all know that look is impossible to resist.
That being said, when it comes to dog treats, everything in moderation, friends. Here's to loads of summer fun with your pup!
10 summer treats and toys your pup will love
Summer treats for dogs
Chewy
This is an ice cream mix you can keep in your pantry. When a super hot day is in the forecast, just mix it up with some water and pop it in the freezer. You'll have perfectly chilled, creamy ice cream ready for your pup to devour by the pool.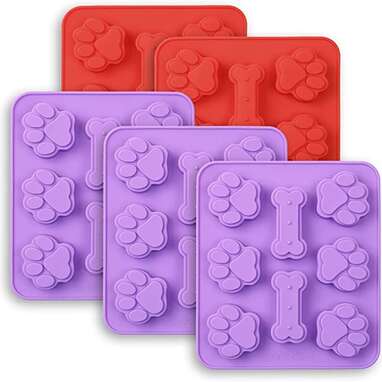 Amazon
If you're a DIY lover, these molds are perfect for whipping up some homemade frozen summer treats. Need a recipe idea? Try these mouthwatering watermelon dog treats.
If you're looking for summer treats that look the part, these are for you. This treat box is piled high with hand-decorated cookies made from locally sourced ingredients. Not only are these super cute, but they're made with ingredients you'd eat yourself, like honey, apples and peanut butter!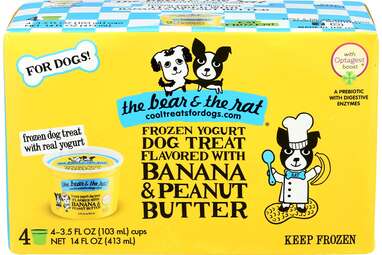 Amazon
These frozen treats are super delicious, and they're also amazing for dogs' gut health. With prebiotics and digestive enzymes, you can feel good knowing this treat goes the extra mile.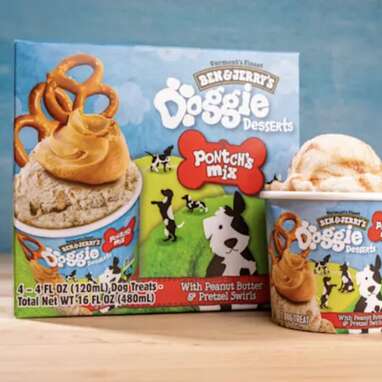 Well, for starters, it's Ben & Jerry's! This 100 percent dog-safe peanut butter and pretzel swirl concoction is a super delicious treat for your pup. We like that it comes in four individual servings, making treat time easy.
This freezable chew toy filled with purified water and made of nontoxic material has a few benefits. Much like a teething ring for babies, store it in the freezer before use and give it to your pup once frozen. Not only will it cool him down, but the nubs on outside will clean his teeth, massage his gums and reduce anxiety.
If you're going to enjoy some White Claws by the pool, why not let your pup join in on the fun? It's cute and fun — and it has a built-in squeaker.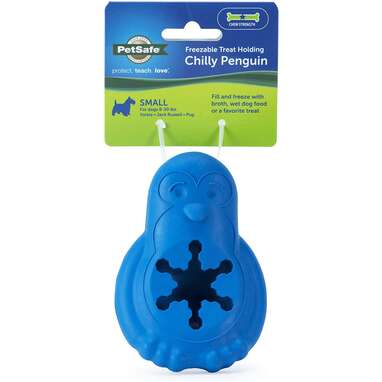 Cool your pup down for hours while he has a blast getting his treats out of this adorably chilly penguin. You can put whatever you want inside — whether you're freezing peanut butter, yogurt or even plain water — and pop it in the freezer overnight.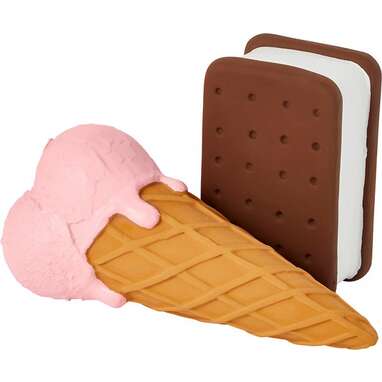 These classic summer treat chew toys will keep your pup busy as he relaxes in the AC after his walk. A built-in squeaker is an added bonus, but if your dog is an aggressive chewer, it's best to keep an eye on him while he's enjoying his "treat."
For dogs who love spraying water, this is the ultimate backyard dog toy. The splash sprinkler pad is made of durable and safe BPA-free materials and big enough that kids can get in on the fun, too!
Have fun staying cool with your pup this summer!
We independently pick all the products we recommend because we love them and think you will too. If you buy a product from a link on our site, we may earn a commission.