These Star Wars Dog Costumes Are Out Of This World
For your little Chewbacca 💛
If you've seen all the prequels, studied the lore and binged "The Mandalorian" (and your pup is a fan of the franchise, too), celebrating your shared love of all things Star Wars"is definitely the move — even on Halloween.
We found some of the best Star Wars dog costume options you can buy so your group Halloween costume this year will be the best ever. From Yoda outfits to Chewbacca vests and even deep-cut costumes like an AT-AT Imperial Walker getup (yes, that's real!), you'll find the perfect Star Wars costume for your dog to wear come Halloween night.
Remember, if your dog isn't feeling a costume this year, don't force it! Some dogs are much more tolerant of costumes than others, so if your pup seems uncomfortable, then a costume may not be for him.
10 Star Wars dog costume options that are totally out of this world
These are the best Star Wars-themed dog costumes you can buy.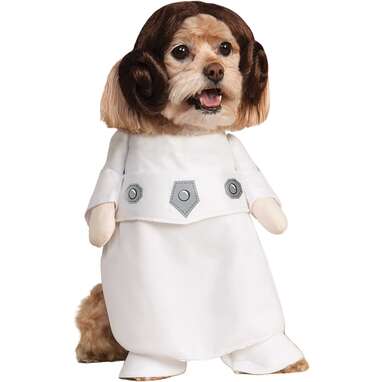 Complete with those spiral buns, this Princess Leia dog costume is instantly recognizable. It fits over your dog's front legs and neck, comes with Leia's iconic white robes, and even has attached soleless shoes to disguise your pup's paws.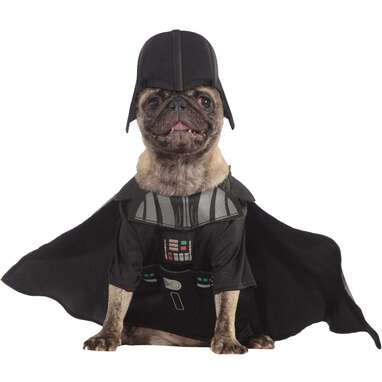 Amazon sells a dog Darth Vader costume, complete with a cape and helmet. The body portion of the costume fits over your dog's front legs, and the helmet secures around your dog's chin.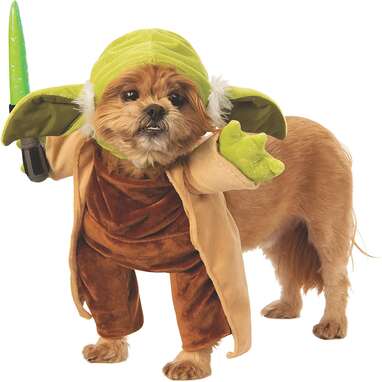 Available in sizes small and large, this Yoda costume fits over your dog's front legs and neck. It features Yoda hands (one is holding a lightsaber) and a hat with Yoda's iconic ears stitched to either side.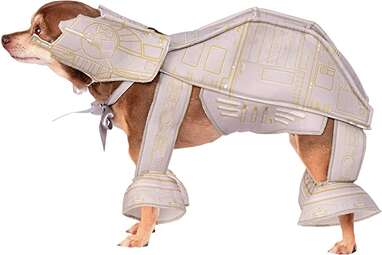 AT-AT Walkers look like dogs anyway, right? This Star Wars costume for dogs will make your pup look just like the armored vehicle used by the Imperial ground forces. Each "leg" of the Walker attaches to your dog's ankle, and it even comes with a headpiece that looks like the front of the Walker vehicles.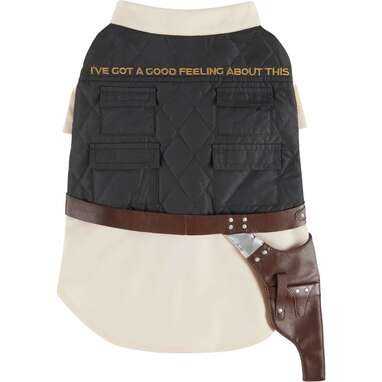 Turn your dog into Harrison Ford's iconic character with this Han Solo vest. It comes in sizes ranging from XS through 3XL and secures along your dog's belly with a row of Velcro. It's lightweight, comfortable and super recognizable.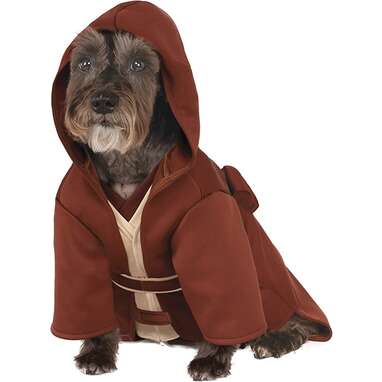 Your pup will be able to fully access the Force when dressed up in this Jedi robe from Rubie's on Amazon. It even comes with cutouts in the hood for dogs with ears that stick up. The robe fits over your dog's front legs and secures around his belly with Velcro.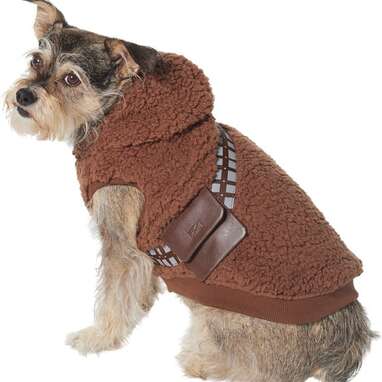 This cozy sherpa vest will transform your dog into Chewbacca in seconds. It comes in sizes ranging from XS up through 3XL and comes with a slot to insert a leash. This costume even comes with a hood to really sell the Wookiee look.
If your fluffy pup is just a couple of horns away from being a Bantha, this costume from Rubie's will complete the picture. It comes with a cap with two spiral horns and a harness with a Tusken Raider attached so it looks like your dog is traversing the plains of Tatooine.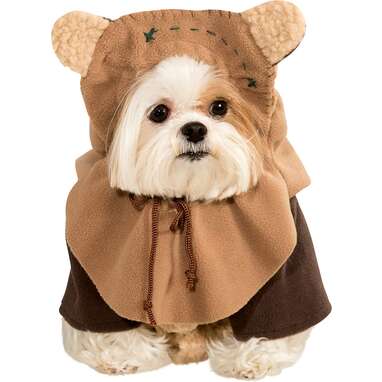 Slip this onesie and hood over your dog to turn him into an Ewok this Halloween. This costume will not only make trick-or-treaters laugh when they come to your door, but it might also keep your little dog warm all night long. The hood is adjustable around the chin, and the brown felt suit fits over both your dog's front and hind legs.
Fans of "The Mandalorian" will love this Grogu (aka Baby Yoda) harness with Halloween pumpkins on it. The harness also features spider webs and bats to complete the spooky season look. Pick on up in a size extra-small through large.
If your dog is cool with dressing up, then one of these Star Wars costumes will definitely be an instant hit in your neighborhood.
We independently pick all the products we recommend because we love them and think you will too. If you buy a product from a link on our site, we may earn a commission.