The Best Shark Toys For Your Future Marine Biologist
Something for every shark-loving kid out there!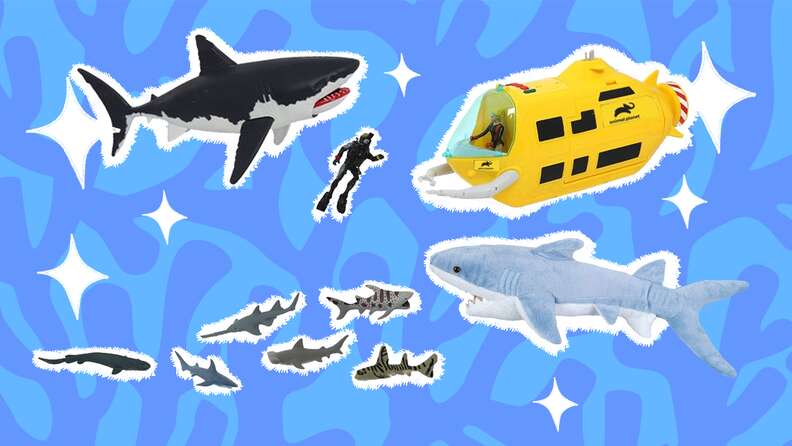 Some kids are obsessed with dogs, cats, horses and any animal they can see up close and pet. But others can't get enough of animals who aren't known for being super cuddly — like sharks!
While they may not be the most warm and fuzzy creatures on the planet (though, some may disagree!), sharks are actually super cool. It's no wonder your child is crazy about them!
If your child loves learning about all kinds of sharks, then you're probably always on the hunt for the perfect shark toys for all those special occasions. And luckily, we found some of the most fun toys your kid will love.
From plushies with night-lights in them to super-detailed shark exploration sets, your child will fall for sharks even more after getting these toys as gifts.
The best shark toys for kids who are fascinated by them
Here are some of our favorite finds.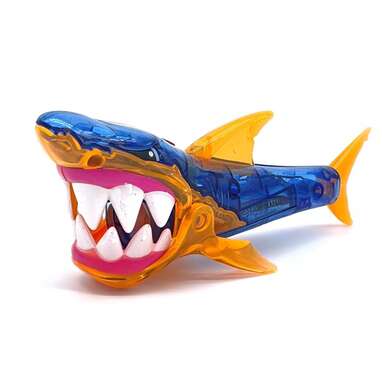 This light-up shark toy from Big Time Toys comes with three light modes for kids to play with, and the entire thing shuts off after 10 minutes of continued use. Great for flashlight tag or to use as a night-light, the Brite Lites Shark comes all ready to go with two AA batteries.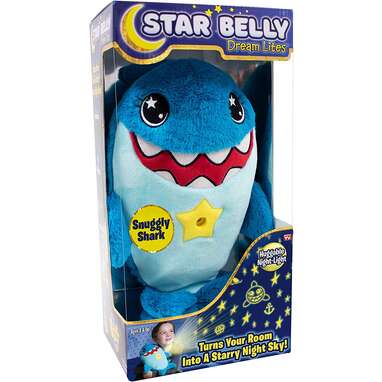 The star-shaped light on the belly of the Ontel Dream Lites stuffed shark turns your kid's room into a starry night. If your child struggles to sleep without a light on, this friendly shark could help them doze off to dreamland in no time. The light automatically shuts off after 20 minutes so you can be sure your kid will get a great night's sleep.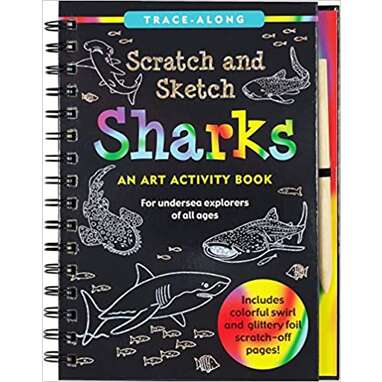 While your child sketches and scratches away the white outlines to reveal the color beneath using the included stylus, they'll be learning about great white sharks, thresher sharks, blue sharks and more! Each page comes with pre-outlined images for your kid to trace as well as information about each shark they're drawing.
What would it be like to go deep-sea exploring and run into a shark? Now your kid can find out! This set from Animal Planet comes with various kinds of sharks (including the massive white shark), a diving cage and a submarine for the included divers to explore. Small parts are included, so make sure your child is past the putting-things-in-their-mouth stage before gifting.
This soft and cushy shark pillow from Your Zone has a friendly little smile that your kid will love. This plushie is made to be squeezed, hugged and napped with, so it's the perfect gift for kids who can't get enough stuffed animals.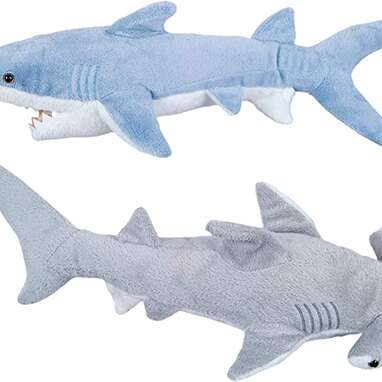 These sharks from Bedwina are made with incredibly soft plush material. Each set comes with a mako shark and a hammerhead shark, and each one measures about 14 inches long.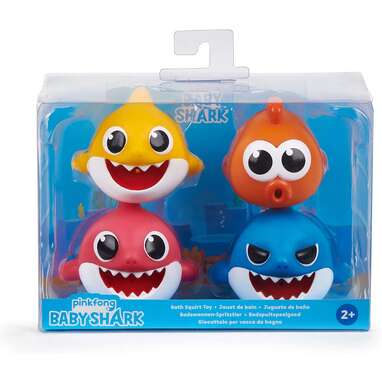 This pack of four squirting shark toys, including Baby Shark, Mommy Shark, Daddy Shark and William, are ready to make bath-time a whole lot more fun. Each shark is designed to fit comfortably in your kid's hands and can squirt water across the tub!
So, which one will you choose? In our opinion, the more shark toys, the merrier!
We independently pick all the products we recommend because we love them and think you will too. If you buy a product from a link on our site, we may earn a commission. Links are updated when possible, but note that deals can expire and all prices are subject to change.