The Absolute Best Self-Cleaning Litter Box Options For Hands-Free Scooping
They're low odor, quiet and easy to use.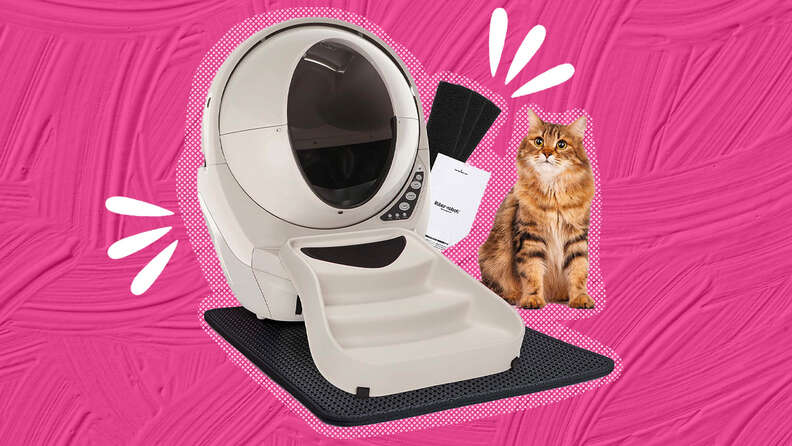 If you've been clicking around the internet in an attempt to land on a reliable self-cleaning litter box, then you've come to the right place. We've done the research, read the reviews and found the four best self-cleaning litter boxes that both pet parents and their cats love.
According to cat parents, the best self-cleaning litter boxes are both easy for cats to use and for parents to maintain, mess-free and keep odor and noise to a minimum.
So which ones fit the bill? Pet parents have weighed in, and the ratings tell all.
What to look for in a self-cleaning litter box
Here are a few important factors to keep in mind when on the hunt for the perfect self-cleaning litter box for you and your cat.
If it's high- or low-tech
The self-cleaning litter box has advanced quite a bit in the past few years. In fact, there are some out there (including on this list) that can actually be controlled through an app on your phone and will send notifications when the box is full and ready to be emptied.
However, high-tech isn't for everyone. There are also several self-cleaning litter boxes that do the job without any added frills, and there are some self-cleaning boxes that don't require any electricity at all.
So depending on how comfortable you are with technology, there's a self-cleaning litter box that is just right for both you and your cat.
Noise level
If you have a finicky cat who hates loud noises, then you're definitely going to want to take noise level into consideration when purchasing a self-cleaning litter box.
Because most use an inner mechanism to do the cleaning, you don't want your cat to be startled by a potential noise that leaves her petrified of the box altogether.
Odor protection
Finally, because the litter box cleans out the waste for you and stores it for disposal, it's necessary to make sure there's an odor-control plan in place before purchasing a self-cleaning litter box.
Some boxes will come with carbon filters, which trap away odors, while others may seal waste away in an odor-locked compartment. Look for odor-control details in the description of the box before selecting, especially if it's going to be placed in a high-traffic area.
The best self-cleaning litter boxes
So which boxes are the best? Here are the top four self-cleaning litter boxes cat parents swear by.
If you're not thrilled about the idea of dealing with technology of any sort when it comes to your cat's litter box, you can still treat yourself to a self-cleaning litter box that just takes a bit of manpower. The Omega Paw Elite self-cleaning litter box works by a rolling motion, which separates waste from clean litter. The waste ends up in a convenient scoop that can be pulled out and used to discard. There's no odor control, but because it's tech-free, you don't have to worry about noise.
If you're looking for the ultimate self-cleaning litter box, look no further than the Litter-Robot 3 by Whisker. This high-tech box won The Dodo's Paw of Approval because it's just so convenient. You can track your cat's usage of the box through the AutoPets Connect app, and the automatic sifting system traps your cat's waste in a carbon-filtered chamber, which can be emptied once or twice a week (depending on how many cats use the box). And it's low on noise, too, and comes with a sensor that ensures the motor won't run while your cat's using the box.
For under $100, you can pick up an automatic self-cleaning litter box from Premier Pet. The box has an electric conveyor belt on one side that transfers clumped waste into an odor-controlled waste bin. Litter only needs to be replaced once a month and topped off in between automated cleanings. Plus, it's whisper-quiet, so even scaredy-cats will love it.
The classic ScoopFree self-cleaning litter box works with specialized odor-trapping crystals that lock away urine smell as soon as they come in contact with waste. The raking mechanism whisks away clumped waste into a tray that can be disposed of every few weeks (depending on how many cats you have). And the litter is easy to replace — just grab a new tray of crystal litter, slide it in the slot, and you're good to go.
Every cat parent can reap the rewards of a self-cleaning litter box, no matter their budget or requirements. Not only will your cleaning duties be reduced, but your cat will also get to enjoy a clean environment where she can do her business. It's a win-win!

We independently pick all the products we recommend because we love them and think you will too. If you buy a product from a link on our site, we may earn a commission.