8 Scary Dog Costumes That Are Perfect For Halloween
Beware of dog 🔪😱👻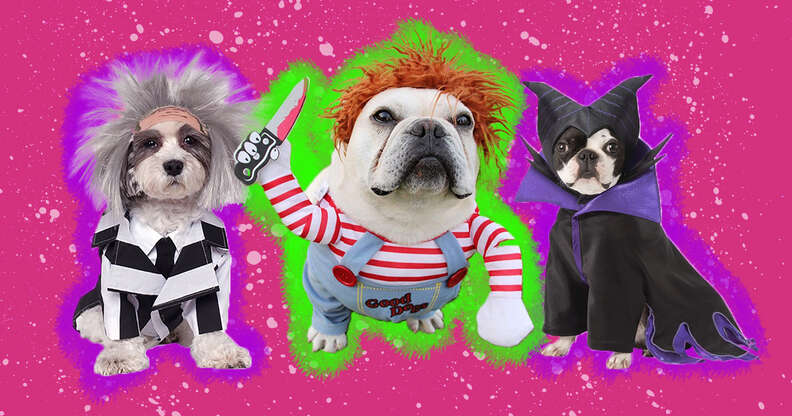 Amazon / HalloweenCostumes.com
Are you a true Halloween fanatic?
Do the cobwebs go up when that first leaf hits the ground?

If you love watching 31 days of horror movies and you get giddy at the latest shipment of shrunken heads to put on your lawn, then you're also probably looking to get your pet in on the spookiest time of year.
Because if princess and bumblebee costumes aren't your style, this list was made for you.
So if you use this season to get all your scariest fantasies out — even if that means dressing up your dog like a giant, terrifying killer clown — check out our favorite scary dog costumes.
The best scary dog costumes for Halloween
Turn your pet into this classic killer doll, and check out this video to see how scary-cute it is in action. Spoiler: It actually looks like he's chasing you around with a knife!
"1, 2, Freddy Pup is coming for you … 3, 4, better get more treats" — that's how it goes, right? Between the hat, the claws and the striped sweater, your BFF will look just like the classic Halloween villain.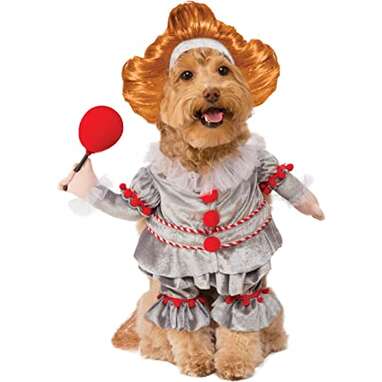 This costume looks just like the creepy clown from the film. And if your pet rocks this Pennywise getup, you know she's got the "IT" factor. (Get it?)
You're already under your BFF's spell, so this costume is pretty fitting.
Just call your BFF's name three times and he'll appear. And this costume is so perfect it might make a repeat appearance next year.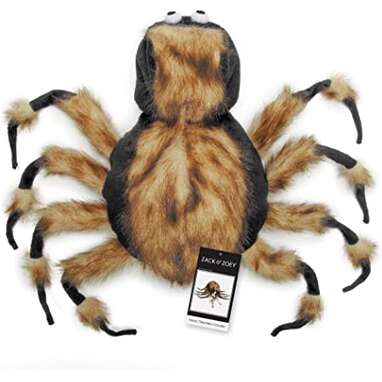 The fur on this spider costume was designed to resemble the hair on real spiders to make your dog look extra spooky. The legs also bend so you can create any creepy silhouette you want.
If you're looking for a more classic Halloween costume, you can't get any more Halloween-y than a bat.
If your pup isn't into elaborate costumes with multiple pieces, consider this simple (yet spooky) glow-in-the-dark skeleton hoodie, which actually seems pretty comfy!
Still didn't find quite what you're looking for? Check out our other Halloween costume roundups:
We independently pick all the products we recommend because we love them and think you will too. If you buy a product from a link on our site, we may earn a commission.