What To Think About Before Returning A Rescue Dog
Read this before returning your pup 🐶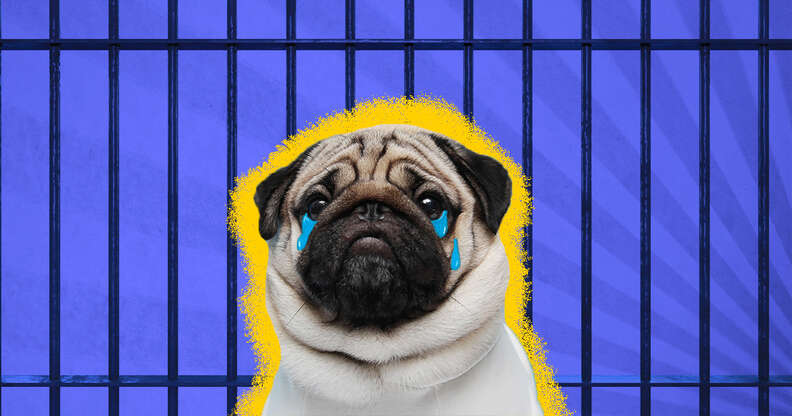 While nobody adopts a dog with the heartbreaking thought of returning him to the shelter, it does happen.
And while there are some rare cases where a return really does make sense for both the family and dog, sadly many returns take place because the adoptive family simply didn't give the dog a fair shot.
In most situations, dogs are returned for behaviors that can be fixed with simple training — like a nervous pup urinating on the carpet when he first gets home or a dog barking at people on the street from the window.
Other people return a pup after just a couple of days because their new dog just isn't energetic or bubbly — yet.
The Dodo spoke with Shelby Semel, head trainer at Animal Haven rescue in New York City, and April Lefever, a canine specialist at Saving One Life Animal Rescue and Sanctuary in Phoenix, Arizona, to find out more about why people return dogs — and how to make sure you don't end up in the same situation.
Can you return an adopted dog?
Each rescue or adoption partner has a different policy on returning pets; some rescues will accept returned pets, while others won't.
"Saving One Life will always take their cats or dogs back if an owner can no longer care for them or has an issue," Lefever told The Dodo. "Once a pet has been in our care, they are forever connected to us, and the return policy is clearly stated in our adoption contract process."
Lefever recommends anyone looking to adopt a dog inquire about the rescue's return policy prior to adoption to ensure the process is clear, since every organization is different.
What to consider before returning a dog
Before returning your pup, you should check in with yourself first to have an honest assessment on whether or not you've given your dog the best chance.
"We challenge pet parents to evaluate if they have done everything they can to remedy the situation with the dog," Lefever said. "It's important to look at any issues with the dog to determine if this is a long-term issue or a temporary problem that may pass."
Did I give my pup time to decompress?
It's important to remember that your dog is going through such an emotional time during his transition to a new home. Between a totally new environment, new people, other animals and decompressing from being in a shelter, it's a totally overwhelming experience. And your dog deserves the chance to adjust to his new surroundings before being judged.
"Before returning a dog to the shelter or organization you adopted from, I would ask myself, 'Have I given the dog enough time to decompress?'" Semel told The Dodo.
According to Semel, the first few days — and possibly even the first few weeks — are not necessarily indicative of your dog's true colors.
You might notice your new dog is skittish, standoffish, moody and maybe scared of the most random things right away. It's important to remember that there's often a period of time — the time frame varies based on the dog's personality and past — when the dog is adjusting to an entirely new world.
"If you can wait out that period first, and give your new dog as much space as he needs, you can make a more informed decision," Semel said.
Can I hire a trainer?
Once the decompression period is over, many dogs will fit in with their families perfectly. But if you're dealing with some training or behavior issues, you might want to consider hiring a professional trainer or behaviorist.
A certified positive reinforcement trainer can help remedy your pup's behavioral issues as long as you stay patient and follow any homework your trainer gives you.
How to prevent future adoption returns
Before even adopting a dog, it's important that you think about whether or not you're truly ready for a dog.
You should also take some time to consider the type of dog that's right for you so you don't end up adopting a pup who totally doesn't fit in with your lifestyle.
When choosing a pup, always consider the kind of personality and activity level that'll fit best with your family. "Be sure to share with the rescue what you are looking for and ask questions about any pet you're considering to ensure they are the right fit for you so it's less likely to be returned," Lefever said.
Puppies require more training and attention than older pups, so families who don't have the extra time or motivation might want to seek an older pup who has already been trained.
"I think it's very important you go into rescue knowing that you won't make a decision to return for at least a month, and with the assumption that you will keep and work through issues unless there are severe issues that you were not made aware of or that were unknown," Semel said.
And just think — with all the bonding that'll happen once your dog is decompressed and able to start training, the love that'll form from your new pup knowing you never gave up on her will be unconditional (and full of snuggles!).
Everything You Need To Help Your New Dog Feel Right At Home