The Best Rabbit Toys For Chewing, Foraging And Hopping
Here's what to look for while shopping for your rabbit's toys.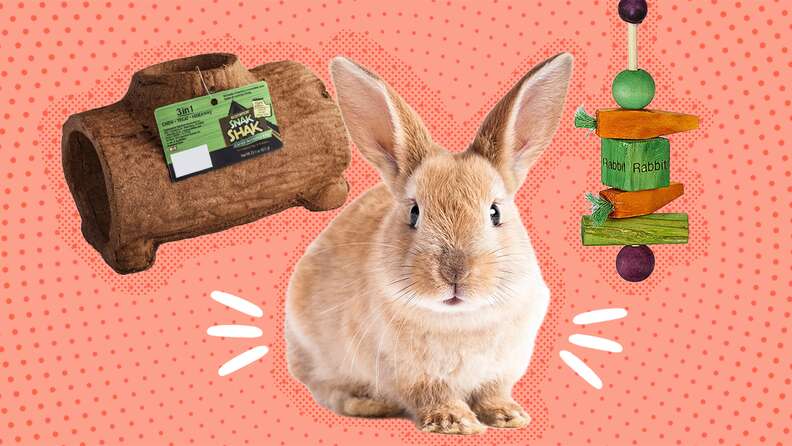 Rabbits are busy little bees when it comes to chewing, nibbling and exploring new territory. So it's no wonder that rabbit parents are constantly on the lookout for new toys that will prevent bunny boredom from creeping in.
After reading the reviews and doing the research, we found some of the best rabbit toys that will keep your bunny entertained for hours on end. There are so many fantastic choices on this list that your rabbit may even end up overwhelmed by all the goodies you get him!
The best rabbit toys should be made of safe, edible materials and should stimulate your rabbit's natural chewing, hopping, hiding and foraging instincts.
How to find the best rabbit toy
Here are a few shopping considerations to keep in mind when choosing the perfect toy for your bunny.
The toy should be made of natural and edible materials
Your rabbit's going to be chewing and nibbling on these toys, so you need to make sure that they're made with safe materials that are OK for him to ingest. A few rabbit-safe materials are:
Alfalfa: This is a natural plant that can be eaten by rabbits and is often a large portion of young rabbit diets. It shouldn't be given in bulk to older rabbits, as they need more fiber in their daily diet, but it's fine to be given as part of a toy.
Seagrass: Another safe and natural fiber, seagrass can be woven into a variety of different rabbit toys and is perfectly fine for bunnies to eat.
Wood: Natural, unfinished and untreated wood is a great material for chew-happy bunnies. Apple, ash, birch, hawthorn, hazel, juniper, maple, pear, poplar, spruce and willow wood are all acceptable for rabbits to chew and ingest.
Cardboard: As long as the cardboard doesn't have ink and is nontoxic, your bunny can chew and shred away. Make sure your bunny doesn't ingest too much cardboard, however, as this can be bad for his digestive system.
The toy should stimulate chewing, hiding, hopping or foraging
A great toy should make your rabbit tap into his natural instincts. Bunnies love to chew, shred and nibble on everything and anything, so a toy with a great natural texture will inspire him to chew.
Larger toys may also stimulate your bunny's instinct to hide (he can climb into tunnels or small houses) or hop (larger moving toys are fun for rabbits to jump over and around).
And some toys even allow your bunny to forage. You either can hide treats in them, or there could be a variety of different stimulants all in one toy that inspire your rabbit to explore and hunt for food and goodies.
Price should reflect quality and how long you expect the toy to last
If you're investing in a larger, higher-priced item, make sure it's something that's going to last a while. Rabbits love to shred and nibble things, so a wood toy will last longer than a grass or cardboard toy and, therefore, may cost a bit more money.
Smaller, edible toys should only cost a few dollars because, if they're a hit with your rabbit, they're not going to last long.
Take size into consideration, too
Are you looking for a toy to fit in your rabbit's hutch to keep him occupied while he's safe inside? Or are you on the hunt for a toy he can play with while he's out and about on the living room floor? If your toy has size restraints based on where your rabbit will play with it, be sure to take measurements before purchasing to get the perfect fit.
Variety is good for active rabbits
If you find that your rabbit tires of toys easily, then you might want to opt for a variety pack of rabbit toys. You can find sets that come with toys made with various materials that will help your rabbit stay interested and busy for longer periods of time.
The best rabbit toys you can buy
Here are some of the best rabbit toys that we love.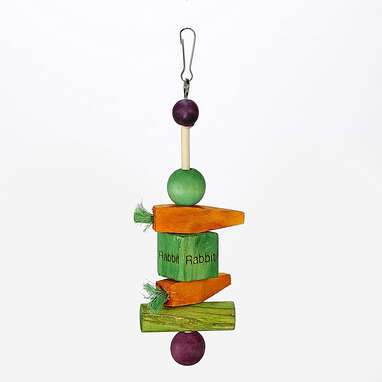 Over 5,800 rabbit parents love Kaytee Perfect Chews hanging chew toy because it's safe and long-lasting. It's made of natural pine wood dyed with vegetable dyes that won't get destroyed in a matter of minutes. It can hang from the top or side of a hutch, or lay on the ground, and stimulates your bunny to chew, gnaw and stretch. And for just over $2, you can't beat the price.
Rabbits can push, roll, hide inside and hop over the Oxbow Hide & Chew roll. And bunny parents can even stuff the cardboard exterior full of treats to encourage their rabbits' foraging instincts. It's also lightweight and easy for bunnies to push and pull around the room.
Another much-loved toy by pet parents is the pack of Kaytee Apple Orchard Sticks. They're all-natural apple wood sticks that your bunny can't resist gnawing on. For just $5, you can get 10 sticks that will last your rabbit a while. Though, these sticks aren't meant to be a long-term toy, so you'll have to repurchase them in the future if your rabbit can't seem to get enough of them.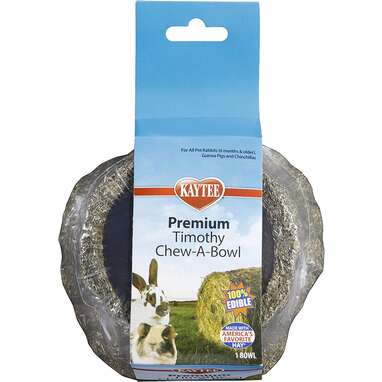 Not only can you fill the Kaytee Premium Timothy Chew-A-Bowl with tasty treats for your bunny to nibble on, but he can also chew the bowl itself! It's made with pet-safe timothy hay, grains and vegetables that support healthy digestion as well as dental health, and over 2,500 rabbit parents say this toy is a win.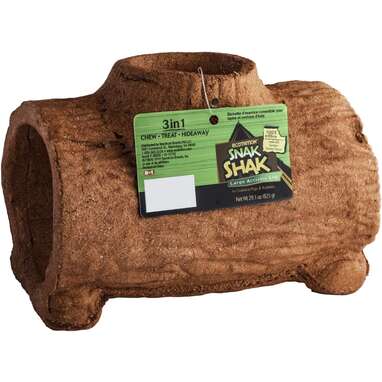 If your bunny loves a good hiding spot, then he'll love the eCotrition Snak Shack Activity Log. It has over 3,400 five-star reviews on Amazon, and rabbits love how they can peek out of three different holes. It's also 100 percent edible — though your rabbit shouldn't be eating his activity log for hours on end. So just make sure he's playing with it sparingly!
Buy your bunny chewable balls in bulk — because he's going to love them! This set of eight balls, made with seagrass, water hyacinth, rattan, willow twigs, corn husk and coco fiber, are great for your rabbit's digestive system and fun for him to play with. He can pick them up, nose them around, jump over them, throw them and, of course, nibble on them, which makes this toy excellent for general exercise for any active rabbit.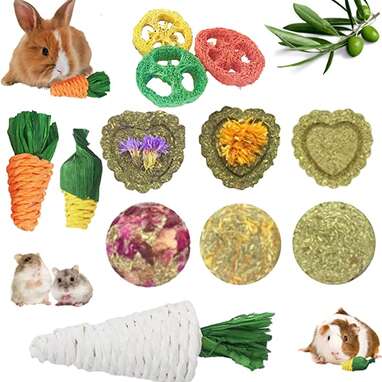 Give your bunny a little bit of everything by picking up a variety pack of toys like the Lacrima Rabbit Chew Toy 12-Piece Set. All the toys in this set are made with all-natural materials and dyes and are made with a variety of different grasses and grains. Your bunny won't get bored with all of these different toys to play with, so this set is great for an active rabbit.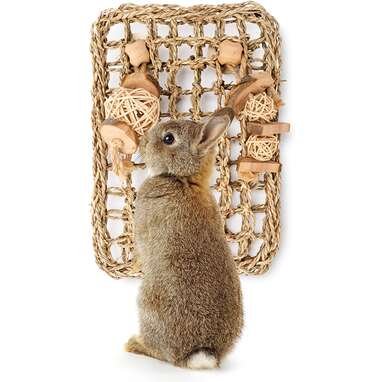 Help your bunny climb and stretch by giving him this seagrass mat from Andwe on Amazon. It secures to his hutch and encourages him to stand on his back feet to explore the toys secured to the mat. Made with wood and natural fibers, your bunny will have no problem finding something satisfying to chew on, and the wood pieces will last you a long time.
With all of these great options at his disposal, your bunny won't know which toy to play with first!
We independently pick all the products we recommend because we love them and think you will too. If you buy a product from a link on our site, we may earn a commission.