The Best Puppy Collars On Amazon
So small, so cute 😍
We independently pick all the products we recommend because we love them and think you will too. If you buy a product from a link on our site, we may earn a commission.
You have the puppy pads, the kibbles and all the toys, but now it's time to choose the right collar for your new puppy. He may be small, but getting him used to wearing a collar now will make future walks and traveling a lot easier.
The below collars come highly recommended from pet parents who have left rave reviews on Amazon. They're all great starter collars (with one listing even tailored to whelping newborns), and most of them grow with your pup so you don't have to worry about grabbing a new collar every three weeks.
These are the best puppy collars on Amazon according to puppy parents — they'll only add to your puppy's cuteness.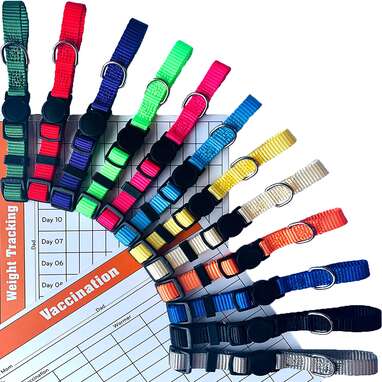 If your mama dog just gave birth to a litter of puppies, help yourself keep them all straight by using these top-rated whelping collars from Gamuda on Amazon. They come in both small and medium sizes and are soft and comfortable for new puppies to wear. They also come with breakaway buckles and a record-keeping chart to help you stay organized and know who's who in the litter.
Available in 12 bright colors, the TagME puppy collars on Amazon are fully adjustable, come with a sturdy D ring for leash attachment and have a lightweight quick-release buckle that can be opened with one hand. These collars come in sizes ranging from extra-small to large, and as one pet parent wrote, "We just chose this for the price and it [has] held up quite well. Didn't want to get anything expensive for a 2-month-old puppy. He is now 4 months [old] and still wearing it, growing into it and we probably will get a bigger size if they sell it."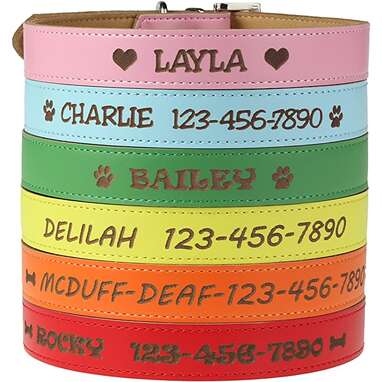 You can personalize your puppy's collar when ordering the loft leather collar from Custom Catch. Add his name, your phone number, a cute symbol and then pick which color you'd like. With over 12,900 five-star reviews on Amazon, pup parents say customer service was top notch, and the collar is awesome for puppies with skin allergies caused by nylon collars.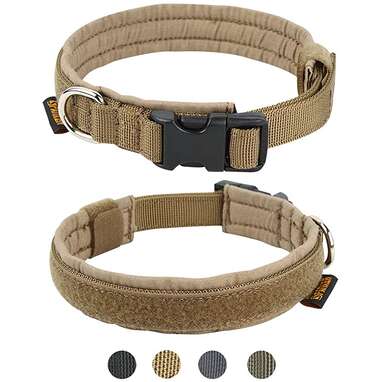 The soft, padded puppy collar on Amazon from EXCELLENT ELITE SPANKER is super adjustable thanks to the Velcro exterior, which also allows for the addition of patches like ones that read "emotional support" or "deaf." The padding on the inside makes this collar comfy to wear, and the neutral tones are classy rather than flashy.
But if flashy is what you're looking for, look no further than the BONAWEN crystal collar. It comes in pink, green, blue, purple, red and black and features rows of rhinestones and a cutesy bow at the front. "We bought two of these for each of our dogs around March … They are very good quality and very shiny!" one pet parent wrote about these collars. "[My spunky princess] knows when things are pretty and needs her divaness to be known to all, which this collar fits the bill! Love it (and Phoebe approved!)."
The patterns you can choose from when ordering the QQPets puppy collar on Amazon will have you smiling — and honestly, good luck picking your favorite! From bees and flowers to checkerboard and abstract designs, these puppy collars are colorful, fun and you'll definitely come back to grab the next size up when your puppy grows out of his first one.
This simple, brightly colored puppy collar from Blueberry Pet is great for dogs of all sizes and ages. These collars are also super adjustable so your little puppy can grow into a bigger pup without having to go through a handful of different collars. Just check out the size chart before you purchase to pick the right one for you and your dog.