These DIY Pumpkin Dog Treats Are Basically Halloween Candy For Your Dog
Plus pumpkin treats for you to shop!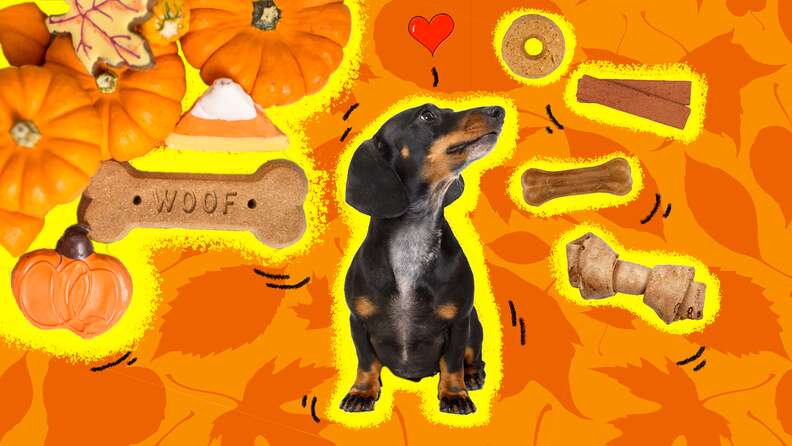 'Tis the season for cinnamon and pumpkin everything! Did you know that your dog can get in the fall spirit with these flavors, too? DIY recipes for pumpkin dog treats exist, and they're basically like Halloween candy, but for your pup.
With the pumpkin spice latte craze holding a firm grip on autumn, it makes sense that you want to spread the seasonal joy with your dog. And we have a tasty treat recipe you can make at home to do just that.
Easy baked pumpkin dog treats
To make about 10 dozen of these crunchy baked peanut butter dog biscuits, you'll need:
2 cups whole wheat flour
1 large egg
½ cup canned plain pumpkin puree (not pumpkin pie filling)
2 tbsp all-natural, sugar-free peanut butter (or use a ½ cup of banana if you're allergic to peanut butter)
½ tsp ground cinnamon
1 tsp water (or more if necessary)
Preheat your oven to 350 degrees Fahrenheit. While preheating, combine your wet ingredients in a bowl using a rubber spatula. Then, gradually add your dry ingredients and fold them into the wet mixture.
Transfer the mixture onto a clean and floured work surface and work it with your hands until a dough starts to form. You can add a teaspoon of water at a time to make the dough more pliable, but don't add too much. You want the dough to be fairly dry and stiff.
Using a rolling pin, roll the dough so it's about a half-inch thick. Cut into half-inch pieces using a knife or cookie cutter of your choice and transfer onto a baking sheet.
Bake the treats in your 350-degree oven for about 30 to 40 minutes or until golden brown. Allow them to cool to room temperature before serving to your pup.
Then, enjoy!
If you're not a whiz in the kitchen, then there are a bunch of pumpkin dog treats you can pick up from your favorite pet retailers. Here are some of the tastiest-sounding pumpkin treats we could find.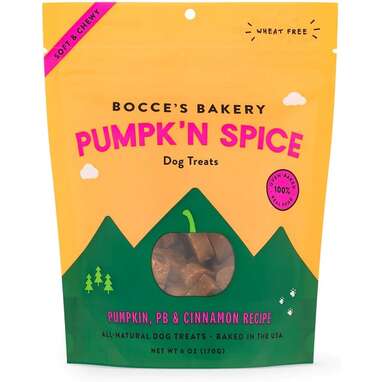 Now your pup can get in on the pumpkin spice craze, too! These Pumpk'n Spice dog treats from Bocce's Bakery are flavored with pumpkin, cinnamon and peanut butter, all combined with rolled oats to make a delectable biscuit perfect for the season.
Portland Pet Food Co.'s Pumpkin Biscuits are baked twice for a light crunch that crumbles easily, which is ideal for dogs who may have issues chewing but love that crunchy texture. These pumpkin treats are gluten-free, all-natural and crafted with human-grade, FDA-approved ingredients.
These crunchy pumpkin-flavored treats from WholeHearted are uniquely designed to break apart into three pieces so that treat time can last a bit longer for both you and your dog. These treats are made with real pumpkin, chickpeas and pea flour, so they're tasty and good for your pup!
Don't confuse these adorable pumpkin treats from Grandma Lucy's for Teddy Grahams! Although, they may taste just as good to your pup as your favorite childhood snack. These treats are flavored with pumpkin, cinnamon and even a bit of cane sugar to really treat your pup.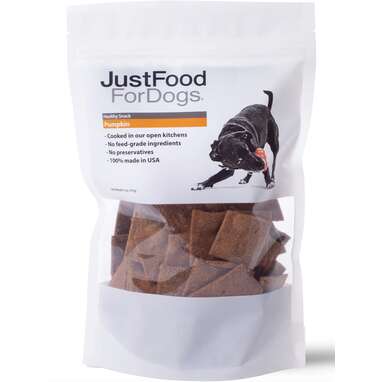 These low-protein pumpkin dog treats from JustFoodForDogs are ideal snacks for dogs with kidney and liver diseases. They're made with simple ingredients, including flour, pumpkin puree, molasses, safflower oil and cinnamon, and don't contain any preservatives.
Made with only four ingredients — pumpkin, oats, canola oil and a bit of natural flavor — Merrick Oven Baked Pumpkin Patch treats are slow-baked to achieve that perfect crunch. Each batch is made by hand, and the treats are even shaped like pumpkins to make treat time more seasonal!
These all-natural, non-GMO pumpkin treats from Dog Mamma's are made with organic superfoods that help boost your dog's immune system, reduce stress and support a healthy coat and digestion. They're flavored with organic honey, ginger, cinnamon and pumpkin, and are basically pumpkin pie bites for your pup!
Rather than cinnamon, Fruitables paired the pumpkin flavor with blueberry to make a unique treat that perfectly complements the late-summer, early-fall season. These treats are made with potatoes, too, which promote a healthy digestive system. And because they're small, these Fruitables treats are perfect for training.
While you're enjoying a candy bar and a PSL, your pup can now munch on a pumpkin dog treat at the same time. When everyone is in the fall spirit, the season becomes so much more fun!
We independently pick all the products we recommend because we love them and think you will too. If you buy a product from a link on our site, we may earn a commission.
5 Dog Halloween Dog Treats To Give To Pup-Or-Treaters