8 Pet Tech Products You Need In 2021
The future is now 🔮
We independently pick all the products we recommend because we love them and think you will too. If you buy a product from a link on our site, we may earn a commission.
Most people would agree that last year was exhausting, to say the least.
So, why not take the year to relax and let technology do some of the work for you?
After all, you'll have more time to chill with your pet when you aren't busy cleaning up after him (or feeding him, or walking him, or brushing his teeth — you get it).
From pet cameras to automatic feeders to GPS trackers, pet tech has made caring for pets the easiest (and more futuristic) that it's ever been.
So, if you're ready to kick back and enjoy the gift of automation, check out these eight pet tech gadgets you never knew you needed (until now).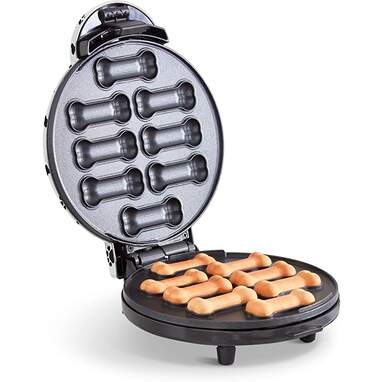 Sure, you've heard of the air fryer craze. But what about a dog treat maker? This treat maker is designed like a waffle press and will bake eight dog treats in just 10 minutes. So if you like to feed your dog whole foods when you can, this is a great alternative to the processed dog treats you might buy in the store. And if you're new to the whole dog treat baking world, it comes with a recipe book to help you get started.
Nothing will keep your dog entertained for hours like an automated toy. And if you're someone who can't be with your dog as much as you'd like, this toy can help make up for lost time (well, almost). It definitely gives off some serious "Black Mirror" vibes, since it recognizes 12 emotions in dogs and is programmed to respond accordingly. For example, it might notice your dog is acting withdrawn and tease him to play in response. And if you want to join in on the fun, you can control the toy through the app with a virtual joystick.
This is the only dog activity tracker and GPS you'll ever need. Its tracking is super accurate thanks to satellites and an LTE-M cellular network, which reaches about 30 percent farther than 5G. Fi is the first dog tracking company to use LTE-M, which is just one of the reasons it's the best on the market. It also has its own special technology that can detect the moment your dog leaves (or escapes) your house, and will notify you when it happens. The app is also easy to use in general. It'll give you detailed information about your dog's activity for the day (and the past week), and even lets you set fitness goals for him.
This automated ball launcher is always good to have when you're busy. Especially if your dog really loves fetch. All he needs to do is drop the ball through the hole in the top, and the launcher will toss the ball out for your dog to chase. The launcher can be used inside or outside (batteries not included) and can be programmed to launch the ball at different distances, up to 30 feet. Just make sure to supervise your dog during play, to be safe!
One of the best pet technologies to come out of the 2000s is the Furbo pet camera. Not only does it let you watch your pet when you're out, but it lets you talk to them and toss them treats, too. How else will your pet know he's the best boy ever when you're not there? It also comes with a detector that alerts you when your dog is barking — kind of like your own alarm system.
This pet feeder solves so many issues that you might have at mealtime. Forget the stressful days of trying to keep one cat from getting into another cat's food. This feeder will only open for specific pets, making it infinitely easier to feed multiple pets on different diets. It can also hold both wet and dry food, and it comes with a scale so you can measure your pet's food accurately, down to the last gram. One of the more techy features of this feeder is its ability to calculate just how much food your pet ate and when — which is helpful info to know.
This product is a game-changer for new puppy parents. It's basically like an automated cat litter box, but for puppies. Whenever your puppy does his business, the machine automatically removes the soiled pad and seals up any waste to prevent any odor. The machine then replaces the pad with a fresh one and even texts you a photo of the new pad once it's done. And it doesn't just know when your dog uses the bathroom — it actually notifies you of changes in your dog's bathroom habits. This sort of info is super important so your vet can stay on top of any health issues.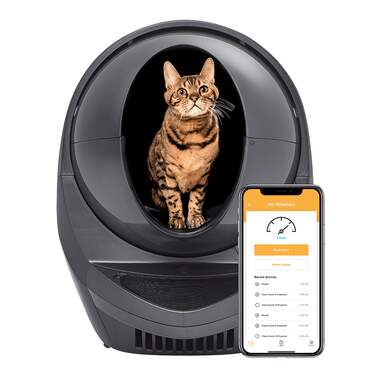 The Litter-Robot is one of the most futuristic automatic litter boxes out there. It's WiFi-enabled and has its own app that gives you ultra-specific information, like how often your cat used the box that day and how full the waste bin is. You can even have notifications set up to alert you when it's time to clean out the litter box. This automatic litter box is also super efficient. It claims to reduce litter usage by 50 percent. So, sooner or later, the Litter-Robot will basically be paying for itself.