7 Thoughtful Sympathy Cards For When A Friend Loses Their Pet
Let them know you're thinking of them ❤️
We independently pick all the products we recommend because we love them and think you will too. If you buy a product from a link on our site, we may earn a commission.
Losing a pet is tough.
And if this happens to someone you know, you might want them to know you're thinking of them.
Sending a pet sympathy card can be a super thoughtful gesture for someone grieving the loss of their pet — and your kind words can mean the world to them.
There are plenty of options on the web for pet sympathy cards, but The Dodo narrowed it down to the best ones out there (because that's what your friend deserves!).
This card is sure to brighten your friend's day, if only for a moment! It has a clean, playful design that's so lovely it might earn a spot on your friend's fridge. The message gets straight to the point, and the inside of the card is blank, so you can add your own personal note. If you want to customize the card and add a nice portrait of your friend and their pet, you have that option, too! Just use the card template that's available on the site.
Charlie and Snoopy are an iconic duo, and we all wished we had a dog like Snoopy at one point in our lives. Having these two on this pet sympathy card is a sweet addition that will tug at your friend's heartstrings. So, if you're OK with the possibility of tears, this option is a cute and thoughtful way to express your condolences.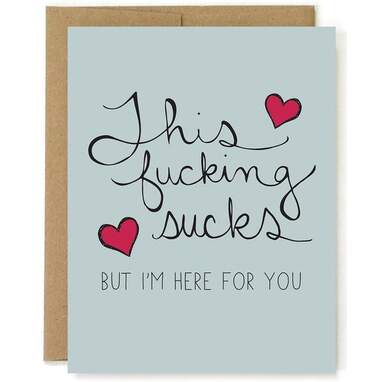 For close friends who like to tell it how it is, there's this sympathy card from Always Fits. It's no secret that losing a pet sucks, but you can still show your friend that you care and will be there for them, even through the hard times. This card is a great way to do just that, and maybe give your friend a little laugh along the way.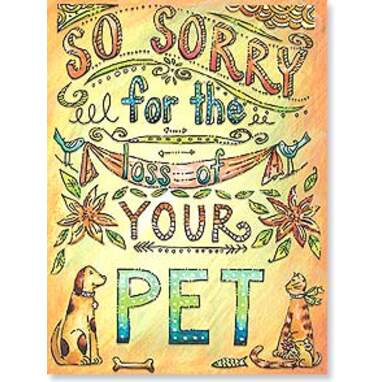 This is a great example of a tasteful sympathy card with a beautiful design. The short and sweet statement inside the card is perfect for when you can't find the right words, and also leaves some space if you want to add a note of your own. The front has a vivid splash of color and lively design that would probably also look great in their home. Your friend will be happy to receive a lovely card and will be thankful to have you in their life!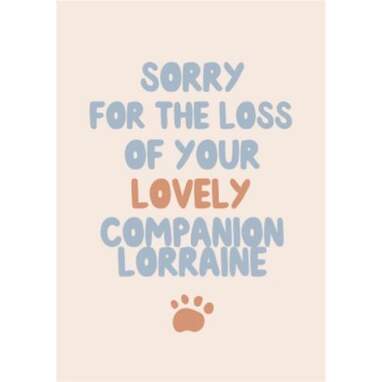 This charming card from Moonpig is a sweet way to tell your friend you're thinking of them. It has a pretty design, and the front is customizable so you can add the name of your friend's pet. Your friend will definitely appreciate that personal touch, and might never want to throw it away!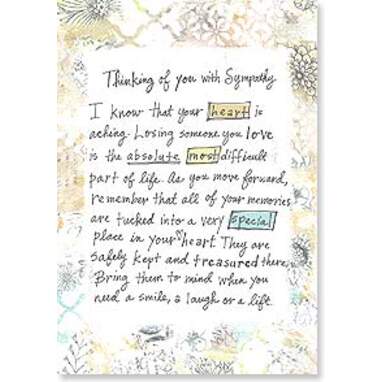 This pet sympathy card shares an uplifting message that might really speak to your friend at a time when she's feeling low. It basically says that losing a pet is difficult, and to remember that your memories of them will never go away. If you want to lift your friend's spirits but don't know what to say, this card might do the trick.
This pet sympathy card is totally customizable. You can change the pet's name, the card's message and even the type of dog (Zazzle has a bunch of premade icons to choose from, which makes it super easy). The design is really simple and classy, so it's perfect for a friend who likes that style. The fact that you took the time to choose something so personalized for your friend will surely blow their minds (and, hopefully, dry their tears!).