Acupuncture Gave These Dogs A Second Lease On Life
And this pet insurance paid for it.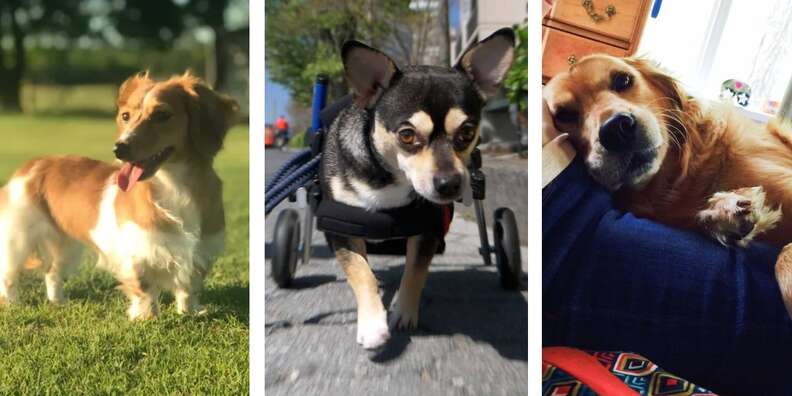 Fetch by The Dodo
Fetch by The Dodo
Getting poked all over with tiny needles doesn't sound like a rejuvenating, healing experience — but in the case of acupuncture, it can be for both humans and pets.
The historical Chinese practice is a holistic tradition that's shown to improve energy flow and promote healing. If acupuncture is successful for your pet, it should minimize any pain he's experiencing and better his overall health.
"The needles are inserted into the acupuncture points, generally where blood vessels and nerves meet," Dr. Aliya McCullough, Fetch by The Dodo's on-staff veterinarian, told The Dodo. "The needles enhance blood circulation and healing. They also trigger the release of natural anti-inflammatory and pain-relieving substances."
In Dr. McCullough's experience, acupuncture treatments usually cost anywhere between $60 to $300 per session —and pets often require more than one session to see results. "The cost depends on what condition is being treated and the practitioner's expertise level," she added.
But, if your veterinarian recently recommended acupuncture for your cat or dog to treat a condition that wasn't pre-existing, you should know that Fetch by The Dodo pet insurance will cover up to 90 percent of the cost. (Just as long as it's being practiced by a vet!)
Jonathan and Shahar, the pet parents of a sweet Chihuahua mix named Reuben, can tell you just how important this type of care coverage is. After Reuben was unexpectedly paralyzed by intervertebral disc disease (IVDD), an emergency condition where the discs along the backbone are pushed from their normal position, acupuncture was one of multiple treatments that helped him defy the odds and walk again with the help of a wheelchair.
"Ongoing therapy is very expensive," Shahar told The Dodo. "I think, for now, so far, we've gotten about $10,000 back from Fetch, which is really helping us. There's no other way we could have done it. It's nice to have this peace of mind and just not worry about it and be able to give Reuben the treatment he needs without even thinking of the cost."
Birdie, a 4-year-old miniature dachshund, shares a similar acupuncture success story. While running through the field at her grandparent's house, Birdie let out a scream and couldn't move — IVDD being the cause.
Christi, Birdie's parent, was told that with surgery and treatment, Birdie had a 50 percent chance of walking again. Now, after the right care, Birdie is back doing what she loves: running freely, with zero medical impairments holding her back.
"When I stood in front of this neuro team at the University of Georgia talking about her prognosis, I didn't blink," Christi told The Dodo. "I didn't have to think about all the costs that would come with it. That gave me the ability to have hope in a very dark moment and know that I had this resource that I could use to try to give her the best life that I could despite what had happened to her."
What's incredible about acupuncture is that it can help a wide range of conditions. Koko, a golden retriever with aggressive anal gland cancer, is proof. After surgery, Koko was announced cancer-free, but the illness came back three years later.
Now, Koko is going through chemotherapy and acupuncture — and although the fight isn't over, Koko's parent, Diane, isn't giving up.
"By having pet insurance, you really are able to give your dog the best shot at living as long as possible," Diane told The Dodo. "And as long as we can treat it, that's what I want to do."
No family wants to see their pet in pain, which is why having access to care like acupuncture is so important. And with Fetch pet insurance, you never have to think twice about agreeing to top-tier treatment.