The Best Outdoor Cat Enclosures For Your BFF
A catio is just what he needs for outdoor fun ☀️
If you think your cat may be a little jealous when you go outside to enjoy a nice day, what about trying an outdoor cat enclosure?
A catio (yes, really) may be just what you need for your cat to enjoy some fun in the sun with you.
The best outdoor cat enclosures are made with durable materials to guarantee a safe and secure environment that will provide your cat with fresh air and mental stimulation (a new environment has wonderful enrichment potential!).
We spoke to Dr. Hilary Jones, chief veterinary officer at DodoVet, on the benefits of outdoor cat enclosures and how to find the best one for your cat.
"Cats are notorious for watching the wildlife through our windows, and being outside gives them a front row seat," Dr. Jones told The Dodo. "Sometimes it's just nice to be able to roll around in the grass and relax, too! Mental stimulation is great for getting excess energy out, and we all know that cats get huge bursts of energy at the most inconvenient times (like when we're trying to sleep)."
Here are our top picks:
Permanent outdoor cat enclosures
Temporary outdoor cat enclosures
How to find the best catio for your BFF
First, you'll need to decide if you want to purchase a temporary or permanent outdoor playpen for your cat.
Temporary catios are portable and generally less expensive than a permanent structure for your cat (they're ideal if you rent your home or plan to travel with it). Lightweight, you'll have the opportunity to move the catio around with you, which can be nice for those cat parents who like to spend time outdoors but not just in one spot. In terms of a secure environment, temporary catios are made of sturdy nylon and offer zippered doors for lots of protection.
Permanent catios are just that — permanent! Think of it as an outdoor playhouse for your cat, complete with a sturdy roof offering weather protection and reinforced wire mesh walls to keep your cat from escaping. Plus, you'll have more opportunities to really customize your kitty's space to fit his needs.
One note: If you take your cat outside, be sure he's up to date on reliable flea prevention as well as vaccines. Always check your cat's outdoor playpen for any possible routes that he could use to escape (ideally there should be zero!) and make sure he can't get to any harmful plants outside. You'll also want to make sure there's a good sun-to-shade ratio if you're putting up a permanent catio.
The best outdoor cat enclosure options
Permanent outdoor cat enclosures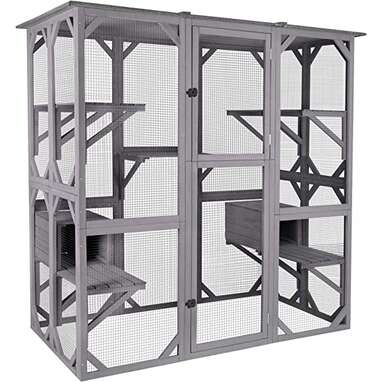 This permanent catio has it all: space, lots of platforms and shelves to climb on, an oversized front door (so you can come in and visit him!) and two sleeping houses that offer a comfy space to relax. We also like the weatherproof asphalt roof to protect him against rain and excessive sunlight, and its wire walls and reinforced corner strips which add to the durability factor. And as far as putting it together, the pre-drilled screw holes and labeled parts are much appreciated! (It's also affordable for what you're getting!)
Your cat deserves the best, right? Well this catio is definitely worth the splurge. The Pawhut large catio is sturdy, sealed in a pet-friendly, nontoxic sealant for weather protection, and enclosed with a durable wire mesh so you don't have to worry about him wandering off. But this indoor sanctuary for your cat also offers multiple tiers for relaxing and climbing, an indoor ramp, and a main house within the catio that's perfect for relaxing. A mini mansion all of his own!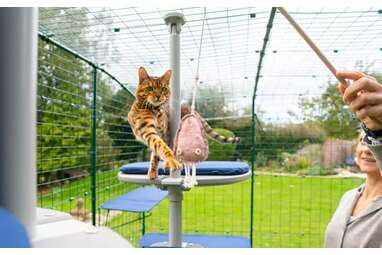 The highly rated outdoor cat enclosure from Omlet is fully customizable, so you can really tailor it to your cat's interest and activity level. Sizes start at 6.5 feet by 6.5 feet, and you can even expand to make the space larger, which means there's plenty of room to add in your own accessories like a cat tree, hammocks, platform, bridges, scratchers and more. The enclosures are made with strong aluminum poles and extra-strength wire for added security.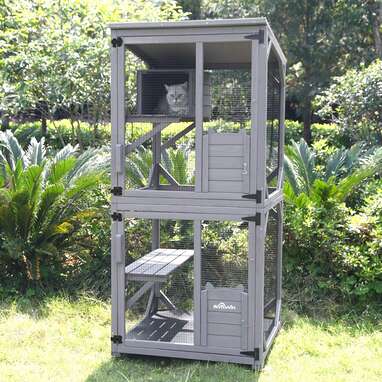 This townhouse-style catio will give your cat fresh air and freedom without sacrificing space in your yard. And if you install the catio next to a window on your house, your cat can even enter the catio from the window on his own terms! It also comes with wheels for easy mobility and a waterproof asphalt roof to protect against the elements.
Temporary outdoor cat enclosures
With four connecting ways to play (tent, three-way tunnel, hexagon and triangle tent), your cat will have a blast getting to know his new play space. We love its pop-up design which makes putting up and taking down super easy, and it's lightweight, making this design perfect for traveling with your cat on vacation, camping and a day at the beach.
We love that this temporary catio has three connecting parts (a tent, cube and tunnel) for lots of fun outdoor play options! Security is top of mind as it's made from sturdy nylon, yet easy to set up and flexible for moving around. When all set up, the catio takes up 40 feet of floor space, so there'll be plenty of room for him to explore safely. A removable canopy is a helpful addition, too.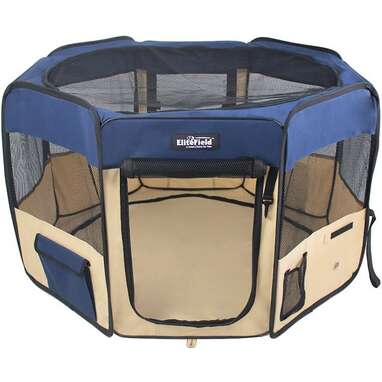 This temporary catio provides an affordable way to bring your cat outdoors in the backyard or when you're on the go (we love that it comes with a carrying case, making portability easy). Made of sturdy nylon and mesh, its two doors are designed with locking zippers for added security and ventilation.
Here's to giving your cat a little freedom in the great outdoors with you. He'll love his new place to play!
Want access to a vet 24/7? With DodoVet, you can connect via video chat, phone or text with an empathetic veterinary expert who can help you be the best pet parent you can be. Say goodbye to Dr. Google and have all your pet parent questions answered anytime, anywhere. Learn more here.
We independently pick all the products we recommend because we love them and think you will too. If you buy a product from a link on our site, we may earn a commission.
These Cat Feeders Make Dinnertime Easy