Here's Everything You Need For Your New Puppy
Time to go shopping 🛍️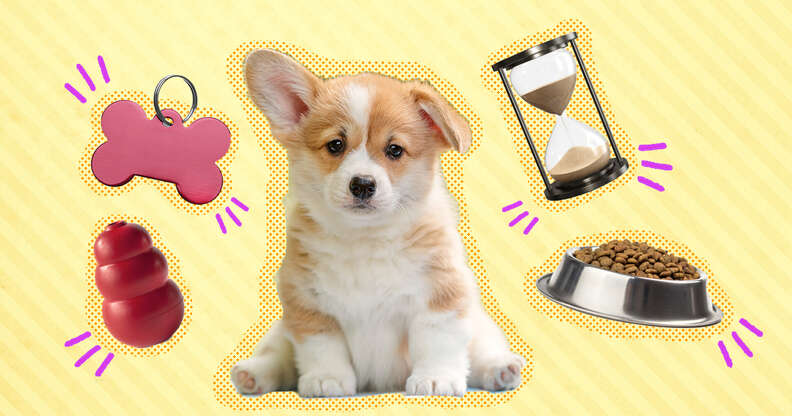 Congratulations on adopting your new best friend!
Adding a new puppy to your family can be super exciting, but it's definitely no walk in the park (even though there will be lots of those).
You'll want to be as prepared as possible for your new puppy's arrival to make sure the transition goes smoothly. And part of that means getting the right supplies — like crates, leashes and dog bowls — ready to go.
So what exactly should you have on hand before bringing your new puppy home?
We spoke with Irith Bloom, a certified professional dog trainer and owner of The Sophisticated Dog in Los Angeles, to find out what should be on your new puppy checklist.
Things you need for a puppy
Here are all the essentials you need to get your new puppy settled in.
An exercise pen or dog gate
Exercise pens and pet gates let you keep a close eye on your new dog at home, especially while he's still getting used to your place. They make it easy to supervise him while he plays with his new toys and help contain the potty accidents that are inevitable with new puppies.
A dog gate can also keep your puppy away from things you want to keep in one piece, like furniture and shoes, since puppies have a ton of playful energy and will want to chew, especially while teething.
Potty training can take up to a month or so, and puppies finish teething when they're around 8 months old, so you'll get lots of use out of a gate or pen.
Bloom recommends step-through gates for both exercise pens and dog gates because they're easier to get in and out of. "A step-through gate is key," Bloom told The Dodo.
For dog pens, Bloom recommends the Richell indoor/outdoor puppy playpen from Amazon for $319.70.
For dog gates, Bloom likes the Carlson Pet Products walk-through dog gate from Amazon for $106.70 or the Cumbor walk-through dog gate for $89.99.
Dog crate
Crate training helps puppies (and dogs) feel safe and calm by giving them their own space. Crates are helpful for dogs at any life stage, so it's good to get your new puppy used to it as early as possible. And, like dog pens and gates, crates also help limit any messes and keep your puppy from eating or chewing on things he shouldn't.
Try this crate that earned The Dodo's Paw of Approval from Diggs for $375
A dog bed (or several)
There are a lot of different types of dog beds out there — like pillow, orthopedic, bolster and sofa dog beds — and your new puppy will probably like one better than the others.
"If you can, get more than one bed, and choose different types (e.g., plain cushion vs. a bed with a back and sides)," Bloom said. "It's nice for a puppy to have more than one bed so the puppy can choose which bed to lie on."
It's also helpful to have a couple of beds so you can always have one available, even if you have to wash one (for example, if the puppy has a potty accident on the bed), Bloom said.
Try this Casper dog bed that received The Dodo's Paw of Approval for $139+
A collar and ID tags
Bloom recommends a flat or martingale collar for your new puppy.
A flat collar is a standard dog collar with a strip of flat material that connects at a buckle around your dog's neck.
A martingale collar, aka a no-slip collar, is similar to a flat collar, but it has an extra loop of leash material between two buckles that gently tightens around your dog's neck (without hurting him) when he pulls to provide more control and prevent him from slipping out. They're often used on greyhounds and whippets because their heads are narrower than their necks, which makes it easy for a collar to slip off.
Both options above are fine, but you should never use collars that are meant to hurt your dog, like choke collars or shock collars.
Keep in mind that using only a collar isn't the best choice for walking your dog, though, because it can put stress on your dog's neck that can cause injuries over time. Instead, you should use a harness to attach your pup's leash and only use your dog's collar to hold his identification tag.
Try these personalized dog tags from Amazon for $17.99
A harness
It's better to attach your puppy's leash to a harness when walking him because harnesses take the pressure off of your dog's neck and distribute it around his chest.
"Avoid harnesses that are designed to cause pain, but otherwise, any harness that fits is fine," Bloom said.
Your puppy's harness should be snug enough that it won't come off, but you should still be able to fit two fingers underneath it. If the harness is too tight, you might see subtle hair loss in the area over time.
Bloom recommends harnesses from 2 Hounds Design, like this Freedom no-pull harness from Amazon for $39.56.
A leash
"Choose a leash that is 6 feet long or shorter — no extendable leashes, please!" Bloom said.
With retractable (aka extendable) leashes, you can lose control when your dog gets too far away from you, and he can end up in danger. Plus, they have a thin cord that can snap easily, especially if you have a large dog.
When it comes to the type of leash you should buy, Bloom recommends a chain leash.
"A useful option for puppies is a lightweight chain leash (not a chain collar, but a chain leash), since a chain leash is less fun to chew on than a fabric or leather leash," Bloom said.
Bloom recommends this OmniPet chain leash with a leather handle from Chewy for $9.36.
A water bowl, a food bowl and a bunch of food toys
Any kind of dog food and water bowls should work for your new puppy, Bloom said.
Bloom strongly recommends adding food toys to the list. They encourage slow feeding, which is good for your puppy's digestion and can help keep your puppy occupied.
Here are some food toys Bloom likes:
"Just be sure to get the correct size for your dog!" Bloom said. "When in doubt, get a food toy that is too big so your puppy can't swallow it."
Chew toys
Puppies are typically high-energy, so you'll need to channel that somehow (and distract him from your sneakers!). Puppy toys (particularly chew toys) will be lifesavers when you realize your puppy will need a lot of playtime before he chills out.
Chew toys are great because your puppy's likely in a teething phase and will appreciate some new toys of his own to gnaw on.
Try this puppy chew toy set from Amazon for $21.95
Puppy food
If you're adopting a puppy, you might want to start off feeding him the puppy food he was eating at the shelter or foster home, since changing his food too suddenly can lead to tummy troubles.
But once you know what food to feed your puppy, you can transition him to a new food slowly — ideally over a four-week period. Start by feeding only 25 percent of the new food the first week (and 75 percent of the old food), increasing to 50 percent new food the second week (and 50 percent old food), 75 percent new food the third week (and 25 percent old food), until you're feeding him only the new food completely by the fourth week.
Make sure the puppy food you choose is nutritionally complete and balanced and that you're following the feeding guidelines on the food label.
Here are some puppy foods that veterinarians recommend:
A housetraining plan and enzymatic cleaner in case of accidents
Potty training starts the moment your puppy walks into the house, so you should be ready with a plan (and a pet-safe cleaning solution).
Here's a basic housetraining plan to follow with your new puppy:
Keep your puppy confined in an exercise pen (or a crate for brief periods) to help prevent potty accidents.
While your puppy's awake, take him outside every 30 minutes on a leash.
While outside, stand in one spot for five minutes without interacting with your puppy. "Most puppies will get bored and potty," Bloom said.
If your puppy potties within five minutes, reward him with a treat and playtime. "This helps the puppy learn that pottying quickly leads to fun," Bloom said.
If he doesn't potty within five minutes, put him back in his crate for about 10 minutes and then try again.
Keep a log of when the puppy potties so you can figure out which times of day the puppy really needs potty breaks, Bloom added.
Potty accidents are inevitable, and you should never punish your puppy for going in the house. Instead, keep rewarding your puppy for using the bathroom outside. And, most importantly, keep an enzymatic cleaner around, since it does the best job at getting rid of that pee smell.
Try Nature's Miracle dog stain and odor remover from Amazon for $24.19
Grooming products
Your puppy can start getting baths at around 8 weeks old, and you can start using shampoo to wash him at around 3 or 4 months. Be sure to use a shampoo made specifically for puppies because their skin is very sensitive, and puppy shampoos are formulated to be gentle enough to not irritate them.
Try this Burt's Bees puppy shampoo from Amazon for $7.30
You'll also need a brush, dog towel and nail clipper or grinder. You can even get your puppy his own bathrobe to keep him warm and cozy.
A vet and trainer
You'll need to start training your puppy right away, so it's a good idea to research trainers or obedience classes before he gets home.
And you should research veterinarians in your area so you'll be prepared for your dog's first vet visit and in case he has any accidents. You should plan to make a vet appointment a few days after bringing your puppy home, so make it a priority.
Pet Insurance
Pet insurance policies won't cover pre-existing conditions, so it's a good idea to get insurance for your puppy as soon as possible. That way, you won't be stuck with expensive vet bills unexpectedly if your dog gets sick.
If you're looking for pet insurance, you'll want to check out Fetch by The Dodo. It's made by and for adoring pet parents, and it's the most comprehensive coverage in the U.S. and Canada.
A lot of patience
It'll take time for a puppy to learn your routine and follow your commands, so the best thing you can do is be patient.
"Puppies are adorable, but they are also babies," Bloom said. "Laugh off whatever you can, and be as patient as possible, just as you would with a human infant or toddler."
We independently pick all the products we recommend because we love them and think you will too. If you buy a product from a link on our site, we may earn a commission.