Here Are 4 Of The Best Natural Dog Foods
These foods are all natural for your pup 🐶
If you're a healthy eater and try to avoid artificial products and ingredients, you might want your pup to eat all-natural foods, too.
We reached out to Cassie Panning, a licensed veterinary nurse specializing in nutrition with BluePearl Specialty and Emergency Pet Hospital and Animal Emergency & Referral Center of Minnesota, to find out what "natural" food for pets actually means. Plus, we put together a list of some of the best natural dog foods you can buy.
What is natural dog food?
The Association of American Feed Control Officials (AAFCO) has certain requirements for food to be labeled natural.
According to the AAFCO, natural dog food must be "derived solely from plant, animal or mined sources, either in its unprocessed state or having been subject to physical processing, heat processing, rendering, purification, extraction, hydrolysis, enzymolysis or fermentation."
"To have the claim of 'natural' on the label, all parts of the diet must be natural, with nothing synthetic or chemically synthesized added," Panning told The Dodo. "There are, however, exceptions where the diet can be listed as natural with added vitamins and minerals."
So some natural dog foods will have added nutrients to make sure they're complete and balanced. According to the AAFCO, non-natural ingredients have to be limited to synthetic vitamins, minerals and trace nutrients, and they have to include a disclaimer that says, "Natural with added vitamins, minerals and trace nutrients."
Benefits of all-natural dog food
The main benefit of feeding your dog natural food is that there are no artificial ingredients in it (aside from some that include vitamins and minerals), such as preservatives, flavors and colors. So your pup will get more whole ingredients with fewer additives.
Best natural dog foods
The best natural dog foods follow AAFCO guidelines. We've rounded up some of the best natural foods for your pup that are popular with pet parents.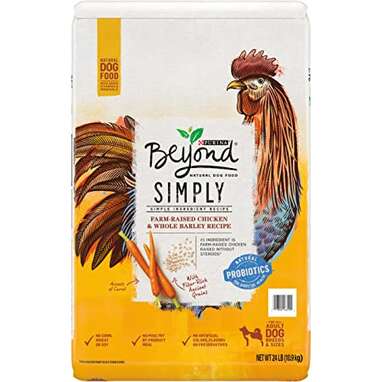 This dog food is made with real chicken that's been raised without steroids. There are no artificial flavors, colors or preservatives, and it has natural probiotics and omega-6 fatty acids. One Amazon reviewer said, "[My dogs] have both been eating Purina Beyond their whole lives…I can't say enough about how much I love this food."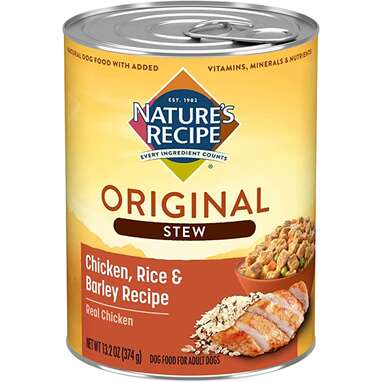 This wet dog food is natural with added nutrients, such as vitamins A and B12 to support your pup's immune system. There are no artificial flavors or preservatives, and it has over 2,000 five-star reviews.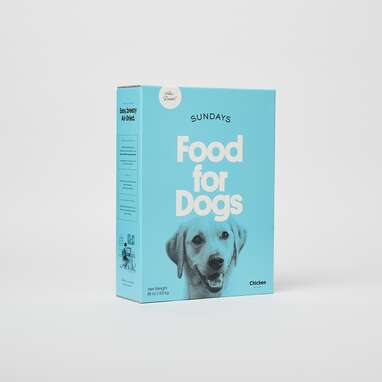 This dog food was created by a veterinarian to be extra healthy. The food is raw and air-dried with USDA beef as the first ingredient. There are over 300 five-star reviews, with one pet parent saying, "Toby used to barely touch his old food, and if he did, it wasn't till late at night. Now that we switched to Sunday's, I can barely put the bowl down before he's going at it."
Your pup will think he's getting some of your meal with this natural dog food that's made with human-grade ingredients. The fresh food is pre-cooked and shipped to you, so you don't even have to cook it yourself. Plus, it's available as a subscription, so you won't run out. We liked The Farmer's Dog so much, it even earned our Paw of Approval. One Dodo pet parent said, "Beacon was immediately obsessed with The Farmer's Dog food. As soon as we unpacked The Farmer's Dog, Beacon licked the frozen/wrapped blocks of food."
If you're interested in feeding your pup natural dog food, try one of these healthy options.
Want access to a vet 24/7? With DodoVet, you can connect via video chat, phone or text with an empathetic veterinary expert who can help you be the best pet parent you can be. Say goodbye to Dr. Google and have all your pet parent questions answered anytime, anywhere. Learn more here.
We independently pick all the products we recommend because we love them and think you will too. If you buy a product from a link on our site, we may earn a commission.