Your Cat Will Love These Lickable Cat Treats
A tasty snack and a chance to bond? Win-win 😻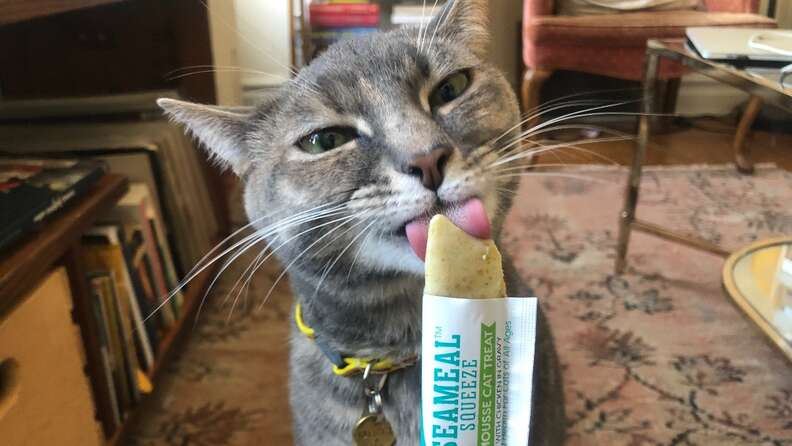 Looking for a way to bond with your cat and give her a special treat at the same time?
Lickable cat treats are an awesome option when it's time for a snack. The tasty purees come in a variety of flavors and, thanks to their high moisture content, can help ensure your cat stays hydrated, too.
We also love that these cat treats can be interactive and provide a great way to bond with your cat. With tube cat treats like these, a cat parent can hold the packaged end of the treat while their cat licks the other side (and if frozen beforehand, can make for a cool summer treat on a hot day!).
When shopping, you'll want to look out for cat treats that are made with natural ingredients and are free of artificial additives. And of course, you'll want to consider the price point, as well as what your cat already loves to eat. If he's a fish guy, look for salmon, for example. Chances are, he'll enjoy every lick!
Here are our top picks for lickable cat treats:
6 best lickable cat treats
In this roundup, Lauren Hoepner, a copy editor here at The Dodo, tried all of the above lickable cat treats on her kitty, Miele.
"I've tried a few brands of lickable cat treats in the past, and Miele has really enjoyed them," Hoepner told The Dodo. "I wanted to see if there were any brands that could prove to be super enjoyable for Miele while also being healthy, occasional additions to her diet. Especially for the summer, the added moisture from lickable treats is a huge appeal to me as a cat parent who wants to make sure her cat is staying hydrated throughout the day."
Caru tops the list for a variety of reasons. Hoepner found the longer, skinnier tube packaging easy to hold, which made feeding super simple and offered a fun way to bond with Miele while giving her a little space to enjoy her treat.
These lickable cat treats are also super nutritious while still being pretty affordable.
"Caru rises to the top in terms of what you get for your money: an easy-to-feed wet treat made with human-grade ingredients, no artificial additives and a super high moisture content," Hoepner said. "And their price point falls in the middle of this group of brands, so not the cheapest but definitely not the most expensive."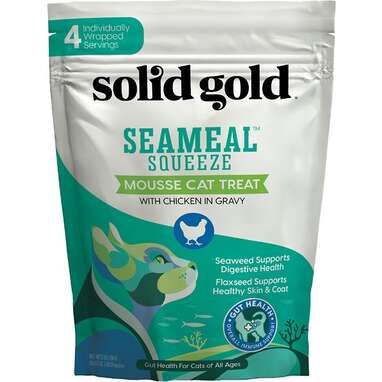 While Solid Gold was the most expensive of all the cat treats tested, their high-quality and unique ingredients may be the reason why.
"Solid Gold seemed to be the highest quality to me, which probably explains the high price tag," Hoepner said. "The aesthetics of this brand, their unique approach to ingredients (seaweed meal for digestion and flaxseed for healthy skin and coat, which none of the other treats contain), and the sturdiness of the packaging were definitely most impressive to me."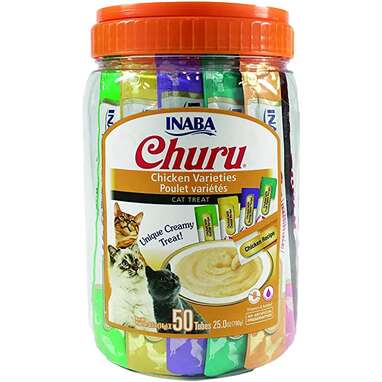 This Inaba Churu pack comes in two flavors (perfect for chicken lovers!), and its ingredients include wild caught tuna and farm-raised chicken with no artificial preservatives.
"My biggest complaint with Churu is really just the smell — these are stinky," Hoepner said. "Otherwise, they're a fairly priced cat treat, they have a super high moisture content (the highest of this group), and they have a pretty unique ingredient list, containing green tea extract, taurine and a vitamin E supplement."
With 9 percent crude protein, these lickable cat treats really pack a punch. The chicken-flavored treat is made with no artificial colors or flavors, no carrageenan and no added hormones or grain. Instead, they're made with real chicken and poultry and premium ingredients that offer the added protein your adult cat needs. Here's to that added chicken broth for extra moisture, too!
"The biggest pro here was that Miele loved them," Hoepner said. "They got the job done."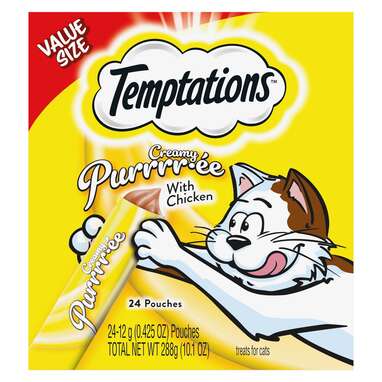 At the end of the day, 24 cat treat pouches for under $13 is a pretty great deal, making it an easy pick for our "best value" category. We also liked that the brand uses more sustainable packaging, making it simple to feed by hand or in a bowl and the treat is made without artificial flavors, colors or preservatives.
"Miele's favorite were the Temptations lickable treats, probably because they had one of the strongest smells of any of the treats, and the ingredients for these contain a lot of chicken and pork by-products," Hoepner said. "I could tell she was super enticed by the smell of these and was pausing a lot less in between licks — she was scarfing them down. I also appreciate that these treats were packaged in a cardboard carton, as opposed to the plastic pouches the other brands of treats came in."
We love that these treats are made with your cat's digestive health in mind (ingredients include prebiotic fiber from inulin). However, Hoepner found Nulo's Perfect Purees to be the most watery of the bunch. Given their consistency, it seems this brand would work best as a topper on dry cat food.
"The consistency at room temperature was runny, and I think Miele was having to work too hard to try to lick it as I was squeezing it," Hoepner said. "The Nulo treats also froze less well and less consistently than the other brands, almost like a separation of the water had occurred while they were freezing, and Miele gave up on this 'popsicle' pretty quickly."
So, the next time your cat is nosing around for a special snack, consider a lickable cat treat. These tasty and nutritious options are a great way to spend a little quality time with your BFF.
We independently pick all the products we recommend because we love them and think you will too. The Dodo may receive complimentary samples to test in our Paw of Approval program, but all our opinions are 100 percent our own. If you buy a product from a link on our site, we may earn a commission.
If you have a product you love that you want to share with other pet parents, send a tip to
dodopaw@thedodo.com
.
The Dodo's Pet Collection Is Now Available At Walmart