The 13 Kong Toys Your Pup Needs To Have
There are so many more than just the classic!
KONG — the legendary toy that refuses to accept the fate of so many of its dog toy predecessors (aka being destroyed).
The KONG brand is much-loved among dog parents for its nearly-indestructible toys made from durable rubber, and the "Classic" KONG design is famed for its unpredictable bounce that keeps dogs guessing. But there are so many other KONG toys on Amazon, and though he doesn't even know it yet, your dog is about to have a field day.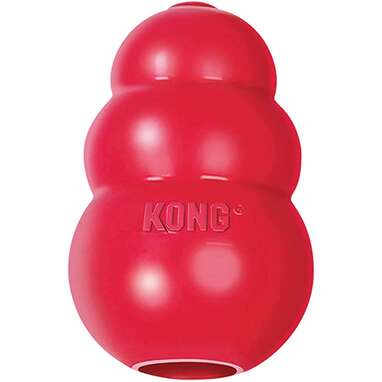 If you and your dog are new to the world of KONG, start simple with the KONG Classic. It's the perfect toy for "average" chewers (dogs who don't immediately destroy their toys), and as one of the over 32,000 five-star reviewers wrote, "Kongs are to dogs what Candy Crush is to humans." Enough said.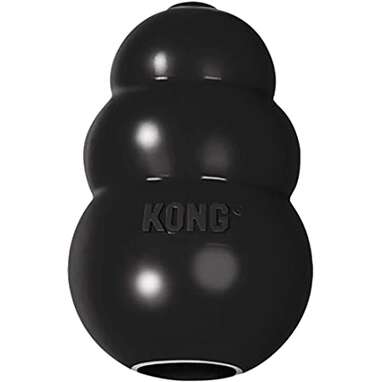 Like the Classic, KONG Extreme is available in a variety of different sizes for various types of dog breeds. But unlike KONG Classic, the Extreme version is made for "power chewers," aka dogs who could moonlight as woodchippers. "My adolescent dog is finally old enough that he can destroy most dog toys out there," one five-star customer wrote. "He doesn't seem to be able to chew through these toys, thank goodness!"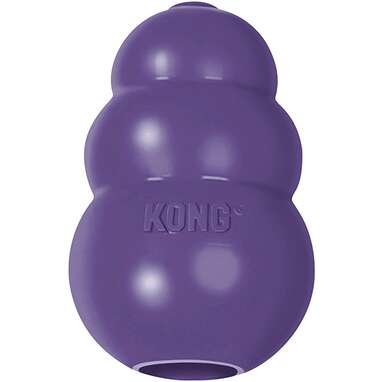 Similar to KONG Puppy, KONG Senior is made with a softer rubber formula customized to cushion aging teeth and gums. The famed unpredictable bounce will keep your older dog spry and youthful, and like the other KONG toys, it can be loaded up with treats for a fun surprise.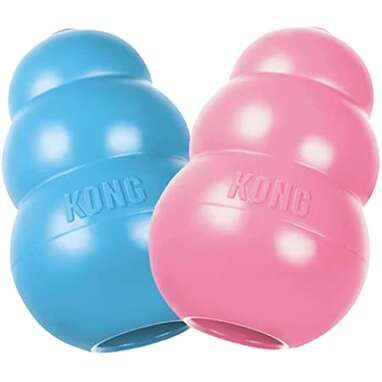 On the other end of the KONG spectrum is KONG Puppy, made with a soft rubber formula that's easy on a growing puppy's teeth and gums. It's great for young dogs going through teething, and can provide distraction and fun for those who may be going through separation anxiety.
Your "power chewer" pup will love gnawing on the KONG Extreme Goodie Bone — especially if you fill its pockets with dog-safe peanut butter or other treats. It's meant to withstand extreme chewing, and that classic bone shape will help your dog grab it with his paws while he works away.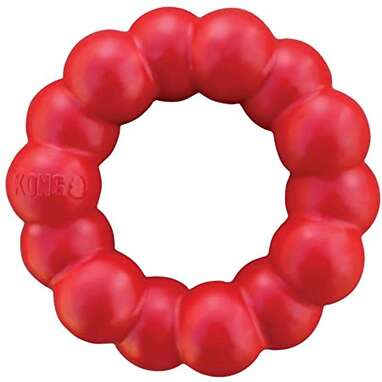 Tug-of-war fans will love the KONG Ring, an easy-to-grip ring toy made with the classic KONG rubber. The nubs and ridges on the KONG Ring will also help your dog keep his teeth clean as he plays.
The KONG Ball with Hole is basically your standard fetch ball, but better. Made with the same durable red rubber as the Classic, the Ball with Hole can withstand hours upon hours of fetch, and can be stuffed with treats when fetch time is over. As one of the 3,200 five-star reviewers wrote, "The only ball that would resist more than a couple of weeks in my [pit bull mix's] mouth. A tennis ball would last 30 seconds."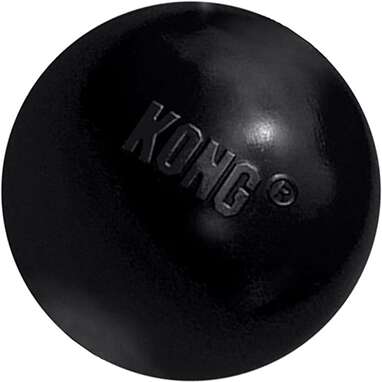 Made with the same super-tough rubber as the KONG Extreme, the KONG Extreme Ball is the perfect fetch ball for "power chewers." It comes in two different sizes, features that KONG extreme-bounce factor, and over 11,000 dog parents have rated this toy with five stars.
What's better than a tennis ball? A tennis ball that squeaks. If your pup is a tennis ball fanatic, he'll love this pack of three squeaker balls from KONG. They're heftier than your standard tennis ball, so they should stand up to hours of play, and because they're available in several different sizes, you can choose the perfect fit for your dog.
If you're looking for a toy that does double-duty as a teeth cleaner, the KONG Stuff-A-Ball is a great choice. It features patented "Denta Ridges" that clean dogs' teeth and gums as they chew away. The ball can be stuffed with treats to entice your pup to keep on gnawing (and, unbeknownst to him, cleaning).
Available in both small and large, the KONG Tires were designed to be a fun fetch toy that can bounce, roll and contain a sweet and healthy treat (like dog-safe peanut butter or yogurt) on the inside wall. As one of the 7,400 five-star reviewers wrote, "If you put a little peanut butter in the tire groove, [my dog] will sit there for an hour with this combo. So far definitely worth every penny."
It's a squeaker, fetch toy, and pull toy all in one. The KONG Jumbler Ball is like a puzzle box for your dog. He'll try and try to get the tennis ball out from the middle for hours. Some pups will succeed, others will have to try again tomorrow. Even if the tennis ball is retrieved, though, the fun continues.
The iconic hardy rubber has been shaped into frisbee form. The KONG Flyer is a softer, more flexible alternative to the old classic hard-plastic frisbee, but is just as durable. Over 10,000 pet parents have given the KONG Flyer a five-star rating, with most saying it's so much better quality than the fabric frisbee alternatives sold in stores.