We independently pick all the products we recommend because we love them and think you will too. If you buy a product from a link on our site, we may earn a commission.
Your kitten can't get much cuter than she already is. But if you're looking to keep her extra safe and get her used to wearing a collar, you might as well dress her in style. And there are so many cute kitten collars on Amazon that it might be hard to choose just one — so The Dodo rounded up the best ones.
(Remember: To ensure a proper and safe fit, make sure you measure your kitten's neck and compare it to the sizes on the collar listing before ordering.)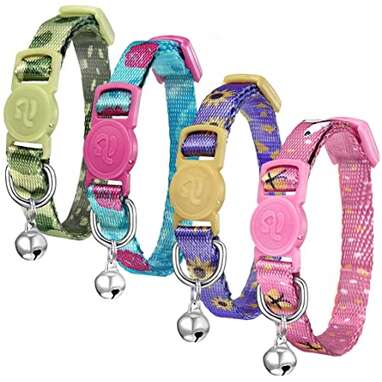 In each pack of Azusa kitten collars, you get four different patterns in either a plaid or flower-themed colorway. And these collars were made with kittens in mind — they're small and snap closed with an extra-sensitive breakaway buckle that will come loose if it's ever snagged. Plus, they're made with soft polyester webbing that won't irritate her skin.
This set of two kitten collars from Bluerise is great for kittens over 2 months of age. You get a blue collar and a pink collar with a detachable flower that can be placed on either one. Each collar also features a small pink bell and a breakaway buckle. "Adorable collar, and proven safe! Phoebe got the bell stuck in the frame [of] her food dish one day, and we came home to a food dish, food and water all over the floor, with the [broken-off] collar still wedged in the dish," one pet parent wrote. "Tightened her collar, and the issue was gone. She's been wearing it for almost six months and it's still beauteous."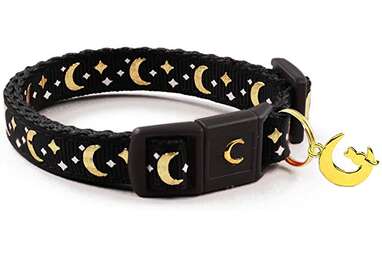 The Waaag moon and stars cat collar comes in nine fun colors, with each featuring beautiful gold crescent moons and silver stars. And, instead of a standard bell, these collars come with a cute gold-tone charm of a cat sitting on a crescent moon. And you'll have peace of mind when your cat is wearing her new collar thanks to the breakaway buckle that ensures her safety.
The only downside to this set of ADOGGYGO watermelon and avocado collars is that you may have trouble picking a favorite if you only have one kitten. Not only do these each have adorable prints on the actual collar, but they also come with removable bow ties and matching charms. "Literally have not bought a product off of Amazon that brings me as much joy as watching my cats 'dress up' for a quarantine dinner," one five-star reviewer wrote. "Get it. You won't regret it."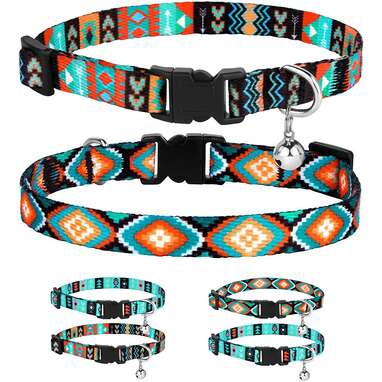 The fun, colorful geometric patterns from CollarDirect stand out from the rest with their bright teals, neon oranges and bold black designs. You can grab a set of two in several different pairings, and each collar comes with a silver-tone bell and a breakaway buckle.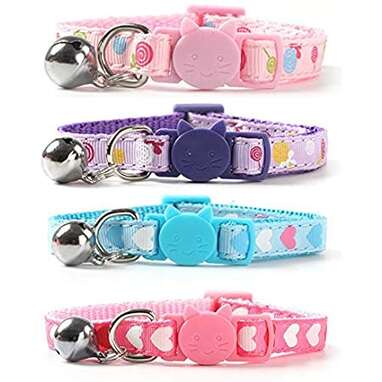 There's really nothing cuter than these kitten collars from CHUKCHI, which come in a variety of baby pinks and light blues with heart designs. The breakaway buckles on these collars are shaped like cartoon cats and the nylon webbing material is soft and non-irritating. "I have two black kittens that are hard to find, especially in the dark, so the bells are nice to know where they are (and for telling them apart since they're twins)," one cat parent wrote. "They're super cute and the smallest setting fits my 4-month-old kittens perfectly."
If you're into plaid, you'll love these breakaway kitten collars from Joytale. Available in a huge selection of plaid colorways, each Joytale kitten collar is adjustable up to 11 inches and features a cute, cat-shaped breakaway collar, a metal bell and an adorable bowtie. "I was looking for a collar for a kitten I recently took in that could grow with her but also keep her safe as sometimes she comes outside in the yard," one pet parent said. "These two collars will last me for a long time, but if I ever need to replace or get more, I would definitely reorder these!"
Your kitten will be serving some serious looks in this rhinestone bling collar from COZYROOM. The pink rhinestones are secured onto a soft velvet backing that sits comfortably on your cat's skin, and the metal bell helps you keep track of where she is. "This collar is so cute," one five-star reviewer wrote. "It's really shiny. And it's [a] breakaway collar. When I can't find my cat because she blends in with my furniture, I'll notice the bling around her neck lol. Love it!!"
ADOGGYGO also sells packs of two cute kitten collars with universe and rainbow patterns on them, which are just as adorable as the watermelon/avocado set. These kitten collars from Amazon also come with a removable bowtie, a cute matching charm, a bell and a breakaway collar buckle.