How To Choose The Best Kitten Collars, According To A Vet
Kitten collars that look good and keep him safe 😻
Getting your kitten his own collar is pretty essential, but will any old collar do the trick?
As it turns out, not exactly. Kitten collars should have special features so they can be safe and comfortable for young cats.
We spoke with Dr. Chyrle Bonk, a veterinarian working with Hepper, to find out how to find the best kitten collars, since there are so many out there.
Do kittens need collars?
Kittens need collars so they can be identified in case they ever go missing.
"IDs are a must for all kittens, even strictly indoor ones, since they may be accidentally let outside or escape at any time," Dr. Bonk told The Dodo.
A collar with an ID tag, or even one with a personalized band, can make it way easier for you to reunite with your BFF if he ever gets lost.
How to choose a kitten collar
According to Dr. Bonk, the best kitten collars have elastic or breakaway bands, are small in size and are adjustable.
Elastic or breakaway band
An elastic or breakaway band is essential for keeping your kitten safe while wearing his collar.
"These collars are breakaway or elastic so that they'll come off if they get hooked on something so that they don't choke your kitten," Dr. Bonk said.
A breakaway clasp releases easily if your kitten's collar gets snagged, while an elastic band will stretch when it's stuck on something. Either way, these features will prevent your cat from getting hurt.
"Elastic isn't very durable, but for kittens it works well since they won't be wearing a kitten collar for very long," Dr. Bonk said. "Other types of kitten collars are woven nylon with an elastic portion for the same purpose, or they have a breakaway clasp that will come apart if it gets hooked on something."
Small size
Since your kitten's tiny, it only makes sense that his collar is too.
"They should be small and lightweight, because your kitten is also small and lightweight," Dr. Bonk said.
When you're first fitting your kitten for a collar, you should make sure you're getting him the right size. But since he's going to be growing pretty quickly, you'll need to check on how his collar's fitting pretty often.
"It's important to frequently check the fit of your kitten's collar since they are growing and a collar can quickly become too small," Dr. Bonk said. "You should always be able to fit one to two fingers under the collar, so you will need to adjust or resize the collar as needed while your kitten grows."
Adjustable
And rather than buying your kitten a new collar every time he grows a little, it's best to find an option that's adjustable. That'll save you a lot of money until your kitten's ready for his adult collar.
"When your kitten is ready for an adult collar will depend on the type of collar you have," Dr. Bonk said. "Some go by weight, and some will work until your kitten stops growing. Read the manufacturer's label to find out."
Best kitten collars
We rounded up some of the best kitten collars to make it even easier to narrow down your options.
This kitten collar is Dr. Bonk's personal favorite. "GoTags makes a great kitten collar that is embroidered so there is no tag that may get lost," Dr. Bonk said. "They are lightweight, breakaway and reflective."
The collar itself is also adjustable between 8 and 13 inches, so you can resize it and make it bigger as your cat grows.
This kitten collar features a breakaway buckle in case it gets caught on anything. What makes it so great for kittens is that it comes in two adjustable sizes: 6.5 to 10 inches and 9 to 15 inches.
Not to mention, the crescent moon design is super cute, and it's available in a bunch of fun colors. (And for good measure, it's got over 8,000 five-star ratings on Amazon.)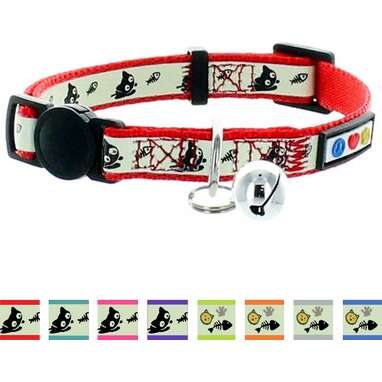 The bell on this kitten collar is removable, so you can always take it off if you really want to. The band adjusts between 7 and 11 inches and is great for visibility because it has a reflective strip and glows in the dark.
And if you're worried about your kitten's collar getting stuck on anything, it also has a breakaway buckle.
This kitten collar comes with a stainless steel name tag right on it, which can be customized to include up to three lines of personal information (like your cat's name, your address and your phone number).
It also comes with all the essentials, like a breakaway clasp and a bell, and is available in two adjustable sizes — 6 to 8 inches and 7 to 12 inches — making it a great choice for growing kittens.
This kitten collar has all the great features of the one above — an adjustable band, a breakaway buckle, a customizable name plate and a bell — but with the added flair of a cute little bow tie. And if you ever decide you're over the bow tie design, you can actually remove it for a classic collar look.
For pet parents on a budget, or even with more than one kitten, you can get two collars for under $10. Each has a reflective strip around the band for increased visibility, as well as a bell and a breakaway clasp.
Plus, you get two adjustable size options to choose from: 6 to 8 inches and 7.5 to 12.5 inches.
So now that you know what makes the best kitten collars, picking out the perfect accessory for your tiny BFF — especially one that's actually going to keep him safe — will be no problem.
We independently pick all the products we recommend because we love them and think you will too. If you buy a product from a link on our site, we may earn a commission.
4 Cat Water Fountains That Are Way Better Than Drinking From A Bowl
4 Cat Water Fountains That Are Way Better Than Drinking From A Bowl