11 Interactive Cat Toys That Are Perfect For Solo Play
Keep him entertained for hours ⏰
We independently pick all the products we recommend because we love them and think you will too. If you buy a product from a link on our site, we may earn a commission.
There's nothing more rewarding than playing with your cat — watching her jump, pounce and go after her favorite toy is just as fun for you as it is for her. But sometimes you need to take a break — and that's where interactive cat toys come in handy.
There are a bunch of awesome interactive cat toys on Amazon that are designed for independent play and will make your cat go wild (without you needing to throw her favorite sparkly ball over and over again). Some flip and flop, others pique her curiosity — but all guarantee a good time and hours upon hours of entertainment for your cat.
The Cat Amazing interactive treat maze looks super simple — and it is! Yet it keeps your cat coming back time and time again with its interior cardboard nooks and crannies where treats are waiting to be found. Your cat will paw, push and try to grab the treats from inside for hours on end. "As an owner of six cats, I must say this toy is a hit with all of them," one pet parent wrote. "I placed a few treats inside and it kept them busy and entertained for hours. We love this toy!"
The USB-chargeable wiggling pickle from Pet Craft automatically flips and flops and makes enticing sounds when its motion sensor is activated that will encourage your cat to pounce and kick. "All my cats love it," one five-star reviewer said. "They steal it from one another and never seem to tire of fishing it out of boxes we hide it in."
The Flutter Bug interactive toy from All for Paws will tease your cat endlessly with its 360-degree rotating butterfly. This interactive cat toy is battery-powered and comes with two butterfly replacements for when your cat actually does nab it.
The interactive cat toy from Reeple is part spring toy, part ball toy and provides hours of entertainment for your cat. You can detach the spring toy to play with it separately, and then install it at the top of the toy for added fun when it's time to chase the ball inside the track.
Your cat will try like crazy to catch the unpredictable mouse that runs around the Pawaboo toy track. This toy runs on three AA batteries and is covered by a scratch-friendly microfiber cover that your cat can sit on while she plays. "My 2-year-old cats are bored," one pet parent wrote. "I bought this toy — arrived yesterday. They went into seventh heaven."
The digger toy from Catit isn't just a fun, interactive cat toy, but it also encourages your cat to slow down when eating. It consists of several cups situated on a base in which you can drop treats, toys or her kibble for her to retrieve. This toy will keep her active, curious and desperate to snag a goodie.
Press the button on top of the SmartyKat Hot Pursuit toy and watch your cat try to catch the feather wand out from under the mat. You can select different speeds for the wand, which erratically moves and keeps your cat guessing. "I don't often give five stars, but my kitty LOVES this toy," one cat parent wrote. "He never seems to get bored with it … Sometimes he attacks it, sometimes he sits and watches it."
Another flopping, wiggling favorite interactive toy among cats is the Potaroma USB-chargeable flopping fish. Like the pickle toy, the electric fish starts moving as soon as it senses your cat nearby, and each Potaroma fish comes with catnip to up the ante even more. Over 10,600 pet parents say this flopping fish is a big win.
If your cat can't get enough of laser pointer toys, she'll go nuts for the YVE LIFE automatic laser toy. You can set the laser pointer range as well as the times the toy goes on and off, and the head is adjustable so you can angle the laser in the right direction. "My kittens love this thing, as do I!" one pet parent wrote. "One of the best features of this cat laser specifically is that it automatically comes on … Love this cat laser and highly recommend it because of its automatic activation!!!"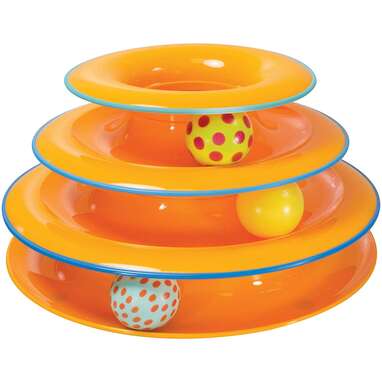 Over 33,400 cat parents on Amazon say the Cat Tracks interactive cat toy from Petstages is a hit in their household. The three-tiered game houses three brightly-colored balls that spin around the track and keep your cat engaged.
This interactive toy/slow feeder, also from Catit, is designed like a tree that has holes and slots out of which your cat can fish her food. You can set the difficulty of the treat tree to make it more difficult and amp up the suspense for your food-motivated cat. It will keep her busy and entertained, and reduce the chances of her throwing up after wolfing down a meal.