There's Actually Ice Cream Just For Your Dog (No, Not Just Vanilla)
It's ice cream season for everyone 🍨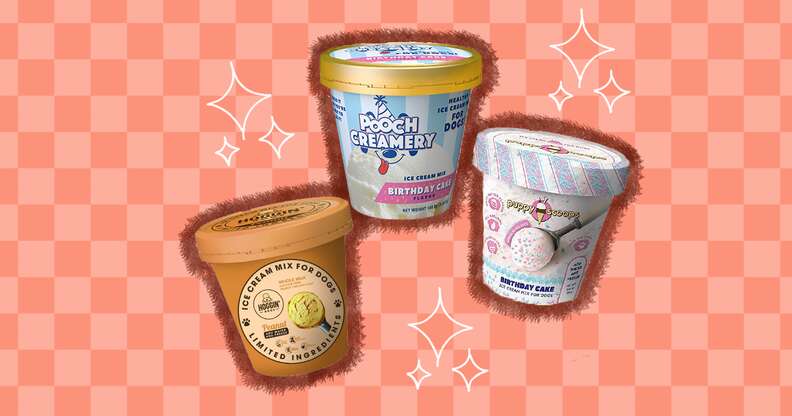 It's OK to let your dog have some vanilla ice cream on rare occasions. After all, who can resist a good boy begging?
But it's really not the best for him, since the high fat and sugar content can be super unhealthy. Plus, milk doesn't digest easily in sensitive stomachs.
The good news is that dog ice cream actually exists, and it's the best way to pamper your pup without giving him a tummy ache.
What's in ice cream for dogs?
Dog-safe ice cream options are formulated with lactose-free milk and other dog-safe ingredients that'll actually let him experience flavors besides vanilla (since a small amount of vanilla ice cream is really the only safe human option). They come in a powder mix, and you add water, mix and freeze to turn it into pup-safe ice cream.
Where to buy dog ice cream
Dying to know where to buy dog ice cream? We rounded up some of the best ice cream for dogs so you can spoil your pup this summer.
(Just don't confuse his pints for yours!)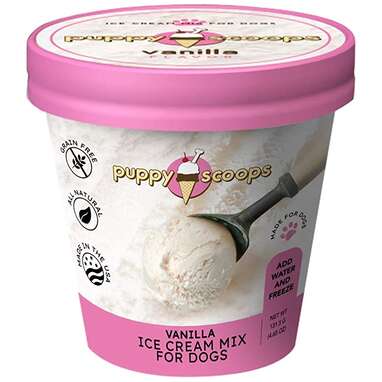 This brand uses all-natural and human-grade ingredients, so you could even eat this yourself if you wanted.
(But is that really fair to your pup? After all, each container is only 4.65 ounces and you already have your own.)
In its powder form, Puppy Scoops will be good on your shelf for up to a year. And once it's all mixed together and transformed into dog ice cream, it'll keep in your freezer for six weeks.
It's available in several flavors, including:
It's like the ice cream he's already used to but better on his stomach. This treat only has five premium ingredients, and they're all safe for your pup to eat — in moderation, of course. And just to make sure your dog doesn't overdo it, each tub of ice cream is 5.25 ounces.
It comes in a bunch of different flavors, including:
While we love a good pun, the big draw to Hoggin' Dogs is that it has no added sugar, in case you wanted to avoid the sweet stuff entirely. And no matter which flavor you choose, this treat only has four natural, human-grade ingredients.
On the shelf, the powder mix will last up to a year. And when it's mixed in your freezer, it's good for six weeks. (It only comes in 4.65-ounce containers, so your pup will probably go through it long before it goes bad.)
Hoggin' Dogs comes in several flavors:
There you have it — ice cream for dogs is real, and now your dog doesn't have to feel left out on sundae Sundays.
We independently pick all the products we recommend because we love them and think you will too. If you buy a product from a link on our site, we may earn a commission.