How To Show Your Cat You're Thankful For Her
Cats deserve all the praise 🙌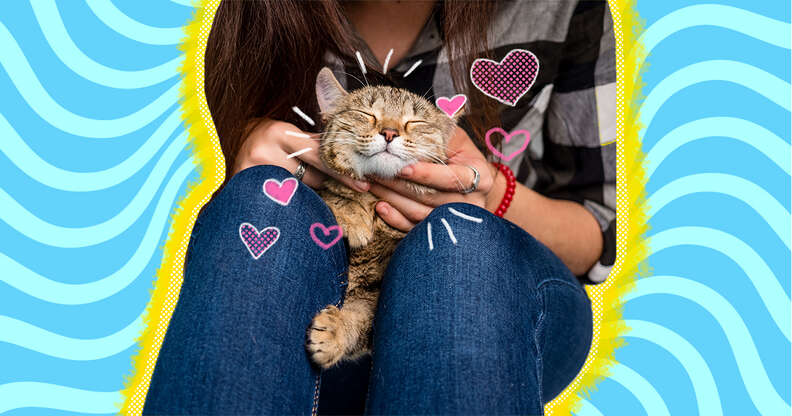 'Tis the season for showing those we love just how thankful we are for them.
And your cat probably deserves the most gratitude out of everyone.
Your cat has been by your side all throughout this weird year — with all those affectionate purrs and therapeutic cuddle sessions to make you feel whole again.
So now is the perfect time to show your cat just how special she is and how thankful you are for her (and all of her funny cat quirks).
Snuggle up for a cat nap
There's nothing like some classic napping for your cat. This season, make sure you get in some extra snuggle sessions with your kitty.

Play all day long
Cats are all about exploring their environment, preying on random toys (and you, sometimes) and just getting their quirky cat on.
Spend some quality time just hanging out and enriching your cat's life with some brand-new toys and your cat's favorite thing: your attention.
Get her a new cat condo
There's nothing like climbing up to new heights for a cat. Show him you love him by getting her a brand-new cat tree or condo — and sit back and relax while watching her have the time of her life checking it out.

Try taking her out on a walk
Believe it or not, tons of cats actually love going out for walks.
While they treat walks differently than dogs do (cats tend to explore one area rather than walking to a destination), it's a great idea to test it out and see if your cat loves adventuring in the environment she's always watching through their window.
Try a treat
Try spoiling her with a treat (or two or three).
Like this Purina Frisky Party Mix for $3.49 from Target.
Give her all the scratches
Of course you already give your cat all the head scratches and butt rubs, but now's the perfect time to give her some extra cuddles.
When life gets weird, your cat is the one you go to to help you feel happy and normal again. With just these little extra displays of affection, you'll be able to show your cat just how thankful you are for him. And it'll make you feel good, too!
Product placement paid for by Purina.
The Best Gifts For Influencer Cats (And Their Parents)