Here's How To Keep Your Cat Calm On The Fourth Of July
Because cats and fireworks don't mix.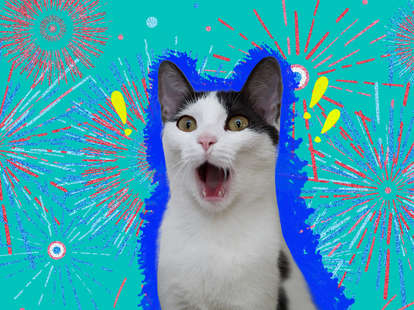 July 4th can be super stressful for cats — not only do most cats hate the sound of booming fireworks, but if you're hosting a big BBQ bash, many can get stressed out by all the people coming in and out of their house. It's important to be prepared, so here are some tips for keeping your cat calm this 4th of July.
Tips to keep your cat calm on the 4th of July
1. Keep her inside
If your cat is an indoor/outdoor cat, keep her inside during the holiday. The sound of fireworks can make even the calmest cats dart in a panic, and it's best to avoid any risk of her getting lost outside.
2. Provide a safe hiding place
Make your cat a hiding place indoors where she can retreat and feel safe. Show her where it is beforehand so that she can get accustomed to it.
It's also helpful to filter any loud sounds as much as you can. "Close the windows and drapes to keep out both noises and flashes of light," Dr. Ann Hohenhaus, a veterinarian at Animal Medical Center in New York City, told The Dodo. "Provide some background noise — the TV, radio or air conditioner — to drown out the booming fireworks."
3. Try cat-specific calming products
There are products that can help calm your cat down during fireworks. Calming oils can be rubbed on your cat's ears to help reduce stress and make her feel more secure.
You can try one of these products:
Buy Lavender Essential Oil on Amazon for $8
Buy Richard's Organics Pet Calm on Chewy for $19
You can also get a weighted anxiety jacket — like a ThunderShirt — for your cat. These hug your cat in all the right places, reducing stress and calming her nerves. You can try this one:
Buy ThunderShirt Classic Cat Anxiety Jacket on Amazon for $35
Another calming product to consider are soft chews packed with natural ingredients that help calm nerves.
Buy Pet Naturals of Vermont 30 Count Calming Behavioral Support Soft Chews on Amazon for $7
Lastly, you could consider a CBD oil made for cats to help calm your pet's nerves.
Extra precautions to keep your cat calm on the 4th:
While taking all of these steps can help ease your cat's anxiety this July, it's always good to be prepared just in case the worst happens and she does run away. Dr. Hohenhaus suggests taking some extra steps so you're prepared to jump into action if your cat goes missing.
Make sure that your cat is microchipped and registered with up-to-date contact information
Make sure your cat's tags are up-to-date
Be sure you have a recent photo of your cat in case you need to make a lost pet poster

If you're still worried, or if your cat has a history of serious anxiety or of panicking around fireworks, Dr. Hohenhaus recommends seeing your veterinarian to discuss using a tranquilizer or prescribed medication on July 4th.
With the above recommendations, hopefully you and your cat can have a calm and stress-free 4th of July — and if you need any ideas for some awesome ways to celebrate with her, check out our guide to the cutest ways to ring in the 4th!
We independently pick all the products we recommend because we love them and think you will too. If you buy a product from a link on our site, we may earn a commission.