How Much Does It Cost To Adopt A Rescue Dog?
A little 💰 but a lot of 💕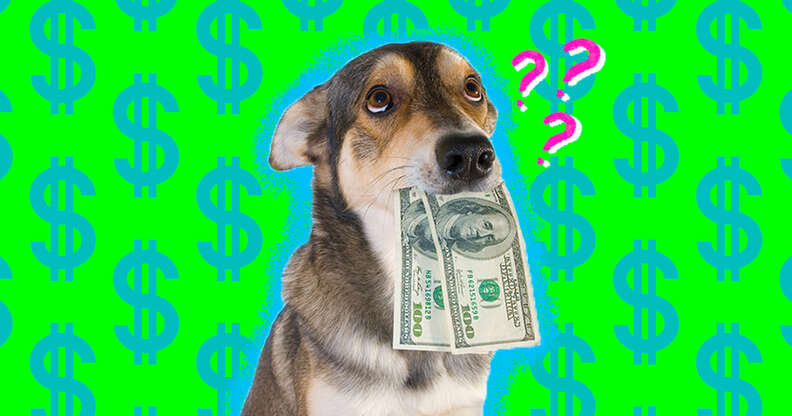 Are you looking to adopt a dog and want to know how much an adoption fee typically is?
While adopting is far less expensive than buying a dog from a store or breeder, adoptions do typically cost something — although it's not impossible to adopt a dog for next to no cost at all.
The Dodo reached out to Shelby Semel, head trainer at Animal Haven rescue in New York City, and Dr. Michelle Burch, a veterinarian at Paramount Pet Health, to find out more about how much adopting a dog might set you back.
How much does it cost to adopt a dog?
"Adoption fees can range anywhere from $50 to $750," Semel told The Dodo.
But keep in mind that this fee depends on many factors, like:

Your location (city/state)
Certain breeds (popular ones may be more expensive)
The age of the dog (puppies tend to cost more)
The individual facility
So do your research and ask rescues about their costs ahead of time so you aren't totally surprised on adoption day!
What's included in the adoption fee?
Generally, what's included in a dog's adoption fee will vary between the individual shelters and rescues you're adopting your dog from. Unlike with a pet store, where you're literally just paying for the dog, adoption fees do often include some extra veterinary services, like a spay or neuter at the very least. (So you're getting a deal.)
According to Dr. Burch, the veterinary care included in the cost can include:
A wellness examination
Vaccinations, including rabies, distemper, parvovirus and Bordetella
Heartworm testing and prevention
Fecal testing
Microchip implantation
That means adoption is definitely less expensive than buying a dog from a store or breeder — both of which cost upwards of $1,000 and don't typically include veterinary services.
And when adopting, you won't have to worry about paying later for an expensive spay or neuter (which can cost anywhere from $35 to $400, depending on the procedure and location), since adopted dogs usually come with that already taken care of.
Do adoption fees include supplies?
Most adoption fees do not include the cost of supplies. "A few shelters and rescues may provide a small bag of food [or a favorite toy]," Dr. Burch told The Dodo. But don't expect to get your dog's bed, crate, leash or any other necessary items for free when you adopt your pup.
Additional costs when adopting a dog
Of course, you should make sure you're financially prepared for costs outside the initial fee — owning any dog can cost anywhere from $1,400 to $5,000 yearly between vet visits, food and all the awesome dog toys out there. This price highly varies depending on medical expenses and anything special (like prescribed food) your dog might need.
Because of this, you'll want to account for all of the other items you're going to need to get for your pup.
These include basic dog necessities, like:
"I also recommend newly adopted dogs have a new pet examination with a veterinarian within a week or two of adoption to establish care, complete vaccination series or treat any underlying illnesses," Dr. Burch said.
But the best thing? Adopting leaves you feeling good, knowing that you're helping to solve serious problems in the dog community — and giving a pup in need the forever home he deserves.