How To Keep Your Pet Safe This Holiday Season
Avoid those holiday emergencies ⚠️🎄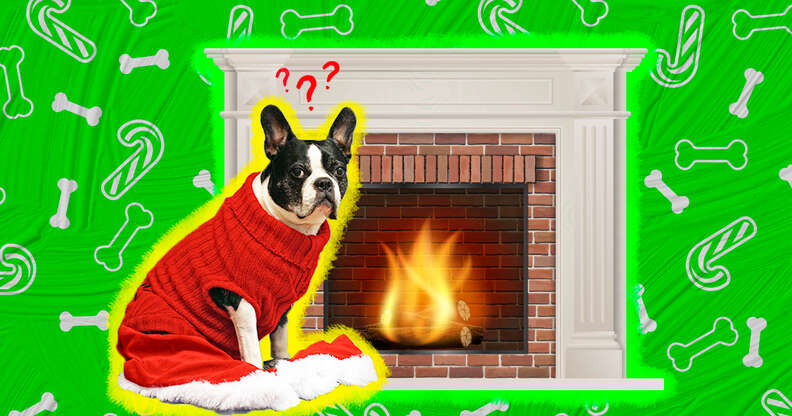 The holidays should be a time for togetherness, awesome food and cuddles on the couch with your furry BFF (in her Christmas pj's, of course).
But to make sure the holiday season is as joyful as possible, it's a good idea to be aware of some common dangers that can pop up for your pets. Like which foods they shouldn't taste from the dinner table and which holiday plants to keep out of reach (along with which ones are totally safe!).
We spoke to Dr. Paul Cunningham, senior emergency clinician at BluePearl Specialty and Emergency Pet Hospital in Michigan, and Dr. Linda Simon, a veterinary surgeon and a veterinary consultant for FiveBarks, for their best holiday pet safety tips.
Holiday pet safety tips to remember:
Use caution with open flames
Make sure anything with open flames — like candles, menorahs or fireplaces — are either kept out of reach of a free-roaming pet or only lit with careful supervision.
Keep an extra eye on a puppy
If you have a young puppy celebrating her first holiday season with you, you need to keep tabs on her even more than you usually do.
Puppies should be monitored closely during this time of year because they're notorious for getting into everything and they have no real sense of danger.
"Those with young dogs should consider keeping the Christmas tree behind a baby gate and putting decorations up high and out of reach," Dr. Simon told The Dodo. "Wrapped gifts must not be accessible, and all festive food needs to be kept on high surfaces."
Of course, Dr. Simon said this advice applies to cheeky and greedy adult dogs, too!
Avoid using tinsel and ribbon
While tinsel and ribbon are both shiny and pretty, unfortunately our pets — especially cats — totally agree. They might even try to eat them, which can result in fatal intestinal issues. So if you use either in your decorations, make sure to keep it out of reach so you don't spend Christmas Eve in the veterinary emergency room.
Avoid these dangerous holiday foods
While you might want to sneak your pet food straight from the holiday table, you need to be mindful of those foods that are most toxic to your pets.
"This includes chocolate, xylitol (an artificial sweetener that is in a lot of gum and candy), garlic, onion, raisins, alcohol and macadamia nuts," Dr. Simon said. "If these are within the home, never leave your dog unsupervised around them."
Foods you should avoid giving your pet include:
Chocolate
"Chocolate is toxic to pets, causing vomiting, diarrhea, abnormal heart rhythms, tremors, seizures and in some instances [can] be fatal depending on the type and amount ingested," Dr. Cunningham told The Dodo. "Chocolate products become more toxic with higher concentrations of cocoa (i.e., baker's chocolate, semisweet chocolate)."
If your dog or cat does get into chocolate, make sure you contact your vet ASAP.
Sugar-free candies
According to Dr. Cunningham, sugar-free candies should also be avoided as many of them contain xylitol. If your pet eats xylitol, it can cause severe drops in blood sugar and in some cases can cause liver injury or failure.
If your dog or cat does eat sugar-free candy, make sure you contact your vet ASAP, especially if you're not sure of the ingredients.
Rich, fatty foods
Excessively fatty foods, like the fat off of meat, should be avoided.
"Rich, fatty foods can cause severe inflammation of the stomach, intestines and pancreas, leading to vomiting, diarrhea, abdominal pain and in some cases may require hospitalization," Dr. Cunningham said.
If you want to let your pet have something yummy and seasonal but that's also safe, try these treats instead:
Cooked or raw bones
While it may seem nice to share your turkey carcass with your dog, it's best not to feed her bones. "This is true whether the bone is cooked or raw," Dr. Simon said. "Even small bones can splinter and cause mouth lacerations and broken teeth."
Bones are hard to digest and can lead to gut obstruction and constipation.
"Instead, offer your dog some unseasoned turkey meat if you can't resist spoiling them a little," Dr. Simon said.
Avoid these toxic holiday plants
Some households may have festive plants in their home. However, many species will be toxic to our pets. This includes mistletoe, holly and poinsettia. Instead, stick to 'pet-approved' plants as listed by the ASPCA.
According to Dr. Cunningham, there are tons of winter holiday plants that can make your pets sick if they ingest them. These include:
- Mistletoe
- Holly
- Lilies
- Poinsettias
- Amaryllises
- Cyclamen
"Though most festive plants only cause mild to moderate gastroenteritis, some can make dogs very unwell indeed," Dr. Simon said.
If you just can't imagine the holidays without some festive plants in your home, your best bet is to opt for some pet-safe options. The Christmas cactus, for example, is a nontoxic holiday plant that's safe to have around both cats and dogs.
If you want to make sure the plants you have for the holidays are OK around your pets, check out the ASPCA's full list of toxic and non-toxic plants.
Watch out for children
In houses with kids, there will inevitably be toys and small parts that can act as choking hazards to your curious pet.
"Plastic, wrapping paper and batteries can all prove irresistible to your dog but can cause serious health issues if chewed and swallowed," Dr. Simon said. "If you fear your [pet] has ingested something they shouldn't have, the sooner you contact their vet, the better their outlook."
While the holidays bring some of the best memories of the year, use these tips to avoid making any memories that aren't so great.
NOTE: If you can't reach your vet, you can also try contacting a pet poison consultation service like the ASPCA (888-426-4435) or the Pet Poison Helpline (800-213-6680).
We independently pick all the products we recommend because we love them and think you will too. If you buy a product from a link on our site, we may earn a commission. Links are updated when possible, but note that deals can expire and all prices are subject to change.
Keep Your Pet Warm And Toasty All Winter
Presented by Chewy