6 Healthy Cat Food Options That Meet AAFCO Requirements
Here's the secret to finding healthy cat food 🙀
Finding cat food you feel confident feeding to your cat can be challenging, but it's not impossible.
In fact, there are some hacks to help you figure out which food is right for your cat.
We reached out to Dr. Jennifer Freeman, a veterinarian at PetSmart, to find out more about what to look for when hunting down healthy cat food.
Key features of healthy cat food
The Association of American Feed Control Officials (AAFCO) sets nutritional standards for pet food to ensure products are totally safe and healthy for your pet. So when looking at different cat foods, you'll want to check that the packaging includes the AAFCO statement, which means that food is complete and balanced.
You'll also want to make sure that the food is appropriate for your cat's life stage (kitten, adult or senior), which will also be indicated on the product's packaging.
"Commercially prepared cat foods should be labeled for the appropriate life stage of your cat and should have a nutritional guarantee to have been formulated to meet the nutritional requirements for cats established by AAFCO," Dr. Freeman told The Dodo.
AFFCO's standards for dry cat food are:
High-quality animal proteins (at least 30 percent)
Animal-based fats (about 15–20 percent)
Essential vitamins, minerals, enzymes and fatty acids
"Cats are obligate carnivores, meaning they must eat meat to obtain all of the necessary amino acids they require," Dr. Freeman said. "Their diet should typically consist of higher protein levels and lower carbohydrate levels."
When it comes to wet food, the protein and fat numbers are going to be slightly different due to the higher water content. For these, you'll still want to find cat food that's high in protein, but just note that it'll be less than 30 percent (more in the 7–8 percent protein range), while fat will be around 5 percent.
One amino acid that you should always find in cat food is taurine. "Taurine is an essential amino acid that cats must consume in their diet," Dr. Freeman said. Taurine helps to maintain your cat's vision, digestion, heart muscle function and immune system.
While all of these factors are essential for a healthy cat food, the best product for your cat will depend on other factors. "Speak to your veterinarian to help determine appropriate diet options for your individual cat based on their age, lifestyle and health considerations," Dr. Freeman said.
Our top cat food picks
Your vet is your best resource for finding the best diet for your cat. To get you started on your search, check out these foods that all meet the AAFCO requirements:
Amazon
Food type: Dry
Lifestage: Adult
Protein: 34 percent
Fat: 15 percent
If your cat loves texture, this food is made with both crunchy bits and tender meat morsels for variety. Not only does it taste good, but it also helps support a strong immune system and healthy skin.
Amazon
Food type: Dehydrated
Lifestage: All life stages (from kittens to adults)
Protein: 40 percent
Fat: 26 percent
This food (which our dogs love, too!) is dehydrated, so all you have to do is just add some warm water and stir it up. All of the ingredients are whole, fresh and gently dehydrated for nutrient-rich (and tasty) food.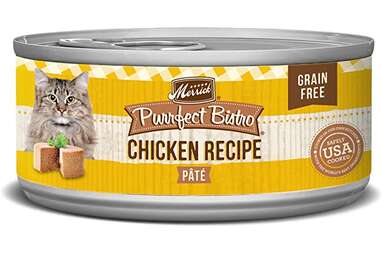 Amazon
Food type: Wet
Lifestage: Adult
Protein: 10 percent
Fat: 5 percent
If you're looking for whole, real ingredients, this wet food is for you. It's made with chicken as its first ingredient, and the pate style will make even the pickiest cat love dinnertime.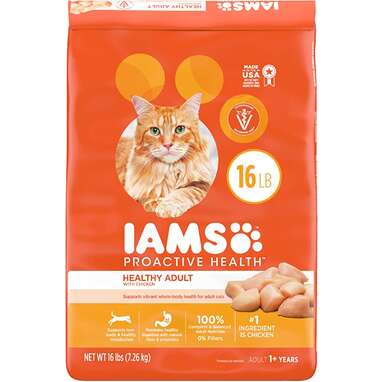 Amazon
Food type: Dry
Lifestage: Adult
Protein: 32 percent
Fat: 15 percent
Made in the USA, this dry cat food is packed with prebiotics to aid in digestion.
Amazon
Food type: Wet
Lifestage: Adult
Protein: 11 percent
Fat: 4–5 percent (depending on flavor)
The variety pack includes beef, chicken and turkey so your cat can enjoy some delicious variety in her diet.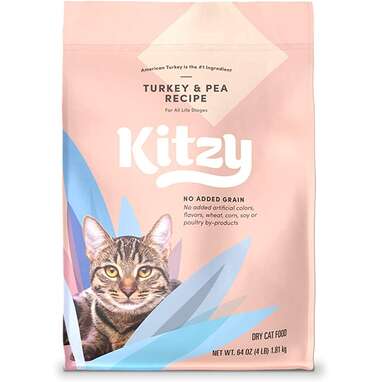 Amazon
Food type: Dry
Lifestage: All life stages (from kittens to adults)
Protein: 32 percent
Fat: 15 percent

This affordable cat food is made in a family-owned facility in Arkansas. Turkey is the first ingredient of this yummy recipe, along with peas and sweet potatoes.
While finding healthy cat food might take some time, remember to just turn over a bag and check the label to make sure your cat's getting the best possible meal — each and every time.
We independently pick all the products we recommend because we love them and think you will too. If you buy a product from a link on our site, we may earn a commission. Links are updated when possible, but note that deals can expire and all prices are subject to change.