Tasty Hanukkah Dog Treats Your Pup Will Love
Get a treat for every night of Hanukkah!
While you and your loved ones enjoy all the delicious eats Hanukkah has to offer, your dog can chow down right along with you! There are a handful of Hanukkah dog treats available online that look so good someone in your house may mistake them for a human cake or cookie — you've been warned!
From peanut butter cakes to a variety pack of themed treats, you won't be able to pick a favorite. You might as well get a bunch for all eight days of celebration!
The best Hanukkah dog treats you can buy
Yes, you read that correctly — you can get personalized picture dog treats! SPOTS NYC will print an edible photo of your dog directly on their delicious peanut butter crunchy treats. This pack of cookies also comes with bone-shaped treats that read "Happy Hanukkah" and "That's How I Roll."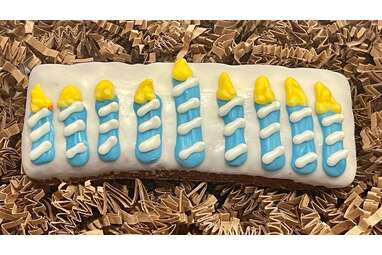 Spoil your dog with delicious riches with Lord Jameson's Hanukkah Gelt treats. These treats are made with organic blueberries, oats, coconut, peanut butter, dates and brown rice syrup, all of which help support a healthy immune system and digestion.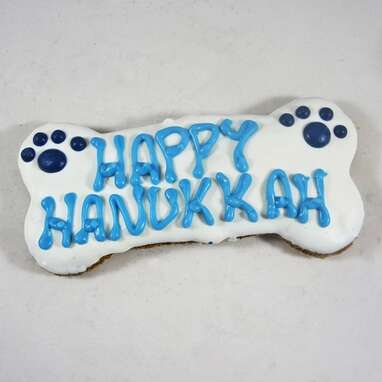 You can't go wrong with a giant bone that says "Happy Hanukkah" across the front! This delicious treat from DogParkPublishing on Etsy is made with peanut butter dough and decorated with yogurt icing.
You can treat your dog every night of Hanukkah with this box of treats from MeatloafsKitchen on Etsy. Each of the eight treats is decorated with a traditional Hanukkah motif, like a dreidel, a menorah and even a yamaka. Plus, each treat is flavored with cinnamon, BBQ or peanut butter.
This adorable treat from DogParkPublishing lets your dog get in on the dreidel fun! Made with peanut butter dough and yogurt frosting, this treat will be gone as soon as you unwrap it.
Your dog is about to have the best Hanukkah ever.
We independently pick all the products we recommend because we love them and think you will too. If you buy a product from a link on our site, we may earn a commission.