These Hanukkah Cat Toys Will Keep Your Cat Busy For More Than 8 Days
So much to choose from.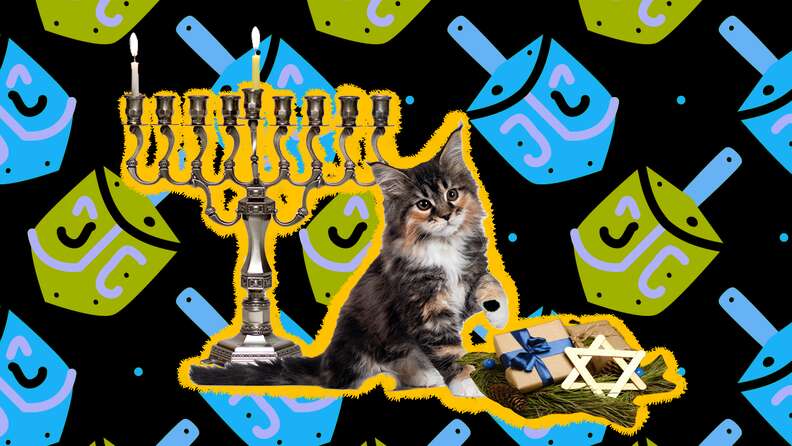 Hanukkah kicks off on December 18 — are you and your cat ready to celebrate? If you're hoping to treat your BFF to a few fun Hanukkah-themed cat treats during your celebration, then we found the best collection of toys to choose from.
From plush dreidels and coins to themed catnip mice and rattle balls, there are Hanukkah cat toys for every cat on the list below.
The 9 cutest Hanukkah cat toys to give to your cat this year
These are the best Hanukkah-themed cat toys we found.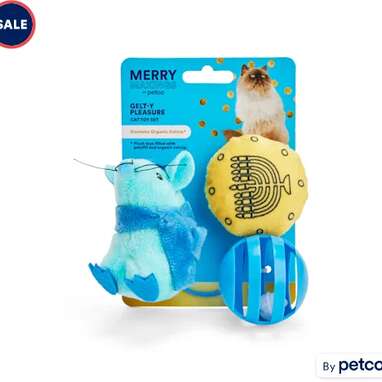 This set of three cat toys from Merry Makings will definitely keep your cat entertained throughout the entire eight days of Hanukkah celebrations. The set comes with two plush toys (a cat and a coin), both stuffed with organic catnip, and a rattle ball.
Celebrate the eight days of Hanukkah with your cat by picking up this gift calendar from Frisco. Behind each door is a different Hanukkah-themed plush toy filled with catnip so your cat can get in on the fun, too!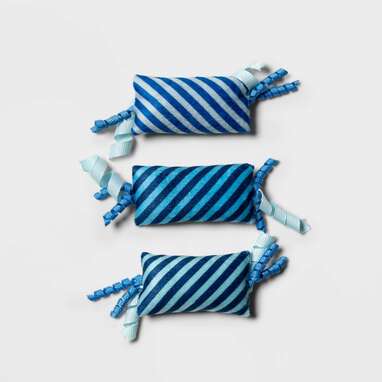 These Hanukkah cat toys from Boots & Barkley aren't as in-your-face as the other Hanukkah-themed toys on this list. Each one is made out of a blue striped fabric and has ribbons sewn into each end. Plus, all three "candies" are stuffed with catnip to ensure your cat has a blast.
Decorated in blues, whites and gold, these catnip mice are ready to celebrate the holiday. You get five mice in each set, and each one is stuffed with crinkle paper to keep your cat interested and entertained.
If your cat has a thing for feather toys, then she'll love the pickle toy from More and Merrier. This cute little pickle is decked out for Hanukkah and has a blue feather at one end that will drive your cat wild. It also comes with a yellow rattle ball for some variety.
This set of two Hanukkah-themed teaser cat toys features everything that may appear at your Hanukkah celebration: fish, bread, coins, a menorah and even a dreidel. Each plush is packed with catnip, so your cat will be ready to play for hours.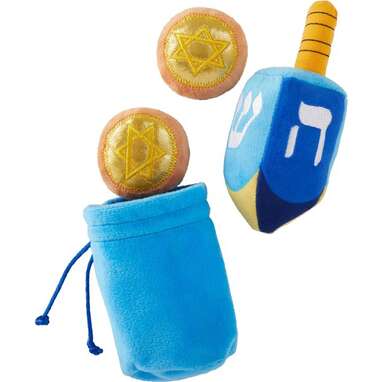 Complete with a dreidel, two coins and a pouch to keep them in, this set of plush cat toys from Frisco is as fun for your cat to play with as it is to look at. Each plush is stuffed with catnip to make the holiday even more exciting.
If your favorite part of Hanukkah is the sweets, then this set of cat toys from Merry Makings is for you (and your cat!). It comes with a jelly donut plush and a worried-looking rugelach with a bite taken out of it.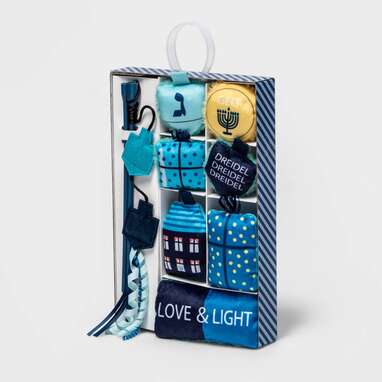 Great to give as a gift or to use as a countdown calendar, the Boots & Barkley gift set comes with eight Hanukkah-themed cat toys, each stuffed with catnip for hours of fun.
Choosing your favorite Hanukkah cat toys may be the hardest decision you'll have to make all year! And if you're hunting for Hanukkah dog toys, too, then check out our roundup here.
We independently pick all the products we recommend because we love them and think you will too. If you buy a product from a link on our site, we may earn a commission.