These Are The Best Hands-Free Dog Leashes, According To A Trainer
No hands needed with these leash options! 🤲
If you feel like you need three extra hands to hold your coffee, wallet and dog's poop bags when you're walking your pup, you might want to try a hands-free dog leash.
Hands-free dog leashes are super helpful to have in general, and they can be especially useful when running with your dog, since you won't have your arms restricted by holding a leash.
We spoke to Julie Burgess, a certified dog trainer for Senior Tail Waggers and a veterinary technician, to get recommendations for hands-free dog leashes and leash training tips.
How to use a hands-free dog leash
A hands-free dog leash looks a lot like a regular leash, but instead of holding it with your hands, it'll go around your waist.
To teach your dog to walk on a hands-free leash, you can follow similar steps as you would when training him to walk on a regular leash. "Place the leash around your waist and drop a treat," Burgess told The Dodo. "Encourage your dog to follow you by dropping treats and slowly walking with him. Continue intermittently dropping treats and practice until your dog can confidently walk with you."
Be sure to pay attention to your surroundings while walking your dog with a hands-free leash in case you need to grab the leash for any reason, like to stop your dog from crossing the street without you.
Keep in mind that you should only use a hands-free leash if your dog's leash trained and doesn't do a lot of pulling when you walk him. If your dog suddenly lunges at something while the leash is around your waist, he could hurt you or you could lose control of him, especially if you have a big dog.
What to look for when buying a hands-free dog leash
Here are some things to consider when picking out the perfect hands-free leash for your dog:
Length — Length is an important factor when picking out a hands-free dog leash. Longer leashes will reduce pulling when running with your dog.
Handles — If you want extra control, think about getting a hands-free leash with additional handles so you can grab your dog to steer him if needed.
Bungee — Some leashes are like a bungee cord and stretch when your dog runs ahead of you so you won't get pulled off your feet.
Additional features — Some hands-free leashes have a pouch attached so you can easily carry stuff for your dog or your phone and wallet, which is especially useful if you don't have pockets.
Best hands-free dog leashes
We found some of the best hands-free dog leashes for everyday use and running.
"[This] is an excellent option if you want to take small items with you, like your cell phone or treats for your dog, because it comes with a handy removable zipper pouch," Burgess said. The leash is reflective to help cars see you on the road, and there are extra handles on the leash if you need to guide your dog while you run. It also has shock absorbers to reduce pulling.
Burgess recommends this leash. It can be adjusted to be used as a hands-free leash or as a regular leash, so you'll get a ton of use out of it. It can even be converted into a leash for two dogs if you have more than one pup. It's made of high-density nylon and has a soft mesh velvet handle that's comfy to hold.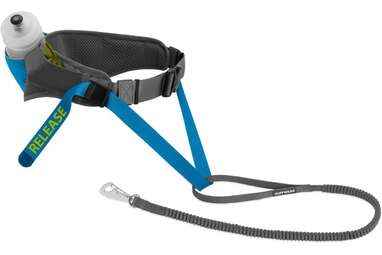 This hands-free dog leash is perfect for running with your pup. The hipbelt has a pocket for you to carry anything you need, like doggie bags or treats, and it even comes with a water bottle so you and your dog can stay hydrated. It also has a reflective trim so people in cars will be able to see you and your pup.
FAQs:
How can I leash train my dog?
Here are some tips from Burgess for training your dog to walk on a leash:
Start with short training sessions that are only around five minutes long.
Attach the leash to your dog's harness (with the leash on the floor) and drop a treat on the ground near him. When your dog moves toward the treat, praise him.
"Keep taking small steps away from your dog and dropping treats so he gets used to the weight of the leash on his collar/harness and neck," Burgess said. "Work up to walking around a small, open area of your house, dropping treats and having your dog follow you with the leash dragging on the floor."
Eventually you can pick up the leash and start walking your dog around holding the leash, repeating these steps until your pup is a pro.
How can I start running with my dog?
Running with your dog can be a fun way for both of you to get some exercise. If your pup isn't used to running long distances, you'll want to get him started slowly to prevent injury.
Start training your dog to run with you inside and with short training sessions — only around three to five minutes to start, Burgess said.
According to Burgess, "Ensure you can walk with your dog quickly first. Jog a few steps, drop a treat, praise. Repeat until your dog understands that your movement equals treats."
Begin slowly increasing the distance and the amount of time that you and your dog run while watching how your dog handles it so you don't push him too far. "Assess your dog's ability to run as far as you can and make adjustments," Burgess said.
Whether you're running with your dog or just want to have an extra hand when you're out with your pup, hands-free dog leashes can be super useful and a great tool to add to your arsenal of dog walking gear.
We independently pick all the products we recommend because we love them and think you will too. If you buy a product from a link on our site, we may earn a commission. Links are updated when possible, but note that deals can expire and all prices are subject to change.
Toys For The Dog Who Has Everything