The Best And Safest Hamster Wheel Options Your New Friend Will Totally Love
He'll have a blast on these wheels.
So, you've just adopted the most adorable little hamster. To help your new friend live his best life, he'll need a large enough cage to burrow around in, healthy food to eat and, of course, a way to exercise in his cage. Enter the hamster wheel.
Running on a wheel is essential for keeping him in shape — if your hamster doesn't get enough exercise, he can become overweight (which would put a strain on his heart and lungs, and could shorten his life expectancy). And because hamsters are naturally curious, they like mentally stimulating toys. Exercising on his wheel can keep your hamster from being stressed and restless.
"Hamsters can run for miles in the wild each night, so really enjoy wheels in captivity," Dr. Hilary Jones, chief veterinary officer at DodoVet (and former hamster parent!), told The Dodo. "It's not something they need to be taught. While some of my hamsters were a little on the lazy side, in general, hamsters will naturally take to a wheel and instantly start running."
The best hamster wheels will have a solid running surface and are large enough so your hamster can run safely without bending his back (and since he'll be using it a lot, bonus points if it doesn't make noise while in use!).
We spoke to Dr. Jones for more insight on how to find the best hamster wheels and accessories. Here are our top picks:
What to look for in a hamster wheel
When it comes to the best hamster wheel for your new BFF, there are a few things to consider, according to Dr. Jones:
Surface — it should be solid (not wired) so your hamster can run safely
Size — it should be large enough for your hamster so he won't have to bend his back, or adjustable in size for your growing hamster (a minimum of 6 inches is recommended for dwarf hamsters, while larger hamsters, like Syrians, need between 8 and 12 inches)
Noise level — silent wheels are preferred (since your hamster will use it a lot, especially at night!)
Material — it's personal preference here, as hamsters will run on anything as long as it's a solid surface
Freestanding vs. attached — consider whether you'd like to be able to move the wheel around his cage or attach it to the side of his habitat
Closed vs. open design — some hamsters hug the wall when they run, so a closed wheel can be preferred
Saucer vs. wheel — saucers can offer a flatter running surface than a traditional upright wheel; however, they do take up more space
The 6 best hamster wheels you can buy
At the top of our hamster wheel list is the Niteangel, and for good reason! Available in three sizes, the first thing to note is how silent it is when moving. With a solid plastic, durable base and adjustable height, the Niteangel can fit your hamster at all stages of his development. And here's a shout-out to the Niteangel's flat runway design, which allows hamsters to feel as if they're running on the ground instead of a wheel (it also has raised grooves so your hamster can get a nice grip). And did we mention all the fun color options?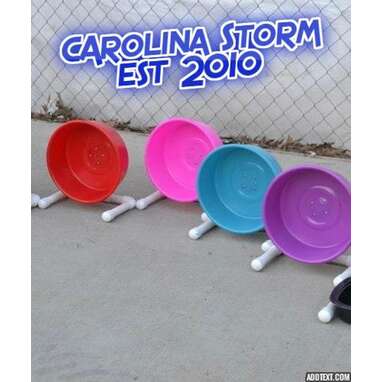 Available on Etsy, this highly rated hamster wheel is made in the USA from durable plastic, with a lip around the rim to help prevent warping. The wheel has four settings to adjust with your hamster as he grows and his desired running angle. Simple and to the point, this hamster wheel has gotten over 30,000 positive reviews from customers.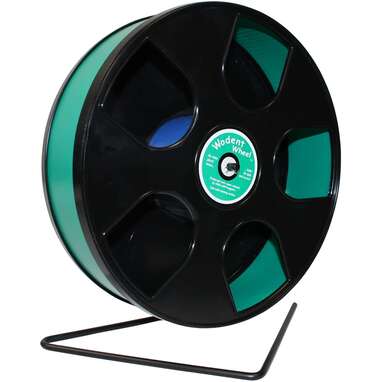 The many positive reviews for this plastic wheel made it an easy choice to include in this list, but we also love that it includes a cage attachment. This adds stability since it keeps the wheel attached to a wall or ceiling of your hamster's habitat. We also appreciate their added security measures, as this wheel includes an inner track that completely covers the axle, thus eliminating the possibility of tail-axle injuries.
At under $20, the Petest hamster exercise wheel covers all the bases when it comes to durability, size and silence — and it's easy to clean! We also appreciate its slightly angled surface tread, which increases friction and helps your hamster avoid slipping in order to have a productive exercise session. This basic plastic wheel also comes fully assembled.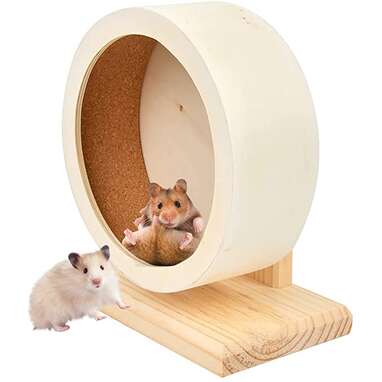 If you're giving your hamster's habitat a more natural design, look no further than this wooden wheel. This durable hamster wheel is made of high-quality wood, which your hamster can safely chew (though you'll want to keep this in mind as you may need to replace it eventually). Its solid running surface is both comfortable and easy for your hamster to grip, and the wheel is quiet. Perfect for those looking for a natural look in their hamster cage or who want to avoid plastic!
Some hamsters gravitate towards a flying saucer wheel because its shape offers a wider running surface. This particular wheel prides itself on staying quiet while in use and its smooth surface. And we'll give it a few bonus points because that makes it super easy to clean.
A hamster wheel isn't just a toy for your little friend — it's an essential item for his health and mental well-being. Whichever one you choose, he'll love showing you how he can run!
Want access to a vet 24/7? With DodoVet, you can connect via video chat, phone or text with an empathetic veterinary expert who can help you be the best pet parent you can be. Say goodbye to Dr. Google and have all your pet parent questions answered anytime, anywhere. Learn more here.
We independently pick all the products we recommend because we love them and think you will too. If you buy a product from a link on our site, we may earn a commission.