Here's How To Keep Your Pets Safe This Halloween
Because Halloween is scary enough 🎃👻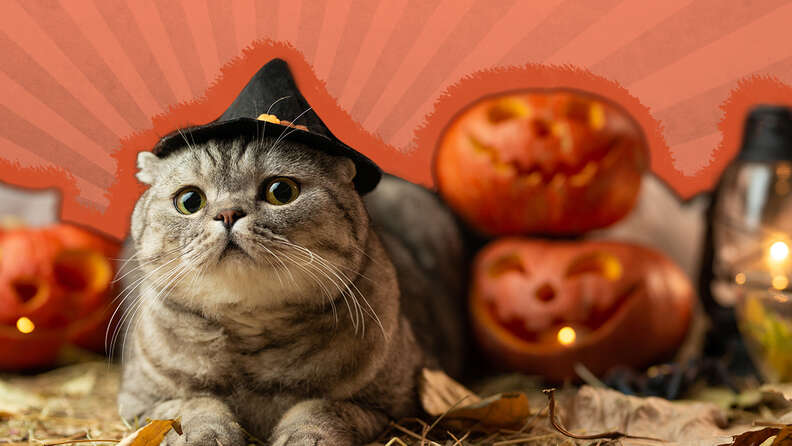 Halloween comes with all kinds of fun, and it's natural to want to get your pet in on the excitement — especially if it involves dressing her up in an adorable (or very, very scary) costume.
But all that spooky fun has its own set of dangers for pets — like the horror of your pet getting too curious about a lit jack-o'-lantern.
Fortunately, all of these hazards can be avoided with a little planning and some strategic placement of your decor.
We reached out to Dr. Paul Cunningham, a senior emergency clinician at BluePearl Specialty and Emergency Pet Hospital in Michigan, and Manuel Hernandez, head trainer at Bark & Birch in Los Angeles, to find out some of their best Halloween pet safety tips for keeping yours safe.
7 Halloween pet safety tips to follow
1. Conceal electrical cables when possible
If you're putting up tons of awesome light-up decorations, it's a good idea to hide the wires so your pet doesn't trip on them (or chew them!).
You can do this by hiding them under carpets, behind furniture or in cord wraps. "This helps to prevent chewing or tripping," Dr. Cunningham told The Dodo, which is a common cause of household injuries in pets.
Try these colorful cord wraps from Amazon for $14
2. Avoid using open flame candles where your pet can get them
Real candles can add a spooky ambiance to any room, but keeping them in an area where your pet might knock them over is definitely dangerous.
Your pet's curiosity may lead to a waxy mess or, worse, a house fire, so Dr. Cunningham recommends keeping any sort of open flame away from areas where your pets will be — especially if the flames and your pets will be left unattended.
If you still want the look of candles in certain areas but without the risk, consider getting battery-operated flameless candles instead.
Like these Antizer Flameless Candles from Amazon for $28
3. Keep Halloween candy out of reach
While you might want to keep your candy right on the table for guests, it's important to make sure your pet can't steal any.
Since candy toxicity spikes around Halloween due to stealthy pets sneaking into your candy stash, it's best to completely avoid this by keeping candy bowls and bags out of reach — and using jars with lids.
Like this Pumpkin Jar from Amazon for $22
4. Walk your dog before it gets dark
Some dogs aren't fans of seeing people dressed up in spooky and weird costumes, so walking her before all the chaos happens outside is a good idea to avoid crowded sidewalks and scary masks.
Making sure your dog is exercised will also help tire her out so she's not as stressed out when trick-or-treaters are ringing your doorbell all night.
"If you don't have the time to walk them in daylight, then think of mentally stimulating and enriching games and activities you can do at home, like snuffle mats with treats or search and find games," Hernandez told The Dodo. "These enriching activities can calm and settle your dog."
Try the Runda Snuffle Mat from Amazon for $30
5. Practice ringing the doorbell
If you know your pet goes nuts over the doorbell on a regular day, it might be a good idea to desensitize her to it before Halloween so she's used to hearing it over and over again.
"Plan ahead when you know your doorbell will be ringing more than usual on Halloween," Hernandez said. "Stick to your dog's routine, but preempt the knocks on the door and bell ringing."
6. Keep pets in separate areas when needed
You can also consider separating your pet from the front door (or getting her settled and cozy in another room) if you think she'll try to jump on the trick-or-treaters or try to escape.
Try this dog gate from Chewy for $42
"And truthfully, the best advice of all is to keep pets in separate areas of the house if they cannot be supervised at all times," Dr. Cunningham said. "No one wants to end a holiday with a vet visit or home damage."
This is especially true if your pet is scared of costumes or strangers and isn't likely to react well to trick-or-treaters.
7. Reward your pet for good behavior
If you notice your pet's totally doing all the right things throughout the night, make sure to let her know! "Reward your dogs for being calm and settled, and reassure them with lots of love and attention," Hernandez said.
Positive reinforcement (or rewarding your pet when she does a desired behavior) is the best way to get her to repeat those behaviors again in the future.
"If your dog is acting up, remember that they are nervous and afraid as Halloween is not like any normal evening," Hernandez said. "Reward them for being calm, and don't tell them off if they do behave differently as this can make the problem worse."
With these simple safety steps and precautions, you can rest easy knowing your pets are safe this Halloween — which gives you more time to hunt down the perfect matching costumes (for pets who don't mind dressing up)!
We independently pick all the products we recommend because we love them and think you will too. If you buy a product from a link on our site, we may earn a commission.