Scary Good Halloween Cat Treats
Perfect for spooky season!
Sadly, your cat can't join you in eating Halloween candy — but that doesn't mean she can't have her own treats! There are a handful of fun Halloween cat treats available online in flavors your cat will love.
Remember, cat treats shouldn't be used as a replacement for meals, but rather as a reward for good behavior or as a light snack between meals.
So reward your cat for all her tricks with one (or all!) of the Halloween treats below.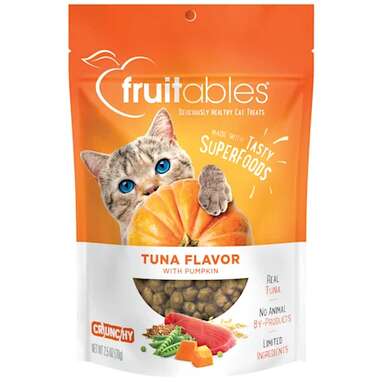 Fruitables has also paired tuna and pumpkin together in this crunchy cat treat. This recipe also contains flaxseed and pea fiber, which help your cat maintain healthy digestion and heart function.
These Halloween-themed treats from Temptations have a "blissful catnip flavor" that will make your cat come running. They have that same crunchy outside and soft inside cats love about Temptations treats, and the spooky spin on the flavor is perfect for the Halloween season.
Weruva's Pumpkin Jack Splash recipe (tuna shreds in pumpkin soup) can be fed to your cat as a meal or used as a kibble topper or treat. The pumpkin soup is a fun fall flavor, and the tuna bits will make your cat purr with delight. You can also check out the Weruva chicken and pumpkin flavor here.
Disclaimer: No humans were harmed in the making of these Halloween treats from Temptations. The "Tasty Human" flavor is actually a mix of chicken, liver and beef flavors, though the packaging wants you to believe there's something much more sinister inside!
If your cat isn't a fan of trick-or-treaters or the doorbell, you may also want to invest in calming cat treats, too. These treats contain a mixture of calming ingredients like L-theanine, whey protein, thiamine and plant extracts that help relieve stress that could be caused by guests coming to your home.
"Calming treats help reduce your cat's anxiety and stress without having potential side effects, such as sedation, ataxia or incoordination, which can be seen with prescription medication," Dr. Michelle Burch, a veterinarian from Safe Hounds Pet Insurance, told The Dodo.
Your cat will have the best Halloween yet after you stock up on all these delicious treats.
We independently pick all the products we recommend because we love them and think you will too. If you buy a product from a link on our site, we may earn a commission.