These Guinea Pig Costumes Are Almost Too Cute
Your pig will be dressed to impress this Halloween.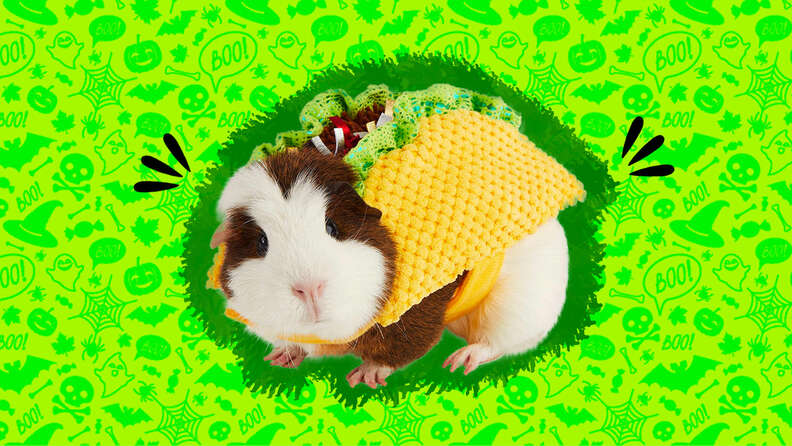 Why should cat and dog parents have all the fun when Halloween comes around? If you're the pet parent of a guinea pig who doesn't mind dressing up, then you and your pig will want to get in on the fun, too! And you may have to have multiple outfit changes this year because all of these guinea pig costumes we found are top-tier cute.
From strawberry and cowboy costumes to witch hats and bat wings, your guinea pig will win any costume party and be the best treat you receive all Halloween.
The best guinea pig costumes for Halloween
Here are the absolute cutest costumes we found.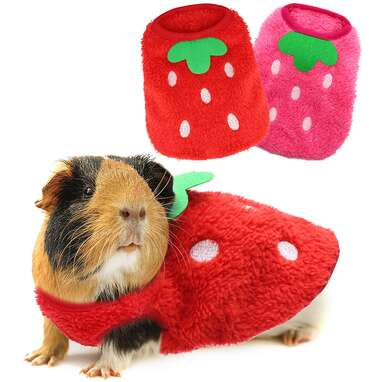 "Oh, these little tops for my piggie girls [are] adorable!" one pig parent wrote about the HYLYUN strawberry costumes on Amazon. "They have plenty of stretch, super easy to put on. I found them of good quality and softness." This set of two strawberry shirts come in sizes 3XS and 2XS, so they fit most small pets like guinea pigs, bunnies and chinchillas.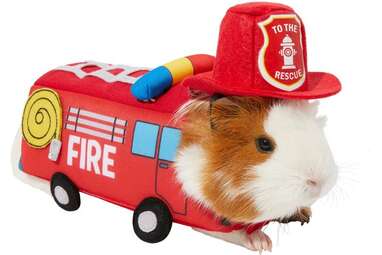 If your guinea pig has saved your day more than a few times, then dress him up like the true hero he is in this adorable fire truck costume. The costume actually covers your guinea pig's legs and feet so it looks like he's rolling around, truck style.
Made with super soft pastel rainbow plush fabric, faux fur and featuring a pink metallic horn, your guinea pig can dress up as the most magical creature there is this Halloween — a unicorn! The Hyde & EEK! Boutique unicorn guinea pig costume from Target is fully adjustable with two Velcro straps.
Oui oui, this is a very cute costume for guinea pigs who consider themselves intercontinental. This adorable mini French beret from Chewy secures under your pig's chin with a toggle strap so it'll stay put all Halloween night.
Give your pig the gift of flight with this set of guinea pig bat wings from Midlee. They secure around your guinea pig's middle with a Velcro strap, and the result is absolutely adorable according to those who've bought them. "Extremely cute and fit my guinea pig of just under two pounds," one pig parent wrote. "He didn't mind this one as much as some of the more full-coverage guinea pig costumes."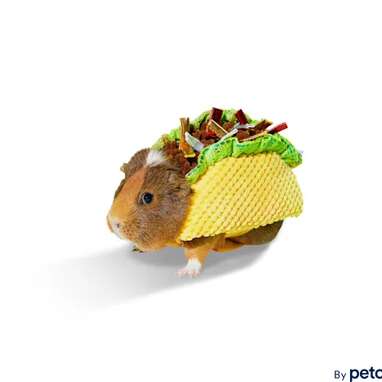 Taco-loving guinea pig parents need this costume from Bootique at Petco. It's a Velcro-close taco costume that secures comfortably around his belly and chest. It comes with glittery lettuce, ground beef and metallic toppings that show your guinea pig is one spicy critter.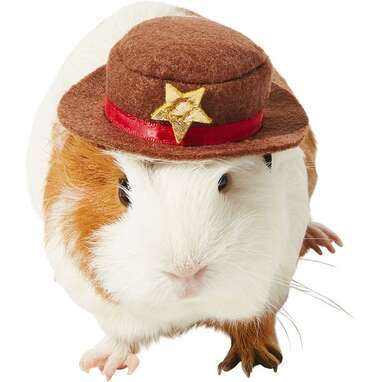 Your little partner will be ready to wrangle all the dogs in this adorable cowboy guinea pig hat from Chewy's Frisco brand. The hat features a Velcro-close chin strap so it stays on all night.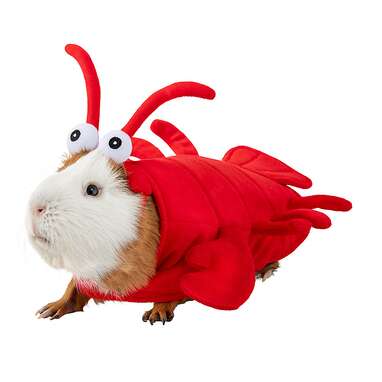 Turn your pig into a little crustacean with this lobster costume from Thrills & Chills. This full-body outfit is complete with a tail, claws and even two googly eyes up top. It attaches around your guinea pig's chest and belly and will keep him snug and warm on Halloween night.
And you can be toast! This avocado costume from Frisco secures with Velcro under your guinea pig's belly and around his neck so it stays put at the Halloween party.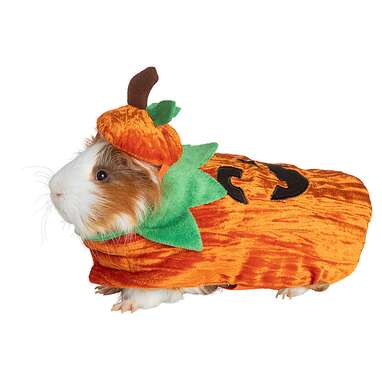 The Thrills & Chills velour pumpkin guinea pig costume is the perfect costume for a pig who just can't decide what he wants to be this Halloween — why not be the embodiment of Halloween itself? This outfit comes with a Velcro-close jack-o'-lantern vest and a cap that secures around the chin.
You and your guinea pig will have the best Halloween yet if you choose one of these costumes for him to wear. And just think of all the adorable pictures you'll get!
We independently pick all the products we recommend because we love them and think you will too. If you buy a product from a link on our site, we may earn a commission.