How To Celebrate Gotcha Day For Your Dog
What's more important than the day you met your BFF 🥳
Chewy
Chewy
We independently pick all the products we recommend because we love them and think you will too. If you buy a product from a link on our site, we may earn a commission.
Gotcha Day is a super important day for adopted dogs and their people. If you adopted your dog and don't know when he was born, using his adoption date (or Gotcha Day) as a birthday is a great way to celebrate.
And because Gotcha Day is basically like a birthday, you'll want to plan a fun celebration for your dog.
To help you show your adopted pup how special he is to you, The Dodo created a guide to help you celebrate your dog's Gotcha Day.
Dress your dog for his special day! Get a fun bandana like this one that says "Happy Gotcha Day." It comes in multiple sizes for different-sized pups and is machine-washable.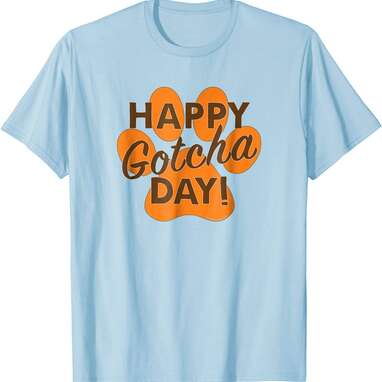 Don't forget to dress yourself up too — get yourself a matching shirt to show how excited you are for Gotcha Day. This one is 100 percent cotton, has a paw print on the front and comes in five colors (so you can get one for Monday through Friday and make it a Gotcha Week celebration).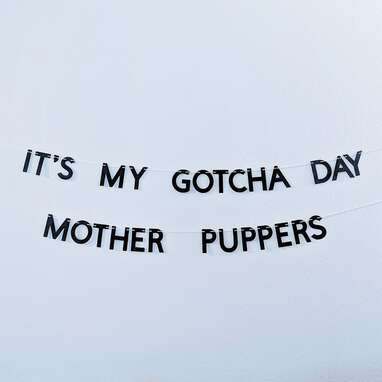 This fun banner is perfect for your dog's party! It says "It's My Gotcha Day Mother Puppers" in black cardstock letters to let everyone know it's your dog's day.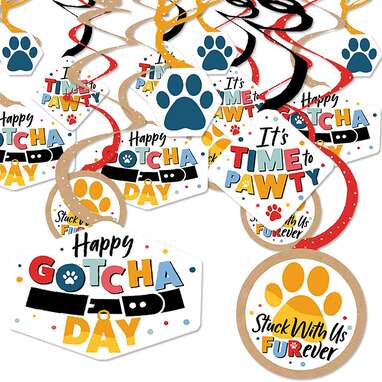 These hanging decorations will add some pizzazz to your party. They come in four different shapes, with 10 copies of each shape, so you can hang them up all over your house. They hang on fun, swirly spirals and have pre-cut holes to make them super easy to put together.
Get some photo booth props so you can take lots of pictures of you and your pup! These ones are Gotcha-Day-themed and have lots of fun sayings on them, like "My favorite breed is rescued" and "Let's celebrate the day I picked my human." They come with stickers that make the props easy to assemble.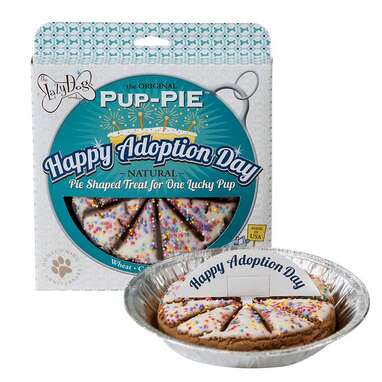 It's not a party without food (especially for dogs), so get this dog cake that comes with a sign that says "Happy Adoption Day." The cake is made with all-natural ingredients and has a dairy-free vanilla icing.
Treat your pup to Gotcha Day gifts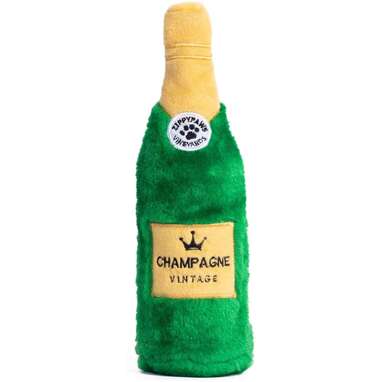 Celebrate with this dog-approved champagne toy! (And get some real champagne for yourself). It has a crunchy texture and comes with an empty water bottle to be used as a refill if your dog chews it so much that it loses its crunch.
Get your dog this interactive toy that will keep him playing all day long. He'll get smarter as he uses it and learns how to roll the ball to get treats out. If your pup eats too quickly, you can also use the ball as a slow feeder to teach him to eat more slowly.
Pizza parties are always fun, so let your dog celebrate with this dog pizza. It's a fun, plush squeaky toy that comes in a real pizza box.
These Gotcha Day cookies are all-natural and can be personalized to have your dog's name on them! They're handmade and baked to order with yummy ingredients, like pumpkin and peanut butter.
Spend some quality time with your pup playing fetch with this launcher that won The Dodo's Paw of Approval! It comes with a rubber ball and folds in half for easy storage and so you can bring it on walks with your dog.