Unintentionally Hilarious Dog Grooming Tools You Didn't Know You Needed
*Adds to shopping cart*
We independently pick all the products we recommend because we love them and think you will too. If you buy a product from a link on our site, we may earn a commission.
Grooming your dog at home isn't always easy. But there are some ingenious grooming tools out there that can make the experience so much smoother (even if some of them look pretty ridiculous).
From fuzzy bathrobes made just for dogs, to a hammock you can hang your dog in while you cut his nails, here are the most innovative, and sometimes silly, grooming tools you never knew you needed.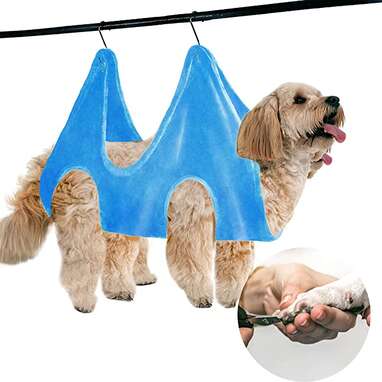 Do you absolutely dread cutting your dog's nails? To the point where you take your dog to the vet or groomer's every time he needs them cut? This product will finally let you cut your dog's nails yourself hassle-free. Just place your dog's legs through the holes in the hammock, and gently lift him and place the top hooks on a secure rod in your home. Your dog is safely dangling in the air — and exactly where you want him for your nail-clipping sesh.
Have you ever used your dog's grooming products on your own hair? Of course not, since most are made for dogs specifically. But then there's this super luxe product from Rowan, which you can use on both your dog's hair and your own. It's actually a really nice-smelling product that you spritz on your dog in between baths to keep him smelling fresh. And if your hair needs a pick-me-up, you can use it for that, too! So you'll both have matching coconut scents. Twins!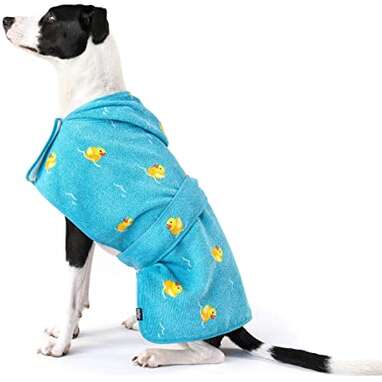 Dog bathrobes are obviously super cute, but they're actually also pretty useful for drying your dog after baths. This robe is made of a quick-drying towel material that'll soak up any wetness from his fur, so he's not left relying on his zoomies to dry him off, and so your furniture is protected from wet dog.
It's also useful after a day at the beach or lake. Just slip his robe on before the car ride home, and your car seats will be protected from the wetness (and your dog can enjoy a snuggly ride back).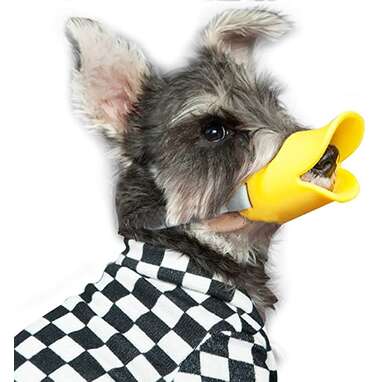 If your dog tends to nip at you when you give him baths, a dog muzzle might help. But why settle for any dog muzzle when you can get him one that makes him look like a duck? And if he's totally comfortable in it, the muzzle can also double as an easy dog Halloween costume.
This dog licking mat is a genius invention. It uses your dog's love of food to keep him totally cooperative during baths. Just smear some peanut butter or yogurt on the dog mat, and use the suction cups to attach it to the wall of your bath at your dog's height. Even if your dog hates baths, there's a good chance he'll happily jump in the tub. And you'll be even more surprised when he lets you bathe him, no problem, as long as he's enjoying his shower treat.
The annoying drips of water that fall down your arm during your dog's baths aren't talked about enough. (Especially when the water and soap end up soaking your clothes!) And that's why these cuffs are so useful. They catch any water or suds before they fall down your arms and onto your clothes, and can also be useful for other water-based cleaning activities, like washing the car or doing the dishes.
These gloves might look intense, but they're actually seriously useful — especially if your dog isn't shy about jumping on you or pawing you during baths or other grooming tasks. Even trimmed dog claws can leave a scratch, and since these sleeves are basically bulletproof, that won't ever be a problem.
You'll feel like Aquaman with this grooming tool that shoots water from your hand. The Aquapaw is actually a shower attachment that has a pet brush at the end of a hose that you slip your hand into, and the water shoots out from the middle of the brush. It's basically a super ergonomic way to brush and bathe your dog at the same time (while making you feel like you have superpowers).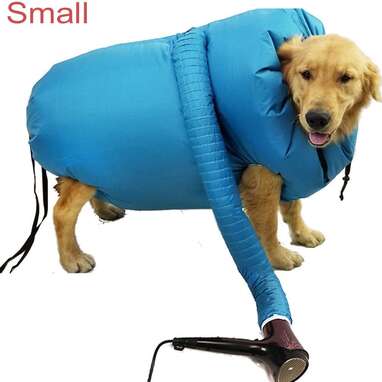 This dog grooming tool will help you dry your dog fast, and clearly looks super funny. It can be very useful when it gets really cold outside, and you want to keep your dog nice and cozy after a bath. Be super careful about using this dog dryer, though, and make sure you follow the directions exactly. You don't want your dog to get too hot, so don't leave it on the heat setting for too long, and don't leave your dog unattended during use.
Elevate your dog's brushing routine with this two-in-one brush and massaging tool. It acts like a regular brush by gently removing loose fur, but it also has built-in vibrating therapy to increase circulation and reduce your dog's muscle tension. Laugh all you want, but this tool is actually super effective at calming your dog down. He'll totally love it and even look forward to his next massage *AHEM* grooming session.