Dodo Pick: Our Dogs Love This Harness
"Caesar and Ginger both seem so comfortable ... they get excited when we bring them out!"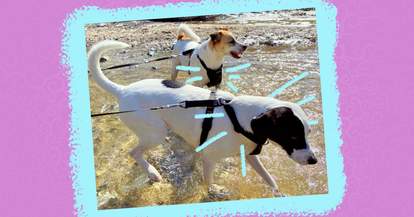 We independently pick all the products we recommend because we love them and think you will too. If you buy a product from a link on our site, we may earn a commission.
If you're looking for a go-to dog harness that's strong and durable, but also comfortable and sleek-looking, look no further than the Kurgo Tru Fit Harness.
The Dodo's very own Scout MacEachron swears by this harness, and has one for each of her two adventure-loving dogs.
The Dodo's Scout MacEachron's dog, Caesar, rocking his Kurgo harness

| Scout MacEachron
Why The Dodo loves this Kurgo harness

"I've tried SO many different harnesses for our 50-pound, energetic beagle/Lab mix, Caesar, and the only one we've stuck with and continue to use is Kurgo. We now use one on his recently adopted sister Ginger, too!" MacEachron said.
Ginger looking pretty in her Kurgo harness

| Scout MacEachron
Not only is this harness durable, comfortable, nice-looking, and easy to put on and off, but it also comes with a seat belt clip for the car — which means you can safely run out for errands without having to grab any other dog gear!
"It also doesn't limit our dogs' movement at all (we've left their harnesses on for swims, full-speed chases, fetch, etc.) and we've never had issues with chafing or anything — they always seem totally comfortable," MacEachron said.
Caesar testing his Kurgo harness on one of his adventures

| Scout MacEachron
Any downsides?

The only downside, according to MacEachron, is that it's not designed to stop or curb pulling in any way.
"In fact, because of the way it's built, it almost acts like a sled dog harness — so if our dog pulls a lot we go with him!" MacEachron said. "That being said, since Caesar isn't a HUGE dog we just use our body weight to counter any major pulls. Ginger doesn't pull so there is no issue there! Ironically, the way the harness distributes force so well is also one reason we like it."
This harness still works better than others do when Caesar pulls — MacEachron said she's noticed that other harnesses, including ones designed to "help" pulling, often get all twisted and tangled and seem to hurt Caesar and restrict his movement. The Kurgo doesn't have this problem.
 
How this harness helped Caesar swim

"Caesar was wearing this harness when we visited friends who have a pool. He'd never seen a pool before and I guess he thought it was a solid surface," MacEachron said.
"Well, he stepped right out and plunked in! Luckily I was standing there and quickly reached in the water, grabbed the harness and lifted him out. He was VERY surprised to say the least — but didn't let it stop him from having a proper swim later."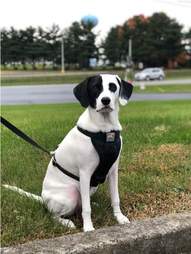 Caesar in his Kurgo harness

| Scout MacEachron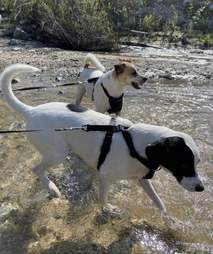 Ginger (back) Caesar (front) in their Kurgo harnesses

| Scout MacEachron