Can Dogs Have Pumpkin Spice?
Plus dog-friendly ways to celebrate PSL season.
Fall means pumpkin spice season, and (like most things) you want your dog to join in on the fun.
So, you might be wondering: Can dogs have pumpkin spice, which is made up of a mix of cinnamon, nutmeg, ginger, cloves and allspice?
Pumpkin spice can actually be toxic for pups in large quantities, so you should keep it away from your dog.
However, there are plenty of dog-friendly alternatives that are the perfect ode to pumpkin spice — so your dog can celebrate the best thing about fall with his favorite human.
We spoke with a few veterinarians to break down the ingredients in pumpkin spice to find out why it's so dangerous and how much PS is too much for pups. (Plus, we've included fun gifts if you want to safely share your love of PS with your BFF.)
Can dogs have cinnamon?
Cinnamon is one of the more healthy ingredients in pumpkin spice. "Cinnamon has antimicrobial properties, which have been shown with in-vitro studies to help eliminate bacteria that cause urinary tract infections," Dr. Michelle Burch, a veterinarian from Safe Hounds Pet Insurance, told The Dodo. "Low concentrations of cinnamon may also improve blood glucose control in diabetic patients."
"Cinnamon can offer a wide range of benefits for your canine as it is a powerful antioxidant, has antifungal properties that might benefit dogs with allergies or frequent yeast infections, and has anti-inflammatory properties that help dogs with sore muscles and joints pain," Dr. Sabrina Kong, a veterinary writer at WeLoveDoodles, told The Dodo.
Too much cinnamon can be bad for dogs, though. "If your dog ingests large amounts of cinnamon, it may experience gastrointestinal upset with vomiting and diarrhea," Dr. Burch said.
Can dogs have nutmeg?
You should keep nutmeg away from your dog since it can be pretty poisonous for him — which is one of the reasons a lot of pumpkin spice flavoring mixes are dangerous. "Nutmeg is highly toxic for your dog, and you shouldn't give it to them," Dr. Kong said. "It can cause stomach upset and mess up their nervous system."
"Toxicity from nutmeg can cause hallucinations, high heart rate, high blood pressure and disorientation," Dr. Burch said.
In severe cases, eating nutmeg can even be fatal, Dr. Kong said.
Can dogs eat ginger?
In small quantities, ginger can have a ton of benefits for dogs. "Ginger can help prevent nausea in dogs for carsickness, inflammatory bowel disease and cancer," Dr. Burch said.
"It's also a good antioxidant and helps in decreasing inflammation in the body," Dr. Kong said.
To treat your dog for nausea, the recommended dose is 1/8 to 1/4 teaspoon of powdered ginger or 1/4 inch strip of fresh ginger, according to Dr. Burch.
You shouldn't give your dog more than 2 grams of ginger for every kilogram that your dog weighs. Any more can cause some weird effects on your dog. "A high concentration of ginger ingestion can cause 'ginger jitters,'" Dr. Burch said. "Ginger jitters are an overstimulation of the central nervous system, causing nervousness and jumpiness."
Can dogs eat cloves?
Even though cloves can be beneficial for humans, they're definitely toxic for dogs.
"You shouldn't give cloves to your dog as they have a compound called eugenol, which can be toxic and harm your dog," Dr. Kong said.
"Currently, there is no evidence of the benefits of raw or powdered cloves in dogs," Dr. Burch said. "In human medicine, cloves are reportedly beneficial as an antiparasitic, analgesic, antioxidant, anti-cancer, antiseptic, antidepressant, anti-inflammatory, antiviral, antifungal and antibacterial."
If your dog eats too much clove, he might have some gastrointestinal upset with diarrhea, nausea and vomiting. "There is also the risk of liver disease when large amounts are ingested due to eugenol, which has been shown to cause liver toxicity in cats," Dr. Burch said.
Can dogs eat allspice?
You should avoid giving your dog allspice. "Allspice, just like clove, contains eugenol, and it should be avoided," Dr. Kong said.
If your dog eats allspice, he might experience symptoms like gastrointestinal upset with diarrhea, nausea and vomiting, or it could end in liver disease in severe cases.
Can dogs eat pumpkin?
Pumpkin is safe for dogs and can even have some health benefits — but only when it's eaten in small quantities.
The high levels of fiber in pumpkin can cause stomach problems, like constipation. Plus, pumpkin has a lot of vitamin A — and too much can be toxic for dogs.
In small quantities, however, pumpkin can benefit your dog's immune system, eyes, skin, digestive system, muscles, heart and so much more.
So, can dogs have pumpkin spice safely?
You should never intentionally feed pumpkin spice to your dog as it could be toxic and even fatal depending on what spices are used in the mix.
"Since pumpkin spice usually contains cloves and nutmeg, I'd advise avoiding it," Dr. Kong said.
Luckily, your dog probably won't be that interested in eating a spoonful of pumpkin spice, anyway.
"As pumpkin spice is so fragrant and strong-smelling, most dogs would not find it appealing," Dr. Linda Simon, a veterinary surgeon and a veterinary consultant for FiveBarks, told The Dodo. "It is unlikely they would elect to eat it in large [enough] quantities to cause an issue."
If you're wondering whether your dog can have a sip of your PS latte or other pumpkin spice treats, the high sugar, fat and lactose content from the other ingredients will probably be more of an issue than the small amount of spices added. But in general, be sure to keep your pup far away from these seasonal snacks to make sure you don't actually make him sick.
How much pumpkin spice is too much for dogs?
Every dog will react to pumpkin spice differently, so even a tiny amount can make your pup sick. But as a general rule, "dogs would need to [ingest] 5 grams or more of pumpkin spice to have side effects due to the spices," Dr. Burch said.
Signs of pumpkin spice toxicity in dogs
Too much pumpkin spice can lead to symptoms like diarrhea, nausea and vomiting. "There is also the risk of a dog developing ginger jitters due to the ginger spice," Dr. Burch said. "Dogs may also develop hallucinations, high heart rate, high blood pressure or disorientation from the nutmeg. In worst cases, and [with] large amounts of pumpkin spice ingestion, dogs may develop liver disease."
If your pup eats some pumpkin spice and starts showing signs of pumpkin spice toxicity, take him to the vet or emergency clinic ASAP.
"If your dog does overdo the pumpkin spice, it may be safest to bring them to your nearest vet to induce vomiting," Dr. Simon said.
Pumpkin spice treats, toys and dog-safe candles
You can enjoy the season safely with pumpkin spice products that are made for dogs (and not surprisingly, there are a lot to choose from). From treats to candles, here are some ways to celebrate pumpkin spice season as a dog parent:
A fun seasonal twist on the gold standard of dog dental treats. Add on top of a couple of tablespoons of whipped cream for a DIY pumpkin spice latte for your dog!
Treat your pup to his very own (homemade) pumpkin spice dog cake. Reviewers say that it smells so good you might even want a bite!
Your dog will care less about your PSL when he has a scoop of his very own pumpkin spice peanut butter.
Plush dog toy
This plush toy is a super cute recreation of fall's favorite drink.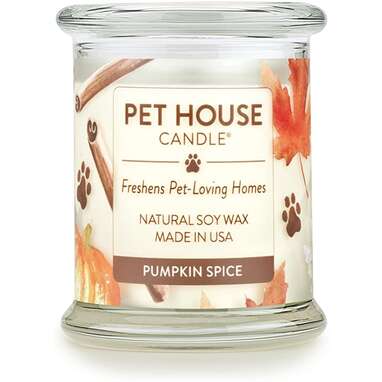 dog safe candle
There's nothing like the smell of pumpkin spice in your home. But essential oils can be dangerous for dogs, so skip the pumpkin-spice-scented oils in your diffuser and opt for this dog-friendly candle instead. Our dogs reviewed the Pet House Candle and gave it our Paw of Approval!
We independently pick all the products we recommend because we love them and think you will too. If you buy a product from a link on our site, we may earn a commission.