4 Best Dog Water Bottles To Keep Your Pup Hydrated On The Go
Because we should all be drinking more water 💦🐶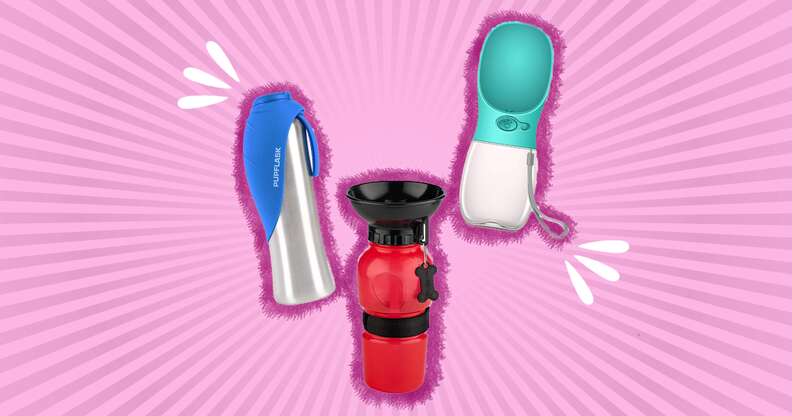 Making sure your dog stays hydrated is super important. That's why dog water bottles are so great (since they give your dog access to water literally anywhere).
The Dodo spoke with Dr. Linda Simon, a veterinary surgeon and consultant for Five Barks, to figure out how to find the best dog water bottle for your pup.
Why you need a dog water bottle
A dog water bottle is pretty essential for every pup parent because it lets your dog grab a drink wherever he is.
"Travel water bottles ensure your dog always has the option to drink and maintain their hydration levels," Dr. Simon told The Dodo. "They should come along whenever you leave the home, particularly on camping trips or days out to the beach or park. It's also wise to leave one in your car or purse for easy access whenever you're away from home."
And since water bottles make sure your pup's hydrated, it's a great tool for keeping your dog healthy.
"This is especially critical when the weather is warm and your dog could be at risk of heat stroke," Dr. Simon said. "It is also key for those prone to certain medical issues, such as urinary tract infections or bladder stones. Preventing dehydration is vital for keeping these guys in good health."
How to find the best dog water bottle
There are a few things to consider when you're trying to find the best dog water bottle.
Picking the right size
There's no one right size for a dog water bottle — the right size for you is going to depend on your lifestyle.
If you and your dog go on super long walks, a bigger size could come in handy, for example, but it's not always necessary.
"Remember, bottles can be refilled when out and about, so don't feel you have to plump for the largest bottle in the store unless you're planning some real hikes in the outback," Dr. Simon said.
You should also keep in mind that you'll have to carry the water bottle around with you. So if it's massive, it could feel like a lot to carry.
Features to look for
A good dog water bottle isn't just going to hold water. It should include features like:
Detachable tray or bowl
Plastic (because it's lightweight), silicone (because it's durable) or stainless steel (because it keeps water cold)
Clip or strap for carrying
Best dog water bottles
This dog water bottle is only 12 ounces, so it doesn't take up much space when you're on the go. Pressing the button will pour water right into the bowl at the top — and pressing it again allows any unused water to go back into the bottle so you don't have to worry about wasting anything.
This water bottle has a blue silicone cup that fits right on top of the water bottle when you're not using it. And because the bottle's made out of stainless steel, it's super durable.
This dog water bottle holds a smaller amount of water — about 8 ounces — but it also has a separate container to store food or treats. So it's got everything your pup needs.
The AutoDogMug will fit right in your car's cup holder, which is great for when you and your pup hit the road. And all you have to do is squeeze the bottle to fill the bowl on top.
Now that we've narrowed down your shopping list, you don't have to spend hours scrolling online to find the perfect water bottle for your dog. We've got you covered.
We independently pick all the products we recommend because we love them and think you will too. If you buy a product from a link on our site, we may earn a commission.