9 Dog Wall Art Pieces That Are Actually Cool
Dogs + art = masterpiece ✨
We independently pick all the products we recommend because we love them and think you will too. If you buy a product from a link on our site, we may earn a commission.
If you have a blank spot on your wall that you need to fill, try adding some dog-themed art.
You don't have to be a dog parent to appreciate a print or painting of a dog — especially if it fits in just right with your interior decor.
Here are some cool (and totally not tacky) dog wall art pieces that can help tie your room together.
This quirky wall art is kind of ridiculous, but also kind of awesome. If you want an art piece in your home that'll make your guests do a double take, this is it. There are 45 different silly pet portraits to choose from, inspired by different pop culture icons, so you'll definitely be able to find one you like.
This super cute flower-power piece would look great in a boho-inspired home.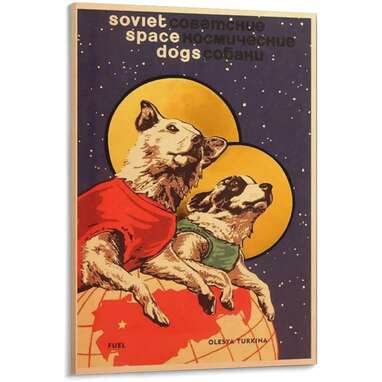 This picture is uber-retro and would fit right in with vintage decor, or totally stand out (in the best way possible) in a more modern room.
You can customize this Biggie-inspired portrait with your own pet so you can show your house guests how much of a legend your dog is.
Add this dapper dog to your wall for a touch of sophistication.
Dogs in sunglasses? Adorable. This print makes great use of white space and would be a perfect addition to a minimalist interior design.
If you're just totally over it in general, this dog print is definitely going to be your vibe.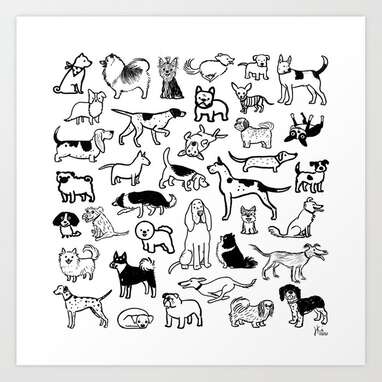 This print features illustrations of a bunch of different dog breeds, for when you can't choose just one.
This customizable art piece will make your pup look classy AF.
OK, seriously, who wouldn't love this print of an adorable, tiny white Frenchie peeking out of some abstract color blocking? Too cute.
If you want a dog in your wall art, but you don't want it to scream "DOG!" try this more subtle, minimalist take on the theme.