The Sweetest Valentine's Day Puns From Your Pup To Someone He Loves
"I woof you" and more cute dog-themed puns ❤️🐶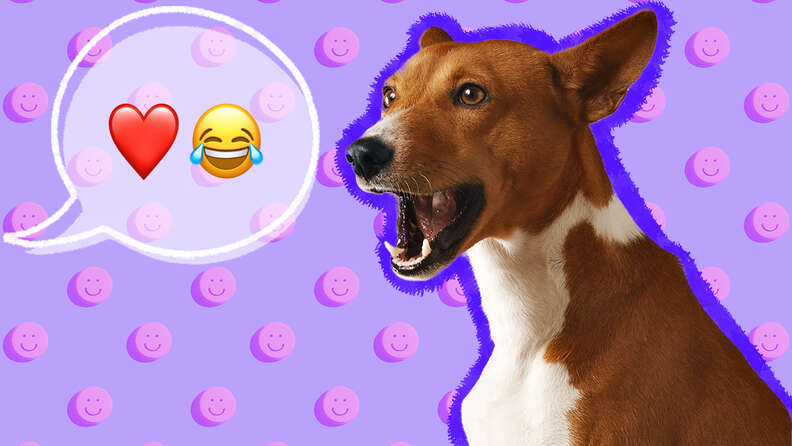 Working on a special message for a loved one this Valentine's Day? Get your dog in on the action, too!
We've rounded up some pretty adorable dog Valentine's Day puns that are sure to bring all the smiles — whether it's from your dog to his special human or vice versa! (Your pup deserves a little Valentine's love, too, right?)
Regardless of how you plan to spread the love this February, these Valentine's Day puns will make your special person feel all the feels!
28 dog Valentine's Day puns
You're the fur-ry best dog mom ever. My life would be ruff without you.
I WOOF you to the moon and back, valentine!
If they lined up all the chew toys in the world, I'd CHEWS you, valentine.
No bones about it. On Valentine's Day and every day, I'll always dig you.
I woofy, woofy love you, valentine.
I puppin' love you, Paw-lentine!
I'm not too cool to drool for you on Valentine's Day!
You're the best pet parent in the world, fur-real. No bones about it!
I ruff you so much, I'm barking it from the woof-tops!
I get the zoomies because we're roomies.
I was barking up the wrong tree until you adopted me.
Doggone it, will you paw-lease be my valentine?
Valentine, you are pup-fection!
Will you beagle my valentine?
I hope we sit and stay together fur-ever.
You are a re-bark-able person.
Pugs and kisses to my favorite valentine!
Paws-ibly the best Valentine's Day ever.
Happy Valentine's Day to this paws-itively pup-fect person!
A round of a-paws for being the best dog parent a pup could want.
You're simply paw-fect.
Muttin' but love for you, valentine!
You are the weiner of my heart.
You rescued my heart.
I drooly love you.
I'll bark it loud and clear: I ruff you!
I think you're Labrador-able!
Howl I live without you?
Loving you is poodles of fun!
Happy Valentine's Day! You are so a-dog-able!
You bring the pup-corn; I'll bring the movie. Let's have a paws-itively great night!
Here's to saying "I love you" in your own special way this Valentine's Day — and, hey, when it comes to your furry BFF, these sweet puns can really work all year-round!
Top-Rated Products For The Ultimate Dog Spa Day
We may earn a commission if you purchase from our links.