Does My Dog Need A Treadmill?
No, seriously? 🤔
We independently pick all the products we recommend because we love them and think you will too. If you buy a product from a link on our site, we may earn a commission.
So it turns out dog treadmills are a real thing.
The Dodo spoke with Dr. Vanessa Spano, a veterinarian at Behavior Vets in New York City, to find out what the deal is with dog treadmills, and if your pup actually needs one.
"Treadmills may be used for a variety of reasons, such as for exercise or enrichment," Dr. Spano told The Dodo. "Some dogs who require more physical stimulation and enrichment might enjoy these, of course under owner supervision."
Dog treadmills are actually a great option for pups who maybe don't get outside too much, or live in a city where they don't have a ton of open places to run around.
The important thing to remember is that you should always watch your dog while he's on a treadmill in case his toes get stuck, or if he wants to get off but doesn't know how.
And there are some dogs that really shouldn't use a treadmill.
"This type of exercise is not recommended for a large variety of dogs, such as dogs with certain orthopedic diseases or older dogs with arthritis," Dr. Spano explained. "Additionally, this may actually worsen or intensify arousal in dogs who have underlying anxiety."
To be on the safe side, you should probably chat with your vet before pulling the trigger on a dog treadmill.
But if you get the go-ahead, here are the three best ones. (And remember to use
positive reinforcement training
to gradually get your dog comfortable with the equipment!)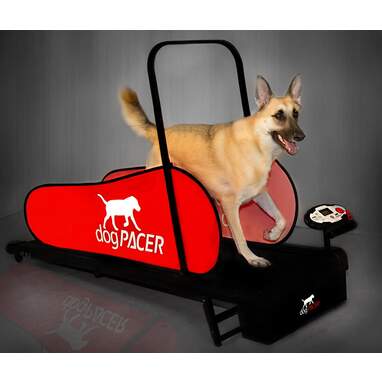 This treadmill is great for chonks up to 179 pounds and folds up for easy storage.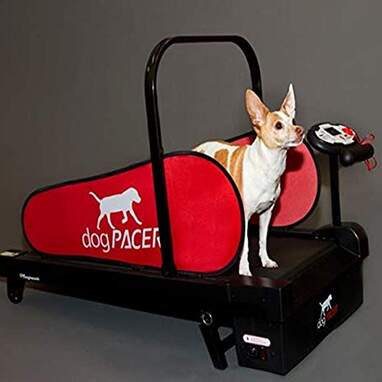 Here's an option specifically for small and medium dogs.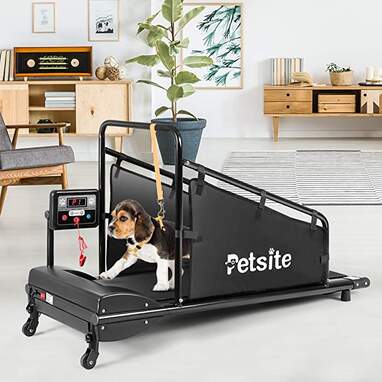 The remote control makes it super convenient to work this model.