Here Are Some Of The Best Dog Treadmills Right Now
Give your pup's exercise routine a boost 🏃‍♀️🏃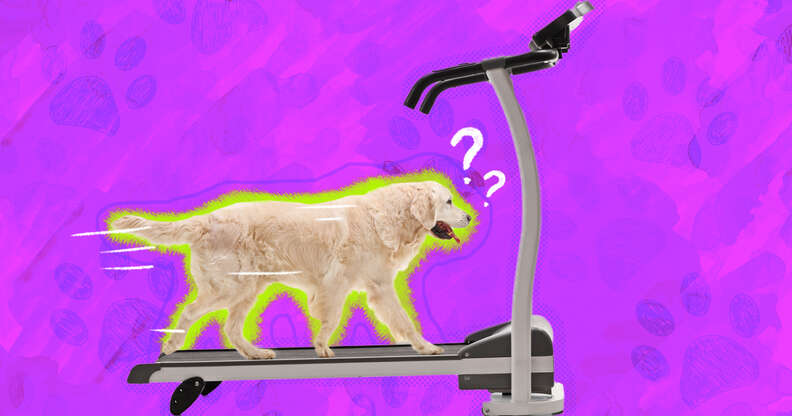 Your dog needs to go on a walk every day, even on days when you're way too busy or the weather's terrible.
When that happens, dog treadmills can really come in handy to help your dog get his exercise in.
The best treadmills for dogs are stable (look for a steel or iron frame), are quiet and have adjustable speed settings.
We spoke to Dr. Jamie Whittenburg, a veterinarian at Senior Tail Waggers, and Dr. Vanessa Spano, a veterinarian at Behavior Vets in New York City, to find out when to use a dog treadmill and how to train your pup to walk on one. Plus, here are our top picks:
Are dog treadmills a good idea?
Dog treadmills can be useful to exercise your pup indoors if you use them safely, but they also shouldn't replace daily outdoor walks.
"Mental stimulation is an integral part of exercise for dogs, and treadmills do not provide much of this," Dr. Whittenburg told The Dodo. "Dogs may use a treadmill to expend extra energy but also need adequate playtime and time outdoors."
If you want to use a dog treadmill, you should use it as a supplement to your pup's regular fitness routine.
It's also important to remember that you should always watch your dog while he's on a treadmill in case his toes get stuck, or if he wants to get off but doesn't know how.
And there are some dogs that really shouldn't use a treadmill.
"This type of exercise is not recommended for a large variety of dogs, such as dogs with certain orthopedic diseases or older dogs with arthritis," Dr. Spano told The Dodo. "Additionally, this may actually worsen or intensify arousal in dogs who have underlying anxiety."
To be on the safe side, you should probably chat with your vet before pulling the trigger on a dog treadmill.
What to look for when buying a dog treadmill
To make sure you get the best treadmill for your dog, there are a few things you should look for.
"My number one is stability (for safety), followed closely by the noise level," Dr. Whittenburg said. "You must ensure that the treadmill is well made and stable to avoid falls and injuries to your dog. Many dogs are also wary of loud noises, so I recommend choosing the quietest treadmill you can find."
You'll also want adjustable speeds so you can set it at a comfortable pace.
Some other important factors to consider are the size. You should look for a track that's long and wide enough for your dog, and make sure it can hold his weight.
Storage is another consideration. You might want a collapsible treadmill that's easy to store and won't take up a ton of space.
Best dog treadmills
Here are some of the best dog treadmills you can buy to keep your pup in shape.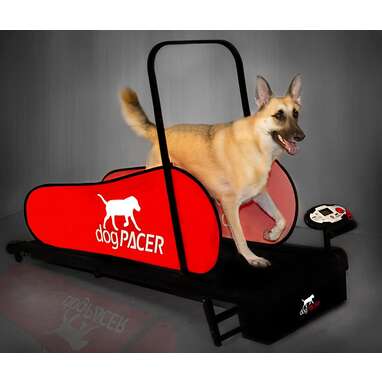 Dr. Whittenburg recommends this dog treadmill. It folds, so you'll be able to easily store it in your house, and it fits any size dog since it holds up to 179 pounds and has a large track. The treadmill has speeds from 0.5 to 7.5 mph, and you can adjust it in 0.1 mph increments based on your dog's fitness needs.
This is the mini version of the dogPACER treadmill, and it's perfect for small and medium-sized dogs (it can hold up to 55 pounds). The speed can be adjusted in 0.1 mph increments, and the built-in computer comes with multiple pre-set exercise programs for your pup. It's also a bit smaller than the other treadmills, so it'll take up less space in your home.
This treadmill has an LCD display to let you keep track of your dog's progress, and it comes with a remote so you can easily control the speed. It's made of iron, so it's super sturdy to keep your dog safe. While the weight limit is 200 pounds, the dimensions are best for small- to medium-sized dogs.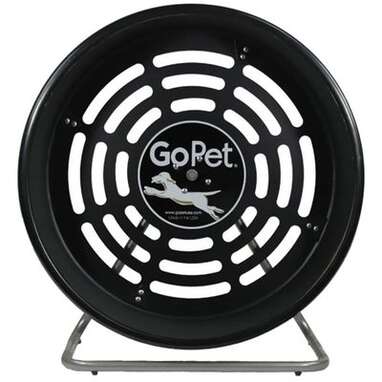 This treadmill is powered by your dog and doesn't need electricity, so he can set the pace himself. It has a cushioned surface and is mildew and UV resistant so you can use it outside, too. It holds dogs up to 150 pounds, and there's one for small dogs up to 25 pounds.
Dog treadmill FAQs:
Can dogs walk on human treadmills?
It turns out that it can be safe to let your dog walk on a human treadmill, but there are some things you should consider before you do, like your dog's size.
Human treadmills have short tracks, which may not be long enough for your dog, especially if he's big.
"Humans only have two legs and, therefore, a shorter stride than our four-legged friends," Dr. Whittenburg said. "Using a human treadmill that forces the dog to compress or shorten their stride can adversely affect the dog."
For smaller dogs, human treadmills can be too fast for their tiny legs.
"The slowest walking setting on a human treadmill is usually too fast for these short-legged pooches," Dr. Whittenburg said. "Forcing a small dog to run on a human treadmill is unacceptable and may result in injury to the dog."
How long can dogs walk on a treadmill?
When thinking about how long your dog can walk on a treadmill, you should consider the same factors that affect how much exercise your dog needs: size, age, health and energy levels.
High-energy dogs who need a lot of exercise can walk for a longer time, and dogs who are older or overweight will probably need shorter walks. Watch your dog when exercising to make sure he's not getting too tired.
"Walking or running on the treadmill must always be enjoyable for the dog, and they should never be forced to stay on the device," Dr. Whittenburg said.
How can I train my dog to walk on a treadmill?
Treadmills can seem strange or even scary to dogs at first since they move and make noise, so you'll have to let your pup get used to the treadmill before he starts using it.
"To train a dog to use a treadmill, it is essential never to allow any negative association to be created between the dog and the treadmill," Dr. Whittenburg said. "Walking or running on a treadmill needs to be fun for the dog. The process should be introduced slowly, with positive reinforcement employed every step of the way."
Let your dog sniff the treadmill, and turn it on so he can hear the noise. "Dogs should be allowed to sniff and explore the treadmill first," Dr. Whittenburg said.
"The dog should be allowed to just stand on the treadmill and receive positive reinforcement for doing so," Dr. Whittenburg said. "Once the dog is comfortable, the treadmill can be started at its slowest speed."
If your dog seems uncomfortable or tries to get off, let him leave. Trying to force your dog to stay on the treadmill will scare him and can injure him.
If you train your pup to walk on a dog treadmill, it can be super helpful for giving him some extra exercise and can be a great way to take him on a walk when it's snowing or too hot out.
We independently pick all the products we recommend because we love them and think you will too. If you buy a product from a link on our site, we may earn a commission. Links are updated when possible, but note that deals can expire and all prices are subject to change.
Dog Water Bottles To Keep Your Pup Hydrated On The Go
Dog Water Bottles To Keep Your Pup Hydrated On The Go