11 Dog Travel Accessories For Road Trips, Plane Rides And Camping
Travel must-haves 🧳
We independently pick all the products we recommend because we love them and think you will too. If you buy a product from a link on our site, we may earn a commission.
While traveling with your dog is obviously super fun, sometimes it can be a real struggle. Especially if you're not prepared with the right supplies.
Just like people, our dogs need a whole bunch of items during travel so they're safe and comfortable. And when your pup has everything he needs to be happy, that means you'll be less stressed and can fully enjoy the trip with your dog by your side.
So before you set out on your next vacation with your furry companion, make sure you have these dog travel accessories so you can survive your next trip with your pup, and even have a ton of fun along the way.
This car seat will help give your small dog a super comfortable spot to look out the window. And since he'll be contained in one place, he won't be distracting you by stumbling around the car or trying to get into your lap, so it's great for keeping you both safe. This booster seat has a curved design that fits perfectly in your car seat for a more secure ride. It's also super spacey and can even fit up to two small dogs at once. And since it's machine washable, it's perfect for trips to the dog park or other fun outdoor activities where he might get a bit messy (or for dogs who tend to get carsick).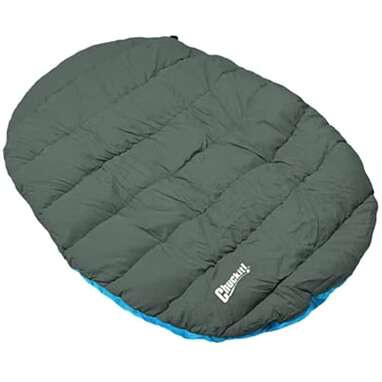 This dog bed will keep your pup nice and snuggly during long car rides, camping outdoors or pretty much any trip away from home. It can be rolled up and stored in the travel bag it comes with for easy transportation, and it's machine washable in case it gets dirty. It even comes with a loop to hang it up to dry. Your pup will definitely appreciate that he has a comfy bed to cuddle up with in the car or at the hotel. It's even great to have in the yard when you're not traveling.
If you'll be doing a ton of walking on your trip, you should definitely consider a dog backpack carrier. It's a convenient way to carry your pup hands-free, which is great if he's tired. And since you'll be carrying him on your back, you'll save your arms from that heavy weight and be able to carry him for a lot longer, too. This bag from Kurgo is the perfect option since it has a ton of room and feels super sturdy. We even tested it with our own dogs, and we liked it so much we gave the Kurgo dog backpack our Paw of Approval.
Back seat barriers are another great way to keep you and your pup safe in the car, since they prevent him from hopping up front and distracting you. This product is made from a mesh material that lets you see each other and allows air flow to the back of the car, but keeps your dog securely in the back. You might think the mesh makes the barrier flimsy, but the aluminum support bar that goes through the middle makes it basically impossible to break through — no matter how badly he wants to get to the front!
The pet carrier from Sherpa is super high-quality and a favorite for traveling dog parents. It has soft sides that can be pushed down so it fits perfectly in tight spaces (aka under the seat during your flight). You also have the option of putting your pet in the carrier through the top, which is actually a lot easier than trying to get your pet in through the sides (though you should slowly introduce your dog to the carrier days or weeks before your trip so he's comfortable when it's finally time to use it). This bag meets the standards of most major airlines, so you should have no problem bringing this with you in the cabin (but always check the details of your specific flight just to be safe).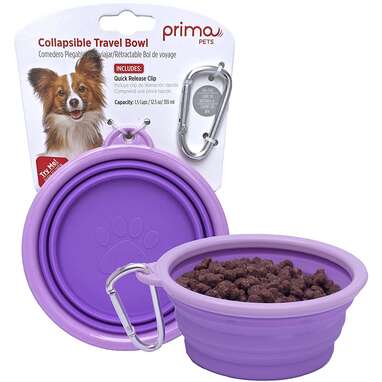 This travel dog bowl is super convenient since it can fold down to half an inch, and it comes with a carabiner clip so you can attach it to your leash or luggage (and it weighs less than half a pound!). You can even fit it in your pocket if you need to. It's pretty sturdy, too, so it won't tip over easily. And for a quick clean, you can just put this dog bowl in the dishwasher. This model can only hold 1.5 cups of food, so if you have a bigger dog, try the large size, which holds 5 cups.
Once you take one trip with this travel bag, you won't want to bring your dog anywhere without it. The Modoker travel bag has everything you need when it comes to luggage for your dog. It has tons of compartments of all different sizes, two dog food storage containers, two collapsible food bowls and a waterproof place mat. It's also airline approved, so it's perfect for flights.
This dog hammock is made with a super soft material that your dog will love to snuggle up with. The Grip-Tight technology makes this cover hard to move, so you can count on your dog staying put, even if the ride gets kinda bumpy. If you have a large pup, this is a great solution for keeping your pup safe in the car. It's water resistant and super easy to wash, so you'll be prepared for any mess your dog wants to bring in the car while you're out and about. We reviewed the Orvis hammock, and our dogs loved it.
A dog crate is another safe way to travel with a small- to medium-sized dog in your car (if he's comfortable with being in a crate). This crate from A4Pet is the perfect crate for the car, since it has a slanted structure that slides in perfectly to car seats, and even has straps to slip your seat belt through. It's also totally collapsible, so you can hide it under your seats when it's not in use. It's definitely built with your dog's comfort in mind; there's mesh on all four sides for a 360 degree view, and it's super roomy on the inside.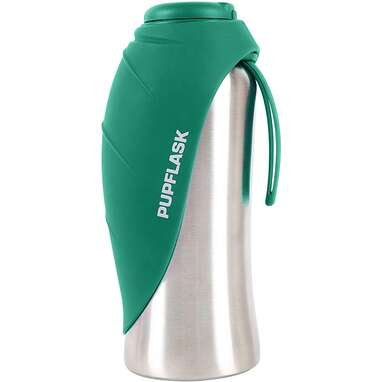 This PupFlask is definitely a top choice. It's made of high-quality stainless steel that will keep your pup's drink nice and cold. The bowl is at the top and can be folded down so it's not as bulky to carry around. The size of the bowl is pretty large too, which makes it perfect for larger, or multiple, dogs.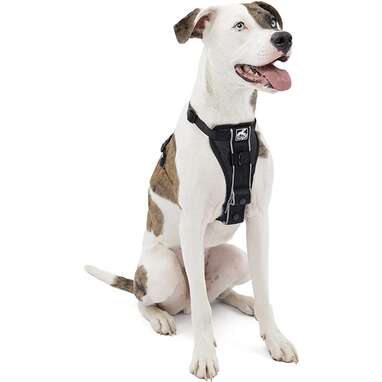 The Kurgo harness was built for adventures. This no-pull harness is super comfortable for pups and lightweight, so he'll barely know it's there. It also comes with a safety strap so you can secure your pup to the seat belt in your car during car trips. This harness is actually super safe for driving, and was even crash-tested for dogs up to 75 pounds at the same facility where car seat performance tests for the National Highway Traffic Safety Administration are performed. It's the perfect harness to go from hiking back to the car, all while keeping your dog protected. We tried the Kurgo harness on our own pups and gave it our Paw of Approval!