10 Dog Training Tools The Pros Love
Trainer tested, dog approved 💪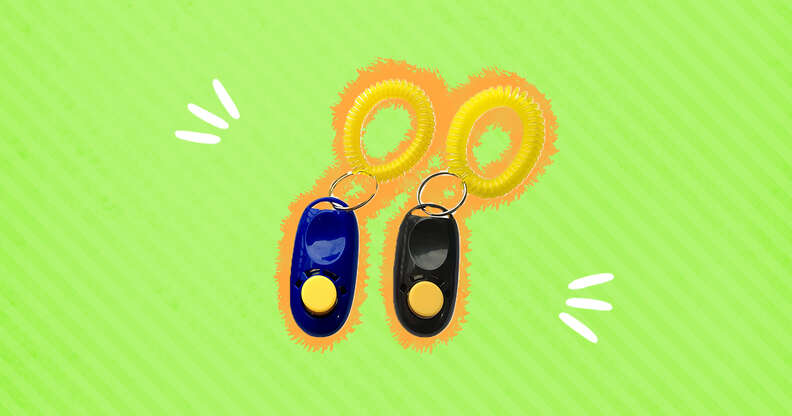 We independently pick all the products we recommend because we love them and think you will too. If you buy a product from a link on our site, we may earn a commission.
If you're in the process of dog training, then you're probably in the market for some dog training tools to make it a bit easier for you and your pup.
And even if your pup's fully trained, these training tools can still be super useful, since you should be practicing and reinforcing those cues with your dog daily.
The Dodo reached out to Julie Burgess, a certified dog trainer at Senior Tail Waggers, and Natalie Dobkins, training director at Canine Performance, to find out which dog training aids they find most useful for training your pup at home.
What are dog training tools?
"Dog training tools are implements you use to train your dog quickly and with less effort," Burgess told The Dodo.
Training tools can be things like:
Treats
Crates
Gates
Leashes
Collars/Harnesses
Clickers
Benefits of using dog training aids
Training aids like treats and clickers make the training go faster. This is because they help your dog know what's expected of her, which is essential for shaping your pup's behavior.
And aids like gates, crates, leashes and harnesses can keep your pup safe while training since they restrict where your pup can go.
"Have a dog who chews on your couch? You can use a baby gate, x-pen (exercise pen) or crate to keep it away from the sofa until the chewing stage is over," Burgess said. "It makes managing your dog's environment so much easier!"
Best dog training tools
When training your pup, using a longer leash can be useful since it allows your pup to perform certain behaviors outside your home while still letting you have control.

And in these cases, Dobkins avoids standard nylon leashes. "Trust me, doing long line work with a nylon leash will easily get knots or will get gross really quickly," Dobkins told The Dodo.

"I personally go for the 3/8 inch," Dobkins said. "It's lightweight, so it doesn't put any weight on the collar, and it feels really nice in your hand. I have them in 6 feet, 4 feet and 15 feet for long line work."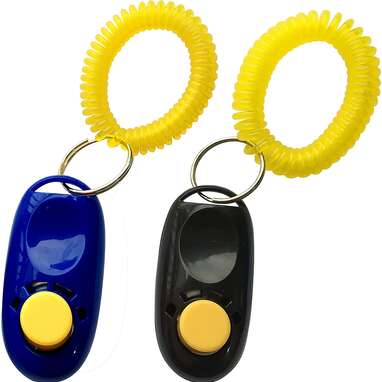 Amazon
Once your pup's fully clicker trained, clickers can be super helpful when teaching her other tasks, since you can precisely mark the behavior you want.

"Clickers are honestly such a personal-preference type of tool, but I like a softer type of click, and I don't want to have to push really hard to get a click," Dobkins said. "I think these ones [make] a perfect amount of noise, and they feel fun to click!"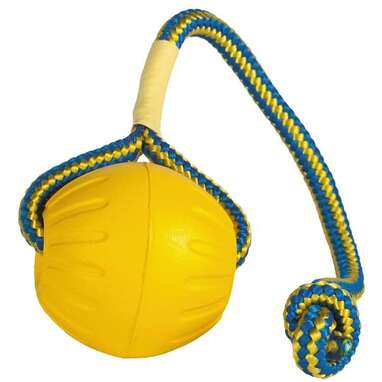 Amazon
"Building toy motivation is super beneficial!" Dobkins said. "If you have a dog that will tug but not fetch, or a dog that will fetch but won't tug, here's a toy that is the best of both worlds."
Amazon
Muzzles can be useful for dog training as a management tool if your pup's reactive or tends to scavenge.

"No better than the Baskerville Muzzle!" Dobkins said. "Perfect to allow your dog to pant, take food and drink water. Make sure to get a good fit, though! Your dog's nose should almost be able to touch the end. Remember you can also 'mold' it to the shape of your dog's muzzle by plopping it into some hot water and then shaping it before allowing it to cool."

Don't forget to reward your pup when she's not engaging in these undesirable behaviors when she has the opportunity so you can help encourage better behavior.
Amazon
Some pups have a habit of chewing on their leashes. If this sounds like your pup, consider a no-chew dog leash.

"If you're trying to do some duration climb/place sessions, and your dog thinks that's the perfect time to chew the leash, then this is for you," Dobkins said.
Amazon
If you're potty training your dog, a gate can be a lifesaver. It's also a great management tool if your dog's teething or dealing with separation anxiety, since you can keep her away from furniture and potentially dangerous areas of your home.

"Use barriers such as baby gates, x-pens or crates," Burgess said. "These tools can make managing your dog's environment quick and easy."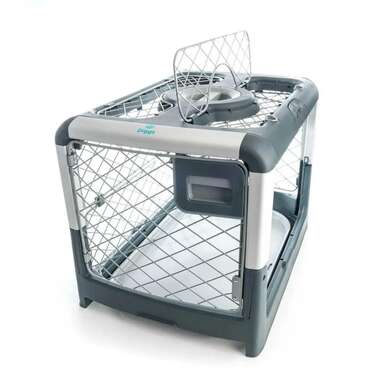 Using a crate for crate training will help ensure that potty training goes smoothly — and that your dog always has her own space to retreat to whenever she needs a break. A bonus is this dog crate won our Paw of Approval for being both versatile and safe.
Petsmart
Always having treats near you means more opportunities to reward your dog's good behavior. Plus, your pockets won't smell like dog treats when you have a pouch to carry them around in.

"To be honest, a treat pouch is SO MUCH a personal-preference item!" Dobkins said. "I usually just use the basic ones from PetSmart."
Amazon
Elevated dog beds are amazing when teaching your dog "place." While you can use a regular dog bed (or even a crate) to teach place, using an elevated bed just allows that little extra movement that dogs love.
Amazon
"A target stick is a long pole and a handy tool that can help teach your dog to walk nicely on a leash, go to its place, spin, circle and more," Burgess said. "Some target sticks are extendable and collapse for easy storage, but you can also use a wooden spoon as an inexpensive target stick."