12 Dog Name Tags You'll Be Obsessed With
You'll love these dog name tags 🏷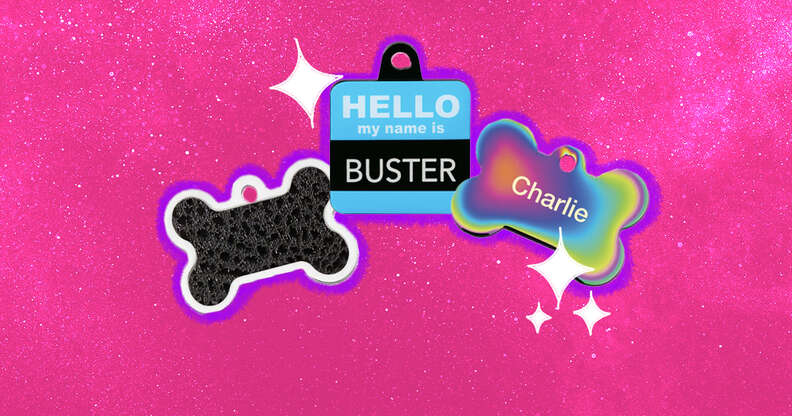 Having an ID tag on your dog's collar is super important so he can be returned to you if he ever gets lost.
But just because dog name tags are necessary doesn't mean they have to look boring.
The Dodo found some of the most unique and customizable dog tags you can buy so your pup can look super cute and, most importantly, you can have all the information you need right on his collar.
What to look for in dog ID tags
The most crucial thing when buying a name tag for your pup is that it includes your dog's name and all of your personal information so you can be reached if your dog gets lost. Here are some other things to keep in mind when choosing an ID tag:
Material — Look for a tag that's made of durable material that can be engraved. Most tags are made of stainless steel or another metal. Some are made of plastic or silicone, which can be a good option if you want something quieter, since metal tags can make a lot of noise when they hit each other or other objects.
Personalization — You'll want to be able to add your personal information, such as your address and phone number, plus your dog's name, so people will know how to get in touch with you if your dog gets lost.
Customization — Some tags are super customizable, allowing you to choose the color and shape of the tag, and some even let you add images.
Size — You should get a name tag that's the right size for your dog. Most tags will come in multiple sizes so you can find one that'll fit on your pup's collar.
This cute name tag is super customizable. It's available in three sizes and colors (gold, silver and rose gold). It's made of stainless steel and is designed to never rust or tarnish so your pup can have it for a long time. Plus, the tag's hypoallergenic, so it won't irritate your dog's skin.
This unique dog name tag looks like a state license plate, and you can choose whichever state you want. Your pup's name goes on the front, and you can add your information on the back.
This dog tag looks just like a regular name tag that says "Hello, my name is." You can engrave both sides of the tag, and it has a protective film so it doesn't get too scratched up as your pup wears it.
Pet owners who have a sense of humor will appreciate this tag that says "Have Your People Call My People." You can get three lines of text engraved on the tag, and it's made of water-resistant and scratch-resistant enamel.
You can choose from multiple different colors for this paw print-shaped name tag, including red, blue, green and purple. It's made of durable stainless steel, and you can engrave up to four lines of text on the back.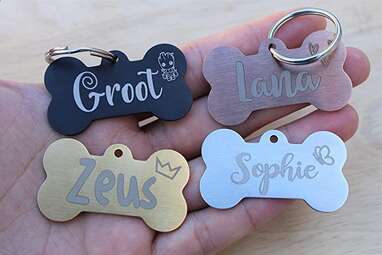 These laser-engraved stainless steel dog name tags are super cute and durable. They come in a bunch of shapes, including bone, diamond and circle, and you can even add an image to your dog, like a heart or a bowtie.
If you have a fancy pup, you might like this gold-plated dog tag that's heart-shaped with rhinestones. It also includes a split ring to attach it to your dog's collar.
If your dog's jingling bugs you, try a silicone tag like this one that'll be quieter than a regular metal one. This tag's made of durable silicone that glows in the dark, so your pup will be easier to see at night, too. The tag can be engraved with three lines of text on both sides, and there are tons of colors to choose from.
This dog tag is made of stainless steel and comes in multiple colors, including blue, gold, rose gold, black and multicolored. There are a bunch of shapes to choose from, such as stars and bones, and the tag can be engraved on both sides with up to eight lines of information.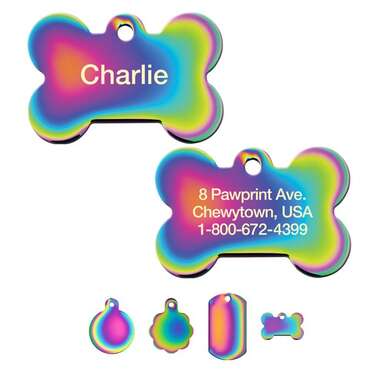 Dogs (and owners) who like a lot of color will love this brass rainbow name tag. It comes in multiple shapes, including bone and circle, and both sides can be engraved with your personal information.
If you're a football fan, let everyone know who your favorite team is with this NFL-themed dog tag. It's made of solid brass, and the image is UV-cured ink, which is super durable. You can personalize it with up to four lines of text.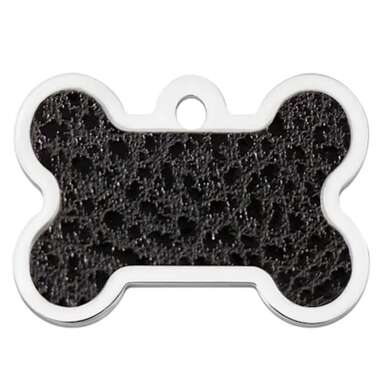 The front of this dog ID tag looks like leather for dogs who like a hard-core look, and the back can be engraved with up to four lines of information.
Getting a dog name tag for your pup is important so he'll have all the info needed to get him back to you if he gets lost right on his collar. And you'll definitely find the perfect tag in this list.
We independently pick all the products we recommend because we love them and think you will too. If you buy a product from a link on our site, we may earn a commission.